Plant-based burgers are going mainstream, will Ireland develop a taste?
The traditional burger isn't going anywhere, but food businesses are capitalising on the rise of alternatives.
REGULAR PATRONS OF high street fast-food giants might have begun noticing something a little different on the menu. 
Last week, regulars at Burger King would have noticed that alongside the Whopper  burger purveyor's standard fare was a new rebel version of the burger sold under the tagline '100% whopper, 0% beef.'
The chain's Irish stores were among many around Europe that introduced a plant-based burger produced by Unilever-owned The Vegetarian Butcher. 
"Over the last few years, we have seen a growing demand for plant-based products. Innovation is core to Burger King, so we wanted to provide our guests an option that meets that demand while maintaining the same flame-grilled taste they expect from Burger King," a spokesperson for the company told Fora.
The company declined to comment on the size of the market but added that it had looked at consumer trends and guest feedback, "and we knew that our guests wanted a plant-based option". 
Burger King isn't targeting vegans with the meatless Whopper burger, as it is cooked on the same grill as meat and includes mayonnaise, but it is hoping to capitalise on a growing interest, be it for environmental or health reasons, in plant-based foods. 
While the classic burger isn't going anywhere – global meat consumption is on the rise – high street outlets are changing things up to court customers with alternatives. 
The vegan chicken fillet role is being brought to a more mainstream audience as artisan company Vegan Sandwich Co is reportedly planning to collaborate with coffee chain Insomnia. 
Eddie Rocket's introduced global vegan sensation the Beyond Burger to its menus over the summer as a limited-edition special. The company has just decided to add it to the permanent menu.
Globally companies such as McDonald's are also weighing up options, with the fast food giant introducing a plant-based burger – also produced by Beyond Meat – for a 12-week test drive in Canada in September. 
Domino's Pizza has also trialled a vegan option in a number of its outlets around Ireland and the UK – and rolled it out fully in Israel, Australia, New Zealand, Germany, France, the Netherlands and Belgium.
Domino's didn't respond to a request for comment, but the company's Irish website says it's reviewing feedback from the trial "to help us create the best vegan pizza possible" and "we can't say too much just yet but urge our pizza fans to stay tuned". 
Trials and tribulations
With tentative trials permeating the global market, fast food players are hoping to see green when it comes to consumer demand for plant-based options. 
The demand is there, according to Paul Ruddy, leisure analyst at Goodbody stockbrokers. 
"All the operators, whether it's the pub groups in the UK or the restaurants, are all speaking about vegan options and the very strong growth they're seeing in them, albeit from a low base," he said. 
Ruddy doesn't think this is part of a short-term fad and noted that generally, UK trends tend to be picked up in Ireland.  
"It's not something that's come on the menu for a few weeks. It's being talked about continuously now.
"In the UK in particular, where you've got a hugely competitive casual dining market and a complete oversupply of restaurants, it can be a complete differentiator," Ruddy said. 
"Essentially, you're turning away customers if you don't have that option."
But plant-based alternatives are still a relatively small slice of the pie when it comes to overall sales. 
"They're all struggling for growth so much they just need to grow revenues faster than inflation – so they all have to follow these trends," Ruddy said. 
Back in September, food delivery app Just Eat recorded an 85% spike in orders of vegan food for the previous 12 months in Ireland – though this is coming from a low base and is still a long way behind takeaway classics. While the category is growing, Chinese food, pizza and spice bags are still the top dogs. 
"I think the food service (industry) across the board has to provide more of a range of offerings for vegans or vegetarians in Ireland. You can see that with some of the big chains bringing out a range of vegan-friendly menus," Adrian Cummins, of the Restaurants Association of Ireland, said.
"I think you're going to see an increase in the population looking for it in the future. There's no way I could say this is a fad."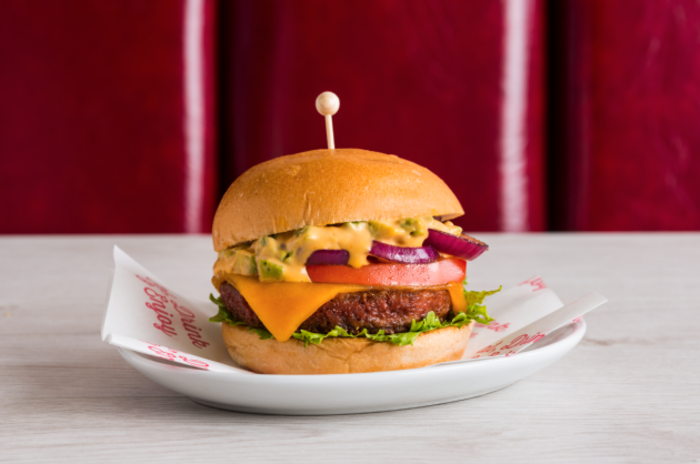 Source: Eddie Rocket's
Making sure it's not a fad
When indigenous diner chain Eddie Rocket's launched the Beyond Burger in its restaurants during the summer, sales of the product outstripped targets by well over 50%, according to marketing head Eoin O'Reilly. 
The company also brought out its own Impostor burger last year – sales of which have shot up on the coat-tails of the Beyond Burger's popularity. 
"I've been pushing this for a while to try and get vegan options on. We pushed hard to get a vegan option going this year," he said. 
The company would have traditionally had little interest, believing that vegans don't come to its restaurants. 
"It wasn't a market we were chasing. It's not a market Eddie Rocket's would have thought of previously," O'Reilly said, adding that the company then realised it would open up a whole new market. 
Changing the menu of a big chain is a lot harder than a change for two or three restaurants. Large print runs of menus are expensive and so is all the extra training, compliance and testing. 
"When you do it you want to make sure it's not a fad that's going to be gone in a couple of months," O'Reilly said. 
"That was the thought process behind it, to ensure it wasn't a fad and go after a new audience that wouldn't have traditionally been serviced by Eddie Rocket's."
After noticing that restaurants were losing groups of patrons because of a lack of options for their vegan friends, the company saw that it needed to make a change. 
"We trialled it in a few restaurants before going public with it. If you don't evolve your menu to suit customer tastes, you're gone," O'Reilly said
The incoming 2020 menu will have three vegan options on it. The company is currently working on a vegan hot dog, a vegan fried breakfast and vegan milkshakes. 
Through regular polling, Eddie Rocket's is trying to keep its finger on the pulse of what its customers want. The most surprising result of a recent survey was that "a surprisingly huge chunk" of those ordering vegan options are not vegan – they're meat-eaters. 
"There's a change in people," O'Reilly said, adding that "locally at a restaurant level, it certainly has had a really good buzz for us this year."
He stressed that the focus isn't on veganism in particular – it's on giving people more options. 
"It's a huge area and if any business isn't looking at it, they're behind already."
 Get our Daily Briefing with the morning's most important headlines for innovative Irish businesses.