A planned expansion at Limerick's Troy Studios will make it Ireland's largest film facility
The firm behind the production facility has already spent €6.5 million creating the 32,000 sq m hub.
TROY STUDIOS HAS lodged plans to develop a new sound stage, which would make the Limerick production facility the largest film and television studio in Ireland.
Based in the National Technology Park in Plassey, Troy Studios opened its doors in 2017 and was recently used for the production of a television adaptation of a novel by Game of Thrones creator George RR Martin.
The Limerick studio is a sister operation of Wicklow-based Ardmore Studios, which was acquired by a firm headed by Troy Studios chairman Joe Devine earlier this year.
At present, Troy Studios has only used about half of the buildings on its Limerick site and has lodged a request for planning permission with the local council to construct a fourth sound stage.
The proposed 3,000 sq m development would increase sound stage space at Troy Studios' lot to 9,290 sq m and potentially double the level of inward production and jobs.
A spokeswoman for Troy Studios would not confirm the cost of the plan to expand the facility because it is "commercially sensitive at this point".
The Limerick studio, which is owned by a consortium of investors, has already put €6.5 million into its 32,516 sq m hub to date.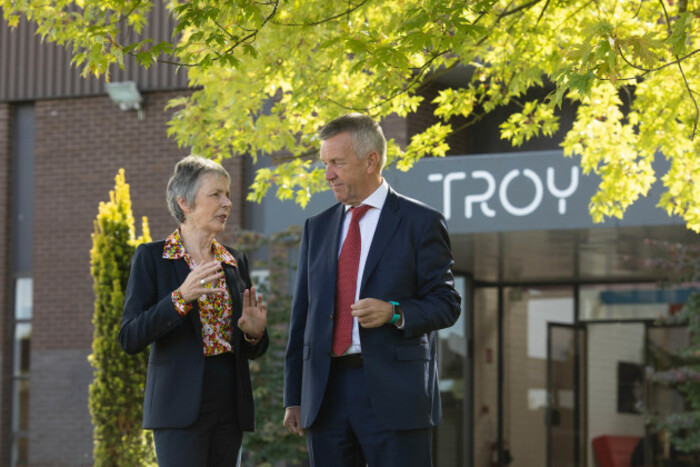 Source: True Media
Devine said he expected the fourth sound stage to be completed during 2019. The development, which is still subject to planning approval by the local council, has potential to provide employment for 150 people during the construction phase.
If the new sound stage is developed, it would enable Troy Studios to host more than one production at a time.
Troy Studios currently has three sound stages based on its site and also has over 26,000 sq m of support buildings, which house workshops, props storage areas, dressing rooms and production offices. There is also a 2.02 ha plot of land available for exterior set construction. 
Global market 
Work was recently completed on Troy Studios' first production, an adaptation of George RR Martin's Nightflyers.
Some 320 people worked on the show over a nine-month period and contributed €53 million to the local economy, according to Devine. 
Troy Studios chief executive Siún Ní Raghallaigh said there should be a lot more work to tap into over the coming years.
"The global market for creative audio-visual content is projected to grow at a rate of 30% over the next five years – it is a very exciting time for our industry," she said.
Ní Raghallaigh added that the sector is competitive internationally, but Ireland's section 481 film tax credit has the potential to attract more international projects to the Republic. 
Introduced three years ago, section 481 is a tax break that was introduced to promote investment in Irish film and television productions.
The relief, the rate of which is set at 32%, is due to expire at the end of 2020. A cost-benefit review of the scheme is being conducted by the Department of Finance.
Earlier this year, Screen Producers Ireland said there have been delays in processing applications for the "vital" tax relief used by film producers.
The group that represents independent film, TV and animation production companies said this could hinder the influx of foreign productions into Ireland in the near-term.
Sign up to our newsletter to receive a regular digest of Fora's top articles delivered to your inbox.