Bric-a-brac retailer Tiger Ireland saw its turnover soar last year
Profits are also up half a million at the subsidiary of the Danish design company.
TIGER'S IRISH STORES enjoyed a major boost in sales last year, as customers snapped up more of the retailer's bric-a-brac.
The chain, renowned for its sometimes bizarre assortment of goods, started in Ireland as a pop-up shop in Dún Laoghaire during 2011, when husband and wife Niall Stringer and Gillian Maxwell brought the concept to the country.
The couple's joint venture with Tiger's Danish parent, Tiger Retail Ireland, now operates 23 stores and employs more than 150 people.
A few months ago, the company rebranded its stores to Flying Tiger Copenhagen as part of a global move by Tiger's Danish parent company to make the brand more distinguishable.
Accounts just filed for Tiger Retail Ireland showed it had a turnover of nearly €14 million last year – around two-thirds more than the €8.4 million the firm took in during 2014.
The documents also showed that gross profits were also up at the company, rising by just over €500,000 to hit €1.6 million.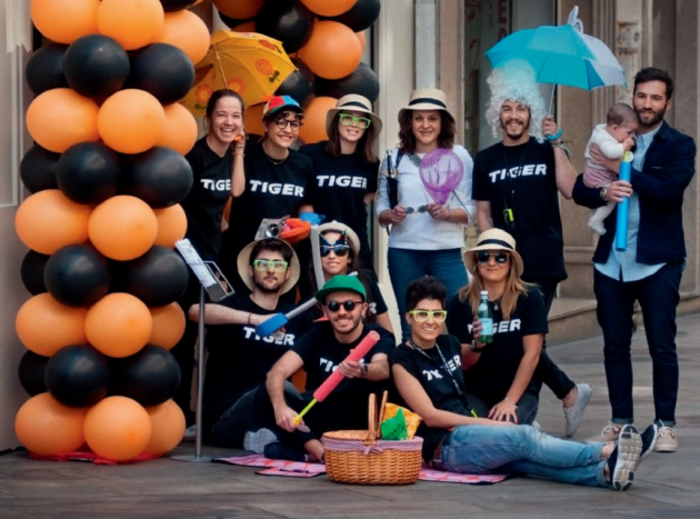 Source: Tiger
Tiger Retail Ireland is half owned by Stringer and Maxwell, with the other 50% owned by the Danish parent company.
The directors report attached to the accounts also notes a €1 million dividend was paid out to the shareholders after the 2015 financial year finished.
A €130,000 loan from Zebra, Tiger's supplier, was repaid last year, as was a €130,000 loan from Stringer that was taken out in 2014.
Some €5.8 million worth of goods was purchased from Zebra last year, compared to €3 million in 2014.
New stores
The company last year opened eight new Tiger stores in locations such as Dundalk and Limerick city, while this year a new shop has opened its doors in Killarney Outlet Centre.
Maxwell told the Irish Times earlier this year that the goal is to open between 32 and 36 stores across Ireland, and that all profits from the company are being pumped back into the opening new shops nationwide. She added that it costs in the region of €120,000 to open each store.
According to the parent company's annual report for 2015, net store openings stood at 174 last year, which brought total Tiger stores to 585 worldwide, while revenue at the company grew by 45%.
During 2015, Tiger also made its first move into the US market, opening one company-owned store in New York.