How a Dublin council engineer wound up hanging out with the Silicon Valley 'mafia'
As part of our weekly Startup Spotlight series we profile Swiftcomply.
THE HEAD OF regulation technology startup Swiftcomply is surprised at how quickly the company has grown in the year since it was founded.
"I'm doing what I said I would be doing, but for things to land as quickly as they have has caught me a little bit by surprise," Michael O'Dwyer says. "It's a good problem to have."
O'Dwyer tells Fora that he's moving to the west coast of America next week to help set up Swiftcomply's US and Canada office.
"It's crazy busy," he says. "We'll have operations in six countries by the end of the year. Seven months ago we were four people. By year-end we'll be about 15."
Co-founded by O'Dwyer, David Gibbons and Lindsey Nguyen, Swiftcomply offers a technology that makes it easier for restaurants and other hospitality businesses to adhere to certain environmental regulations.
"We basically simplify and streamline the whole process of compliance," O'Dwyer says. "Nobody likes it, whether you're a person filing a tax return or a business that has 101 different regulations to comply with, but it's always a thing that's done at the end of the day."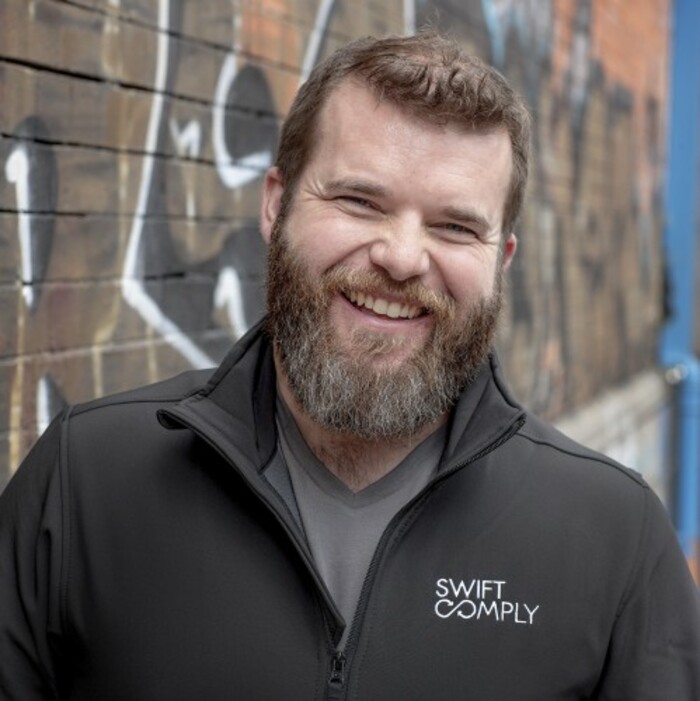 Source: Shane McCarthy
At the moment, the platform is focused on a piece of regulation to do with the disposal of oil, fat and grease waste from food businesses. Swiftcomply's system basically pairs food outlets with firms that can dispose of waste from their cookers in the correct way.
"It's not the most common (regulation) that you would know about, but it's a relatively new problem which is what attracted us to it."
The system is also used by city officials to keep tabs on compliance in the food industry, which creates a separate revenue stream for Swiftcomply.
"We partner with city regulators and they would pay a licence fee," O'Dwyer says. "We charge a transaction fee through the purchase of services for restaurant owners. It's a kind of two-sided business model."
Recruiting
The light-bulb moment for Swiftcomply happened while O'Dwyer was working as an engineer for Dublin City Council.
"Around 2008, I was tasked with setting up a regulatory programme for over 2,000 food businesses in Dublin," he says.
"You can imagine – this was 2008 and it was imposing a new cost on these businesses. I was not the most popular man in Dublin at that time."
O'Dwyer saw first-hand how paper-dependent and cumbersome the regulation was, which frustrated both restaurant owners and the city officials enforcing the rules.
He looked to see if there was a technology that could digitise the process. When he couldn't find one, he decided to build it himself, with the help of Gibbons and Nguyen.
Based on Francis Street in Dublin's city centre, Swiftcomply launched in Ireland in 2016 and has already attracted customers in the UK, US and parts of Canada.
"We are currently recruiting in the Nordics region and the Benelux region in line with a European project that we're working on," O'Dwyer says, adding that the company is also on the lookout for new hires in Ireland.
Silicon Valley 'mafia'
In the 12 months since it was set up, Swiftcomply has graduated from Enterprise Ireland's high-potential startup programme and the notoriously difficult Techstars accelerator in London.
According to O'Dwyer, the young firm is on track to generate sales of about €1 million for its first year in operation, although the company is not yet profitable.
"Our projections say we'll be profitable probably end of 2018, but in reality it will probably kick in 2019," he says. "We have so many opportunities that we have to invest in and we're trying to invest aggressively."
So far, the guts of €3 million has been put into the company by various backers. It's currently raising again in a round that's expected to close in the next month or so.
Earlier this year, the startup secured $900,000 from a group of investors that included Owen Van Natta, the former CEO of Myspace and ex-chief operating officer at Facebook.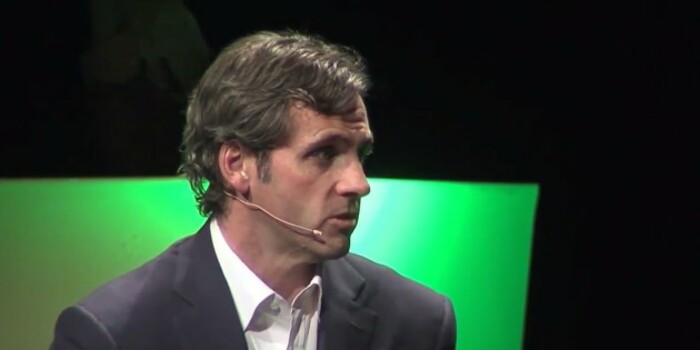 As part of the deal, Van Natta came on board as a strategic advisor to the company.
"He's just a cool guy," O'Dwyer says. "He gives me office space in San Francisco. He has a lovely house in Palo Alto where his pool house is also office space that we can use if we want. His network is unbelievable."
Crucially, Van Natta's profile gives Swiftcomply a foot in the door with a stream of high-net worth individuals from the Silicon Valley "mafia".
"When we get to our series-A stage, we're quite optimistic in terms of access to funding over there, which is obviously really interesting to us," O'Dwyer says.
As well as increasing its footing in the US and Europe, Swiftcomply hopes to add more regulations to its platform in early 2018. Further down the line, it will also look to extend its service beyond the food sector.
"The basic model has an application for any regulated business in effect, which is huge," O'Dwyer says. "For example, it could be factory compliance in China to nursing home compliance. Every industry has its own unique requirements and challenges in this area.
"People think I'm crazy, but the EU issued a report that said that 3% of GDP is spent on regulation. It's a huge number, obviously."
But for now, company is fixated purely on hospitality businesses.
"The key for me is focus," O'Dwyer says. "Nail what you're doing and do it well. Then once we're the leader in the food space, we'll think about the next area."
This article is part of a weekly series featuring Ireland's most promising startups. If you would like to see your company featured email news@fora.ie.