A frequent objector irate about fast food's 'fat arses' is trying to block Supermac's new plaza
A separate appeal against a project linked to a Facebook- and Google-backed cable has fallen flat.
A SERIAL OBJECTOR has stalled a plan for a Barack Obama Plaza-style filling station in Longford.
Last month, Supermac's chief Pat McDonagh was given the green light to build a multimillion-euro service station development in Lisnamuck. The plan approved by Longford County Council includes a retail unit, food court and drive-through restaurant.
The application by Atlantic Enterprises Ltd attracted several objections at local level with residents voicing concern over the impact the project may have on traffic flows and businesses in the surrounding area.
One submission was lodged by architect Liam Madden, who has since made an appeal to An Bord Pleanála.
In a colourful submission to Longford planners, Madden  – who has objected to several local projects in the past – questioned the necessity of the fast-food facility.
"This is what Longford really needs – another drive-thru takeaway," he wrote in the original observation.
Madden highlighted what he said were "long-established links" between fast food and global obesity and expressed concern about the "big fat arses" the industry has created. The rest, he stated, "is medical history".
The case with the national planning board is due to be decided in July of this year, potentially delaying the project by several months.
Speaking when Longford council approved the project last month, Supermac's boss Pat McDonagh said the development would provide for 100 jobs that will "help sustain the region and are intended to generate a social dividend".
Supermac's, the largest indigenous fast-food chain by outlet numbers, operates more than 100 stores around the country. McDonagh's portfolio features hotels and several motorway stations, including Barack Obama Plaza in Moneygall, Co Offaly.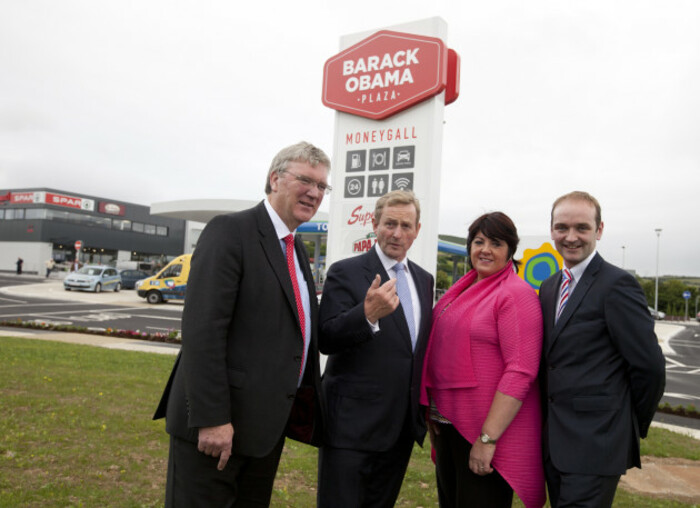 Source: Eamonn Farrell/RollingNews.ie
Invalid appeal
Separately, a Dubliner who regularly holidays in Mayo had tried to stop a transatlantic cable landing station from being built at the county's coastline – but his appeal was deemed invalid by planning officials this week.
America Europe Connect 2 Ltd, a subsidiary of Irish communications specialist Aquacomms, was given approval to construct the single-story station in Old Head, Louisburgh as part of a larger project to build a transatlantic fibre-optic cable from New Jersey to Blaabjerg in Sweden with "spurs" to Ireland and Norway.
The An Bord Pleanála appellant, who has an address in Harold's Cross and identified himself as P Smyth, aired concerns at local level about the structure being built "in a very scenic and unspoilt area".
The appeal against the landing station has been deemed invalid by the national planning body and will not be processed, sparing the project from being potentially delayed for several months.
Aquacomms is currently seeking a foreshore licence for the undersea communications cable.
Tech giants Facebook and Google are partnering on the project with Aquacomms and Norwegian telco and data centre firm Bulk Infrastructure.
Note: This article was amended to reflect the fact that the appeal against the Mayo project was deemed to be invalid.
Get our NEW Daily Briefing with the morning's most important headlines for innovative Irish businesses.