'We have a simple rule in the company - act like you're spending your own money'
Spectrum Life's Stephen Costello talks about his morning routine and the path to progress.
AS A CHILD, Stephen Costello once dreamed of being a bank manager. Instead, he grew up to become managing director of Spectrum Life, formerly Spectrum Wellness.
Spectrum Life, a 'corporate wellness' provider that offers clients access to various health services like gym memberships and counselling, was established in 2012 and employs 100 people. Companies that use its services include Google, Microsoft and Oracle.
This year, Costello said the company is on track to reach its €6 million turnover target. 
With three offices in Dublin and one in London, it is aiming to expand its offer internationally in 2020. 
As part of our weekly question-and-answer series, we talked to Costello about running home from work, promotions and why he quit his job in a bagel shop. 
Here's what he had to say: 
What was your earliest or childhood ambition? 
My mum told me that when I was very young and went with her down to the bank, I would steal those old bank gyros that they used to have.
I'd steal big piles of them and bring them home with me and I'd pretend to be a bank manager at the kitchen table. I'd put on one of my dad's ties and have a disconnected phone. 
I was also very much business focused right the way up. It wasn't really an ambition but it was always there in the back of my mind. 
What's the worst job/task you've ever had to do?
I worked the way through college in bars and hotels, but one summer I decided to work in a bagel shop. 
Even though the people were lovely, I just couldn't hack it. After three or four days, I went home sick one lunchtime and never came back.
Much to my embarrassment, I had one of my friends return my uniform later. I'm absolutely mortified about that but it's just something that happened.  
What's the toughest work-related decision you've ever had to make?
The company has grown quite quickly over the last two years or so, from 10 to close to 100 people, so we're constantly making tough decisions, and you have to make them quickly.
For me, the tough decisions are always about staff members or team members, their progression in the company, or their fit for the company culture.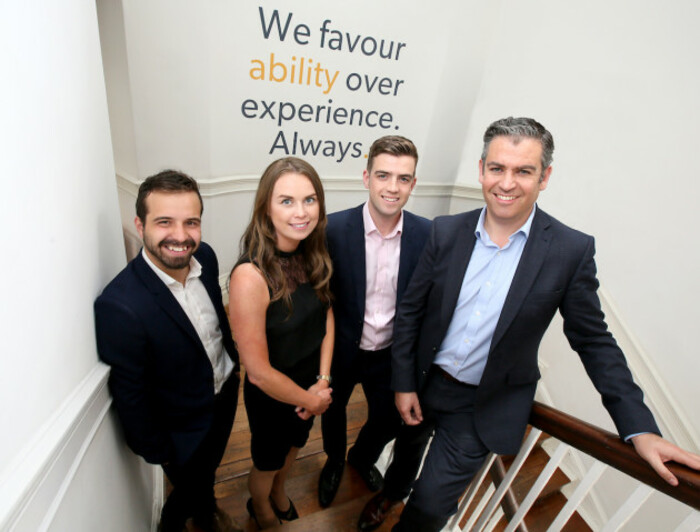 Source: Mark Stedman
What would you like to own that you don't currently possess?
I've never bothered to learn to drive, so right now I don't have any driving licence or anything. I've always walked to work or taken trains or taxis for meetings. So learning to drive and getting a car would be nice. 
How do you start a standard day and how do you finish it?
I'm an early riser, the alarm's usually going off at 5am. I walk to work, that takes about 45 minutes, I like to grab a coffee on the way in and listen to a podcast.
I like that routine and can sense it in my mood if it's broken. I can feel my day starting off badly if I don't get that walk in in the morning.
Once I get in, I get to any leftover tasks from the day before. My nine-to-five is generally meeting teams and clients and partners. After getting some last-minute things done in the evening, I'll generally run home to get some exercise in. 
Do you read business biographies/management books? If so, what's the best book you've read this year?
I'm currently listening to Blitzscaling by Reid Hoffman and Chris Yeh. 
It focuses on speed over inefficiency in the development of a company. It's about trying to make quick decisions, failing quickly and then changing products and campaigns, and responding really quickly to user feedback.
I'm trying to learn from that at the moment and trying to instigate some of that stuff into our company culture and how our managers look after their teams. 
What's the one thing that would put you off hiring someone?
A combination of lack of enthusiasm and problem solving skills. For us, both are essential to keep people motivated and focused on the key issues that are important for the growth of the business.
We'll always have managers and myself there for support, but they really have to try and tackle problems themselves and have the enthusiasm to tackle that themselves. 
Do you like to see your employees working extra hours? Why/why not?
We're turning a lot more into a tech-focused company, so we're always on, but it's important that employees have the opportunity to move away from screens.
Occasionally employees do have to work extra hours, but for us it can't become the norm. As we get bigger we need to make sure that that isn't part of our culture. 
What's the best piece of advice you ever received, and who did it come from?
It came from our company chairman, Stuart McGoldrick, who has always told me to try and do more with less. We have a simple rule in the company – act like you're spending your own money.
Try and be cost-conscious – the money we save in the business will deliver lower prices for our customers and make us able to deliver greater benefits for our team.
How do you choose who to promote in your business?
The career progression of our team is important to us. But we're really focused on making sure that we don't become the type of company where the team is relying on us to plan their careers.
We don't have very linear progression models in the company. So while we're always willing to support self-improvement, 'self' is the operative word there.
We're growing and there will be promotion opportunities; lots of them. However, we can guarantee that anyone who is promoted is only promoted because they're amazing in their current role.
We don't promote people based on time in the company or based on experience – we promote someone if they're amazing.