'The big enchilada was always breaking America, like so many businesses - and pop groups'
Jam Media's John Rice also talks lion taming, pork processing and augmented reality.
JAM MEDIA OWNER John Rice's first foray into the workforce was about as far from his current role as is possible.
The Bafta-winning director, producer and organiser of the Animation Dingle Festival started out on the production line of a pork processing plant.
He began his animation career in 20th Century Fox and in 2002 co-founded Jam Media with two animator friends.
Since then, the team has gone on work with the BBC, Nickelodeon, France TV and has just signed a major merchandising deal with US toymaker Jakks Pacific to sell a range of products based on Jam's TV series, Becca's Bunch.
The company employs 90 people across its Dublin and Belfast offices and has an annual turnover of €9 million, projected to hit €20 million over the next three years.
As part of our weekly question-and-answer series, we talked to Rice about lion taming, augmented reality and the wisdom of Judge Judy.
Here's what he had to say:
What was your earliest childhood ambition?
I wanted to be a lion tamer. I don't think there are too many lion tamers around at the moment. It's probably a good job I didn't pursue that career.
I grew up in Kerry. At Fossett's Circus, I remember very early on – maybe when I was four or five – seeing this guy with a whip and a lion and thinking, "Wow, this is the coolest job in the world."
What's the worst job/task you've ever had to do?
I did have a very dirty job in Denny's, the company that makes pork products. They had a big plant in Tralee when I was in secondary school and I had two summers working in there.
It was a pretty disgusting job – my job was to clean out pigs' arses.
It was part of the production line. The pigs had been slaughtered and I was the first guy on the line. My job was just to loosen up their bowels a bit.
It was filthy – I threw up the first few times I did it. I got used to it.
What would you like to own that you don't currently possess?
I covet Tesla cars. On a more metaphorical level, I'd love patience. I'm quite impatient. I think given the choice between a Tesla and patience, I'd prefer to have patience.
What's the next big thing in your industry?
The next big thing that we're doing – and I don't think we're alone in this – is augmented reality content.
We're exploring new ways in which to tell stories in this new platform and to create an immersive, story-driven experience for users.
A lot of our development is built around that. In particular Apple's AR kit is what we're really getting stuck into. Technology is a big part of our DNA here in Jam. This is something we see as having huge potential.
What detail about yourself would surprise your staff?
My guilty pleasure is Judge Judy. I just like her no-nonsense approach to people – her bluntness, her abruptness but also her wisdom.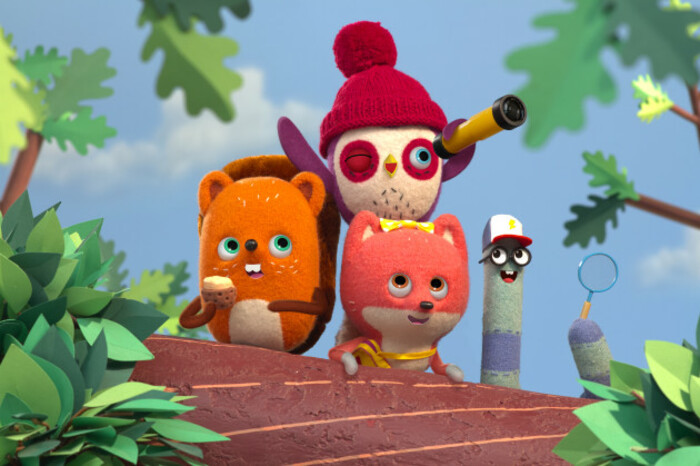 Source: plank55
What's the biggest problem you've had to deal with in your business so far and how did you overcome it?
The biggest problem was breaking into America. For a number of years we were reliant on financing our productions through a jigsaw puzzle of European and some other international broadcasters.
The big enchilada was always going to be breaking America, like so many businesses and pop groups.
I just got on the plane with a bag of ideas and I went around to all the networks and streamers. Six months later, I got back on the plane and we went around again. They gradually got used to seeing my face.
We're doing four productions out of the US and two out of Europe, so America has certainly opened up. Building up relationships and getting on planes is how I overcame it.
What's your favourite job interview question to ask and why?
"Why do you want to come and work here?" It shows that they've done their research if they're able to answer that question. It shows that they're forward-thinking in how they answer it – that they've thought about the role and what they could bring to it.
It's a question that I think can really get you deep into someone's personality. You can really see if they really want it or not.
Do you like to see your employees working extra hours? Why/why not?
I do not. In fact, I like to see them work less hours. I prefer for them to work smart rather than long.
I think that it's not the amount of hours you have to spend on a task, it's the creativity and how you're going to complete the task that matters.
I don't like people staying late. People need to have their own time and free time, and time for leisure and family and friends and socialising.
I don't want to eat into that for people – it doesn't make for happy campers. If they can get their work done in six hours instead of eight I think, "Great – go off and have a jog or something."
What's the best piece of advice you ever received, and who did it come from?
It came from my mammy and it was, "Be yourself." It's the best advice in business and in life. I think that people can spot if you're trying to be something that you're not. You always do better if you're natural.
Is there one job/task you would never delegate to anyone?
No. I've learned to let go over the years, but I used to be a bit of a control freak. Now I'm very happy, comfortable and confident in the people that I work with. There's very little that I can't entrust upon my team.
What's one thing that would put you off hiring someone?
Bad hygiene. Or plagiarism. I had a meeting one time with a guy – he had basically copied artwork that I had done many years earlier for an obscure television show on MTV.
I had done the character designs. I was working in New York when I originally did them 10 years ago. Five years ago this guy came in with the very same drawings. I thought they were brilliant. It was bizarre. Clearly I didn't hire him – but I admired his taste.
Get our NEW Daily Briefing with the morning's most important headlines for innovative Irish businesses.