The government has been asked to consider extending state aid to Shannon and Cork airports
Could aviation be used to promote regional growth?
THE GOVERNMENT SHOULD consider extending state aid to Shannon and Cork airports to help them better compete in an air travel market that is dominated by Dublin.
That's one of the key recommendations of a study commissioned by Limerick Chamber – in conjunction with Shannon, Ennis and Galway chambers – on how aviation policy affects economic development in Ireland's west and mid-west regions.
The report, written by Danish consultancy Copenhagen Economics, suggested that the capacity expansion programme at Dublin Airport to help it grow from 30 million passengers a year to 40 million and address infrastructural bottlenecks will make it more difficult for other airports to maintain existing routes and passengers.
Responding to the report, a spokesman for DAA – which operates Dublin and Cork airports – said much of the rapid growth at the country's main hub "has not been at the expense of other airports in the State", and highlighted Dublin Airport's growing transfer business.
The study also suggested that aviation policy is not adequately reflected in regional business development plans, which could jeoparadise the government's commitment to balance economic growth across the country as outlined by Project Ireland 2040, the national planning and capital expenditure blueprint.
The Exchequer offers financial supports to smaller private airports – such as Ireland West Airport in Knock, Co Mayo – but not to Shannon and DAA-owned Cork airports, though they are eligible for financial support under EU rules as they cater for fewer than three million passengers a year.
"The net effect of being unable to access state support for Cork and Shannon is the creation of an uneven playing field with smaller privately owned regional airports within the catchment area," the report stated, referring to overlaps in the passengers and airlines that use regional airports.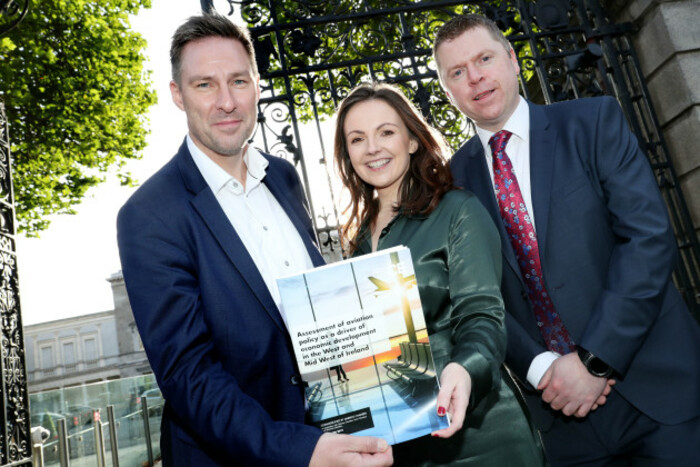 Source: Maxwells Dublin
At a presentation of the key findings of the report, which will be presented to Transport Minister Shane Ross later today, Limerick Chamber chief economist Catriona Cahill said state aid would used for capital expenditure rather than operational costs in order to attract new business.
The report also recommended that the Department of Transport, Tourism and Sport conduct a cost-benefit analysis of providing funds for airlines to develop routes outside the capital of strategic importance to foreign direct investment (FDI).
Though study highlighted Dublin's dominance over other airports – it accounted for 86% of all traffic in 2018, up from 76% a decade before – Cahill and Copenhagen Economics managing partner Christian Jervelund stressed that it does not argue for sacrificing Dublin Airport's growth plans for the sake of regional hubs.
Instead, they suggested that regional airports should be developed to handle excess capacity from the capital in order to entice further FDI in the west and mid-west.
"This is not a Dublin versus regional airports argument. We need Dublin to grow, but we need it to do so in a sustainable manner," Cahill said.
"Dublin is at maximum capacity in so many ways. We've bottlenecks with regards to housing, we've road congestion because of infrastructure issues, so we want to relieve pressure on Dublin by utilising this under-utilised capacity in other parts of the country."
The report also highlighted that Shannon Airport will be without a regular daily connection to another EU hub after Brexit given the fact that its Heathrow services are the only direct daily flights.
It suggested extending seasonal services to Frankfurt Airport to two flights every weekday and one flight every Saturday and Sunday could provide an additional €412 million to the economy.
Note: This article was updated to include comment from DAA.
Get our Daily Briefing with the morning's most important headlines for innovative Irish businesses.