Fingal Council takes a case against Starbucks in Swords for having no planning permission
A spokesman for Starbucks EMEA in London said it expected its licensees to comply with local planning.
ANOTHER STARBUCKS COFFEE shop has been found to have no planning permission, bringing to eight the number of stores subjected to investigations by local authorities around the country.
An Bord Pleanála has found that the multinational conglomerate's branch in Swords, Co Dublin lacks the necessary proper planning permission.
Fingal Council has confirmed to TheJournal.ie it is now taking enforcement proceedings against Starbucks, which is licensed in Ireland to Irish company EE Group set up by brothers Ciarán and Colum Butler.
The EE group also runs TGI Fridays and the chain of Mao restaurants.
Responding to the finding, a spokesman for Starbucks' Europe, Middle East and Asia headquarters in London told TheJournal.ie:
"We expect our licensees to comply with local planning guidance and we will work closely with EE Group to achieve that."
Tanrat Ltd, the owners of the chain's branch at the Airside Retail Park in Swords – their third branch in the town – had argued that the café was actually a shop.
According to the Bord Pleanála file, the internal layout of the new unit consists of around 15 tables, catering for up to 80 people, as well as a display cabinet and a service counter with "sandwiches, cakes and other foodstuffs".
Source: AP/Press Association Images
Unauthorised
Tanrat Ltd argued that a café had previously existed when Reid's Furniture was tenant, prior to a Smyth's Toys shop taking over the site.
An Bord Pleanála concluded that the change of use did not constitute the use of the premises as a "shop".
The inspector, in his report, said: "I am of the opinion that the existing use of the subject premises as a coffee shop is clearly akin to a café/restaurant than to a shop."
An Bord Pleanála noted the scale, nature and layout of the coffee shop, the range of goods, the layout, the services provided, the fact that toilets were provided, the extensive seating provided, the external access and the independent external signage for the café.
In a statement, a spokeswoman from Fingal County Council said: "A decision has recently been issued by An Bórd to the effect that this particular change of use is, in fact, unauthorised and requires planning permission.
"As a consequence of this decision, Fingal County Council shall initiate enforcement proceedings with regard to this unauthorised use."
If Fingal County Council issues enforcement notices, Starbucks must comply with or risk committing a criminal offence.
The council can also take a prosecution in the District Court, with penalties including a fine up to €5,000 for summary or minor matter, or daily fines up to €1,500 for each day on which offence is repeated – although this is rarely used by the courts.
Starbucks can, however, apply to the council for retention of unauthorised development and/or change of use.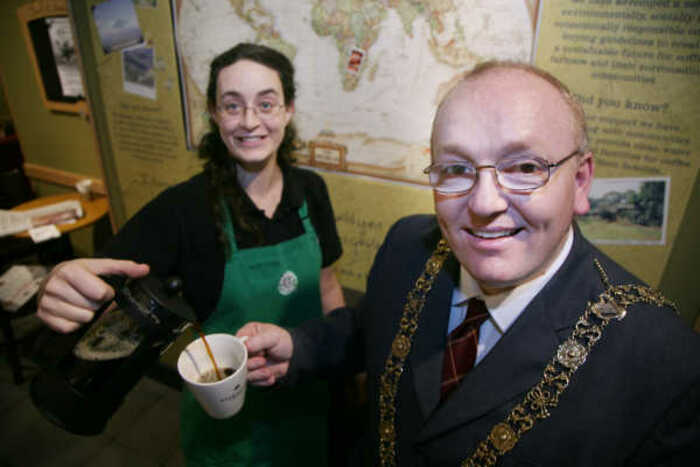 [embed id="embed_2"]
Hot water
It's not the first time the purveyors of teas and coffees have found themselves in hot water.
In September, Starbucks opened a store in Waterford City without planning permission, prompting Waterford Council to open an enforcement case against the owners.
Fingal Council served notice on a Starbucks outlet in Howth in the same month to discontinue use, after inspectors found they changed the use of the premises without applying to the council for planning permission.
In March, An Bord Pleanála ruled that Starbucks had opened three outlets in Cork city without obtaining the necessary planning permission.
Also in March, TheJournal.ie reported that Dublin City Council was investigating the Starbucks branch on Drury Street in the city, on foot of a planning complaint.
It means at least eight Starbucks stores have been the subject of enforcement notices and planning investigations in recent months.
It opened its first Irish outlet in Dundrum Town Centre in August 2005, and currently has over 50 Starbucks outlets in the greater Dublin area alone.
Written by Darragh Peter Murphy and posted on TheJournal.ie