Voice-control startup SoapBox Labs is working with Microsoft to prove its tech can go global
It is running a pilot in 20 schools that will help children with their literacy skills.
SOAPBOX LABS, THE speech recognition startup, has inked a new deal with Microsoft that will see its tech deployed in a school pilot programme to prove it has a global, scalable product.
The startup, sometimes referred to as a 'Siri for kids', develops speech recognition tools that can help children improve language, reading and writing skills.
With Microsoft, it will be delivering artificial intelligence-powered speech recognition technology to help close gaps in child literacy skills. The app for schools is being deployed on Microsoft's Azure cloud platform.
Citing figures from UNESCO, SoapBox Labs said there are 175 million children that lack basic literacy skills.
The pilot project will run for two to three months in 20 schools in Ireland and the UK.
"The schools are running the trial, they will get the kids to use the app, the kids can interact with and use (it) to progress their phonics and language acquisition," chief operating officer Martyn Farrows said.
As part of the deal, Microsoft is providing SoapBox Labs with $250,000 worth of Azure credits, which are needed to access the cloud computing service.
Using the Azure platform, SoapBox Labs will be able "to generate some evidence to support the rollout of the project globally", Farrows said.
"We've taken that step to demonstrate the efficacy more broadly. Then we'll work with global partners who already have content in different territories around the world to deliver our technology and voice enable their products."
SoapBox Labs is led by chief executive Patricia Scanlon. Over the last two years, the Dublin-based startup has raised €3.3 million from investors including Elsktone as well as from the EU's SME Instrument.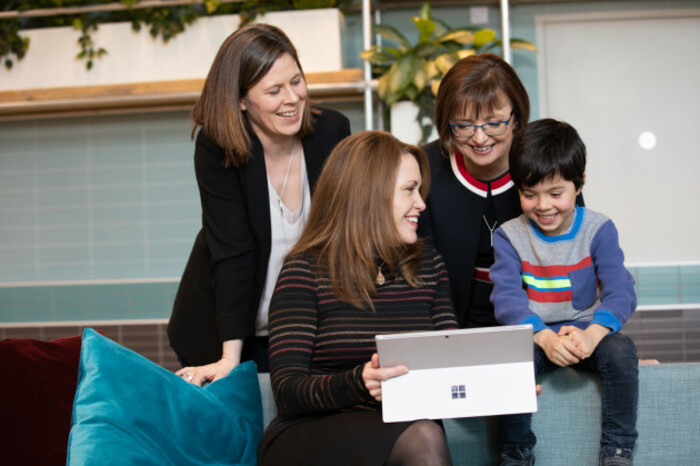 Source: Naoise Culhane
Scanlon is in Washington DC this week amid the Taoiseach's cohort for St Patrick's Day. Farrows said the trip will include more partner talks that the company hopes to announce details of in the coming weeks.
Future projects
Farrows added that SoapBox Labs has thousands of children using its tech in different services to improve speech and language skills or to engage with content.
The tech has seen particular interest in markets like Asia among children aged three or four and above that are learning English as a second language, Farrows said.
"Accessibility is a big driver for us as well – kids that want to interface with technology that they might not be able to do with a traditional interface like keyboards and mouse but can use their voice," he said.
"Beyond that then we're looking at application areas in robotics, smart toys, connected devices like smart TVs, so anywhere you would expect a child to interface with technology using their voice whether it's education, consumer, entertainment purposes."
Get our NEW Daily Briefing with the morning's most important headlines for innovative Irish businesses.