'If I pop my clogs in the morning the company could keep going. That's a sign of success'
As part of our How My Business Works series we profile the company behind Smooch ice cream.
AT FIRST GLANCE, installing ventilation systems doesn't seem to have anything to do with selling ice cream. It doesn't seem to at second glance either.
But to Philip Delaney of Dairyglen, the two are fairly similar. Delaney worked as an engineer before selling ice cream with the family, and he says at their core, both are about solving problems.
"We were a box-moving company, buying product in and moving it on, until we bought the 'Smooch' brand in 2005," he tells Fora.
Delaney, 52, puts himself forward as a man who likes a challenge, similar to his father, Edgar, who lost his job selling ice cream for a UK multinational in 1991 and decided to sell ice cream for himself instead.
He was the tender age of 59 when he lost his job and, as Philip Delaney points out, no one would have blamed his father for winding his career down.
"Why didn't he sail off into retirement? He said 'I can do this'," says Delaney.
He says that his father was "the driver of the company", which is now best known for producing the Smooch brand. "Now our company challenges the status quo, we didn't just stay as box-movers," says Delaney.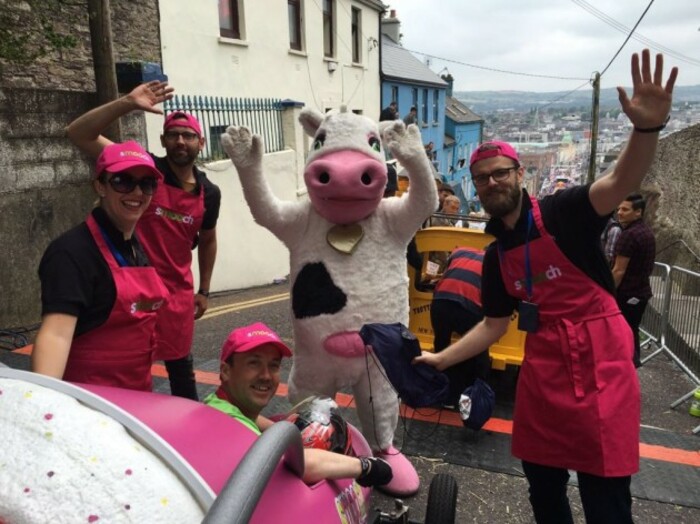 Source: Dairyglen
Dublin native Delaney first got his taste for problem solving after studying business and engineering in DIT. Once he completed his course in 1988, he almost immediately crossed the Irish sea to work in London, designing and installing ventilation and heating for offices.
"I was getting phone calls asking if I would come back, but I said I was happy enough doing engineering," he said.
"I landed home in 1992, and by 1993 Dairyglen had turnover of half a million. My dad was finding it hard to cope with it all."
It was at that stage he decided to join his father in business. His father had found it strange moving from being a 'suited and booted' sales rep for a big company to driving a white van across the country trying to sell ice cream to retailers.
Delaney got the same white van when he joined the firm and is now trying to sell the ice cream from his family's business across Ireland.
What do you do and how long have you done it for?
Dairyglen sells ice cream products to retailers and is best-known for its Smooch ice cream brand. Its products include ice cream mix, cones, sprinkles, and so on.
The Wicklow-based company was started in 1991 by Edgar Delaney, who took out a small bank loan and roped his family into helping him with the enterprise.
"All the little things, like cones and toppings, were stored in my dad's garage, and his attic became his office. My brother Geoffrey did something similar in Cork, and my mam had some experience doing accounts," he says.
"Between the three of them they kicked off the business, and in the first year it went from zero to (what would now be) a quarter of a million euro in sales."
Philip Delaney joined the company in 1994, and is now the managing director of the business. The company continued to grow steadily for years before getting a shot in the arm when it acquired the 'Smooch' brand.
"We bought Smooch for €150,000 and we increased turnover by three quarters of a million euro in the year after we bought it," he says. "The real surge in our business happened in 2011 when we started installing bigger ice cream parlours in shops."
Source: Dairyglen
The company now has turnover of more than €4.5 million and employs 24 people. It made a slender loss of just under €27,000 last year, however Delaney says that the firm is now profitable and likely made about €200,000 in 2016.
What are your costs and how do you make money?
At its most basic level, Dairyglen buys ice cream mix and add-ons and then sells them to retailers. The firm also deals in some third-party products, such as installing Slush Puppie machines.
Since the Smooch purchase, the firm also installs units in shops that make ice cream products under the brand, including cones and shakes, in a similar way to how a McFlurry machine operates in McDonald's.
"Our ice cream is made in Ireland for us and then we dream up new ways of adding choice, so instead of just having it out of a cone you can have a milkshake, or a cup, with syrup, whatever," Delaney says.
"The retailers pay us and we supply and maintain the equipment, do the promotions, train the staff and so on."
Delaney says that the firm has had to spend a sizeable amount getting its operations in place but adds that it is now in a good position to expand.
"We have the same departments and the same amount of admin overheads as a company that is 50 times our size. We have sales, finance, warehousing, vans, everything we need," he says. "All the key ingredients are there, now we just need to size up."
What is your market?
Dairyglen sells to retailers across the country, with Delaney starting out with a "route of customers" to whom he would make weekly stock deliveries.
"Our customers were local retailers like Spar, Londis or Centra," he says. "They were people who had a whipped ice cream machine, and we also worked with takeaways."
As well as its basic deliveries, the company has now installed its Smooch machines in over a hundred locations across Ireland. Most of these are outside of Dublin, with the bulk clustered in the middle or south of the country.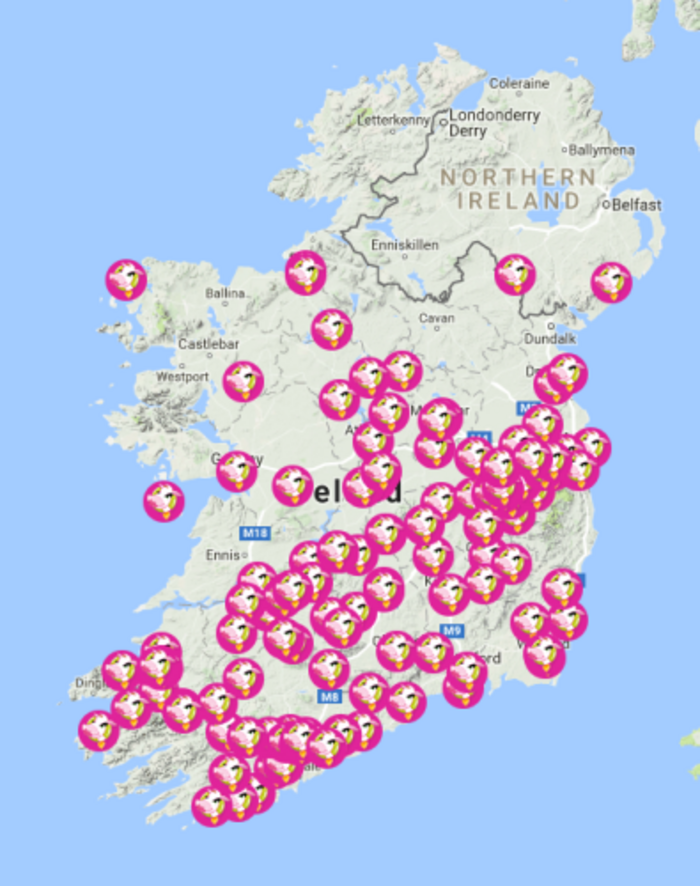 "I think the locations are to do with lifestyle rather than the product's appeal," Delaney says. "In more regional places which don't have a lot of things to do, a thing to do is to get a Smooch.
"Locals come in after a football match or mass and you get people (saying things like) 'Ah Sarah, I haven't had a Smooch with you for ages'. It doesn't work as well in areas like O'Connell Street or Grafton Street."
Delaney adds that the product "connects with every demographic", as it can be "enjoyed by everyone from a baby in a pram to an 86-year-old grandad in Dún Laoghaire".
What is the competition?
Irish consumers are spoilt for choice when it comes to ice cream, with dozens of brands catering to pretty much everyone's tastes.
That being said, Dairyglen and Smooch aren't really battling it out with tubs of Ben and Jerry's. The company sells directly to shops, so its main rivals are companies like Unilever, which has a similar offering to Smooch with its 'HB Swirl' brand.
Delaney says that the firm tries to emphasise the fact that its product and business are Irish.
"We control all sides of our business and keep it local. For a multinational company, someone else supplies and sources the product, so they do have huge power but they often miss that magic ingredient of connection with people on the ground.
"We would also be strong on the concept of Smooch, we can look at your shop and know whether it will be suitable."
What is your vision?
Although Dairyglen's other operations will continue trucking along, Delaney sees Smooch as the real opportunity for the business to go big.
While the Dublin native still talks fondly of his engineering days, he insists that he is dedicated to building the brand and taking it international.
"When I was young my dad used to say, 'If you can't do a job right, don't bother doing it at all'," Delaney says.
"I don't see myself going back to engineering, Smooch is an unfinished opportunity. The challenge is to build a strong stable of Dairyglen products and make Smooch international. It could be somewhere else, but the UK appears to be the natural step.
"Smooch is similar to Subway, it is one of the only brands that could operate in a small shop or by itself as a standalone."
Like his father, Delaney has no plans to retire young, but says the aim is to set the company up so that it could keep going without him if needs be.
"I am umbilically linked to Dairyglen at the moment, I am trying to build a strong team that doesn't rely on Philip," he says. "If I pop my clogs in the morning and in theory the company could keep going, that's a sign of success."