Irish firms are twice as likely to get rejected for bank loans as their European rivals
Indigenous businesses also pay double the interest on their borrowings on average.
INDIGENOUS FIRMS ARE more than twice as likely to be knocked back for loans as their mainland European counterparts.
The Central Bank's latest SME market report, for 2018, also showed that Irish businesses continue to pay some of the highest rates in the eurozone for their borrowing.
The report said there had been a slight uptick in the value of new loans being written up for the small- and medium-sized business sector in the 12 months to the end of March.
However the increase was driven by a large spike in lending to primary industries outfits and a smaller lift in borrowing from hotels and restaurants, with declines in new lending to all other industries.
The report noticed that the rejection rate for SME loans or overdrafts in Ireland stood at 11.7% in March, compared to 5.8% for firms in Portugal, Italy, Spain and Greece and 4.4% for those in Austria, Belgium, Germany, Finland, The Netherlands and France.
While rejection rates have been steadily falling in recent years elsewhere in Europe, they have been rising in Ireland after bottoming out in 2016.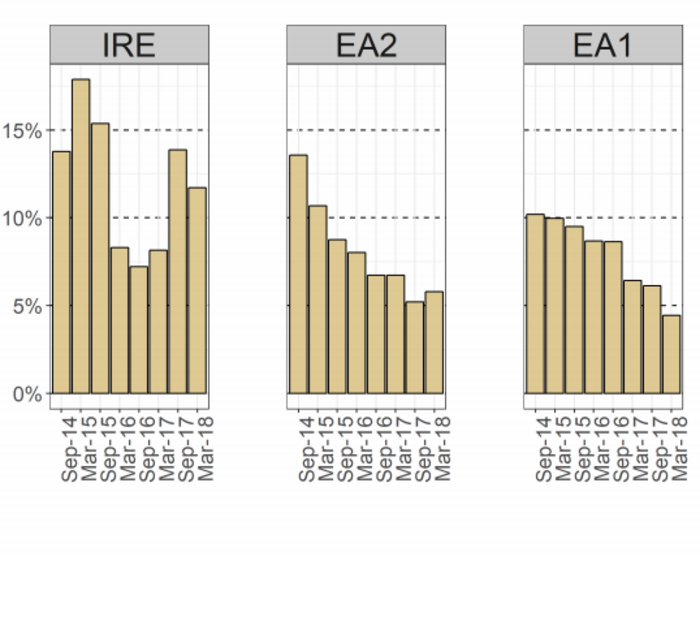 Source: Central Bank
Brexit risk
Irish Small and Medium Enterprise Association (ISME) chief executive Neil McDonnell told Fora that the problem for many firms was they needed money to invest in expanding into new markets with Brexit looming.
"The big difficulty for a lot of them is that what they actually need is working capital, and what the banks are trying to offer is asset-backed finance all the time," he said.
"There's a mismatch between what the pillar banks are offering and what the market wants."
ISME's latest 'bank watch' survey, released in June, showed a sharp increase in the rate of loan requests being denied compared to the previous quarter.
Meanwhile, the Central Bank said the average interest rate on new SME loans of less than €250,000 stood at 5.2% in Ireland during March. The comparative figure was 2.6% across comparative eurozone markets.
The report also highlighted that the SME lending market in Ireland remains highly concentrated, with 86% of all new lending coming from AIB, Bank of Ireland and Ulster Bank – although that figure has declined since 2016.
Sign up to our newsletter to receive a regular digest of Fora's top articles delivered to your inbox.