Shannon Airport was the only major Irish hub to see a dip in passengers last year
More than 34 million flyers passed through the country's main airports in 2017.
NEW FIGURES SHOW that Shannon Airport was the only major hub in Ireland to see a decline in passenger numbers last year.
Some 34.4 million passengers travelled through the country's main airports in Dublin, Cork, Shannon, Knock and Donegal, according to the Central Statistics Office (CSO).
Dublin Airport accounted for more than 85% of all air passengers in 2017, catering for 29.4 million flyers last year, an increase of 6% on 2016′s tally.
According to the CSO, the number of passengers travelling through Shannon Airport declined 4.5% to roughly 1.5 million in 2017.
Regional airports at Connemara and Inishmore also reported a decline, while Waterford Airport handled zero passengers in 2017 after losing its only commercial service in 2016.
Over 2.3 million passengers passed through Cork Airport, an increase of 3.4% on the previous 12-month period, while 748,500 used Knock and 335,480 travelled through Kerry.
Last year, nine out of every 10 flyers travelling on international flights at the main Irish airports were travelling to or from Europe. The UK and Spain were the most popular countries of origin or destination.
Of those travelling to and from destinations outside of Europe, the United States was the most popular country.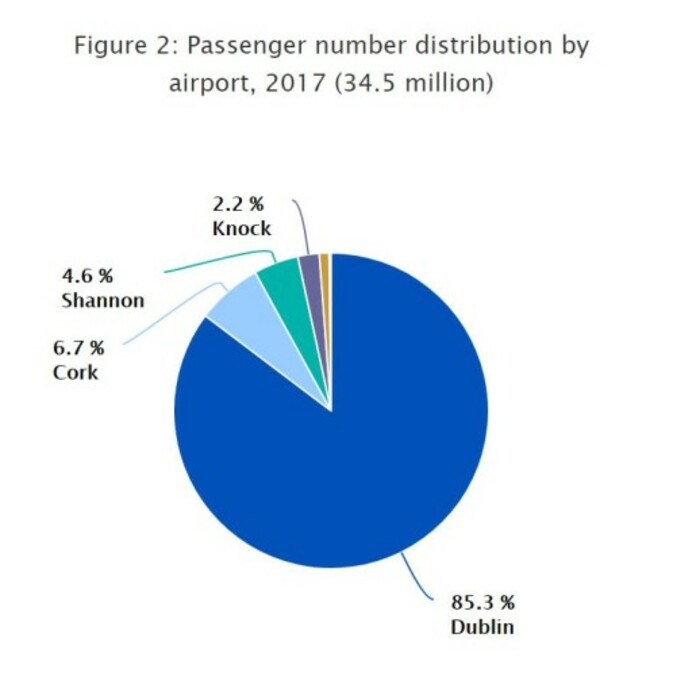 Click here to view a larger version
Market share
London-Heathrow and London-Gatwick were the most popular routes for Dublin Airport passengers. London-Heathrow and London-Stansted were the most popular in Cork. The top route for Shannon was also London-Heathrow.
Separate provisional figures provided by Minister for Transport, Tourism and Sport Shane Ross showed that Cork and Shannon airports' combined share of the air travel market declined 12 percentage points over the last 12 years.
In 2005, the two hubs handled a combined 23.6% of passengers travelling through Irish airports, according to the minister's written response to a question from Limerick TD Niall Collins. That figure decreased to an estimated 11.6% as of last year.
Cork Airport alone took a 6.6% share of the total air passenger market last year. Shannon – which became independent of state-backed airport operator DAA in 2013 – took a 5% share of the total market.
Over the same 12-year period, Dublin Airport's share of the market has grown from 72.3% in 2005 to more than 85% in 2017.
Sign up to our newsletter to receive a regular digest of Fora's top articles delivered to your inbox.