The aviation regulator may order Ryanair to pay compensation for strike-related cancellations
The watchdog will meet with its European counterparts on Friday to decide its next steps.
IRELAND'S AVIATION WATCHDOG could follow the lead of its UK counterpart and pursue Ryanair over compensation claims from passengers affected strikes at the airline.
Britain's Civil Aviation Authority (CAA) said today that it will take legal action and force the low-cost carrier to pay compensation to customers who were impacted by strikes held by staff earlier this year.
Ryanair experienced several days of strike action following its landmark decision to recognise trade unions for the first time in its history.
About 100 of its 350 Ireland-based pilots staged five one-day strikes this year before the company reached an agreement with union Fórsa-Ialpa.
In July, strikes by cockpit and cabin crew disrupted 600 flights in Belgium, Ireland, Italy, Portugal and Spain, affecting 100,000 travellers.
Ireland's Commission for Aviation Regulation (CAR) is currently considering what steps to take after receiving dozens of similar claims from local passengers.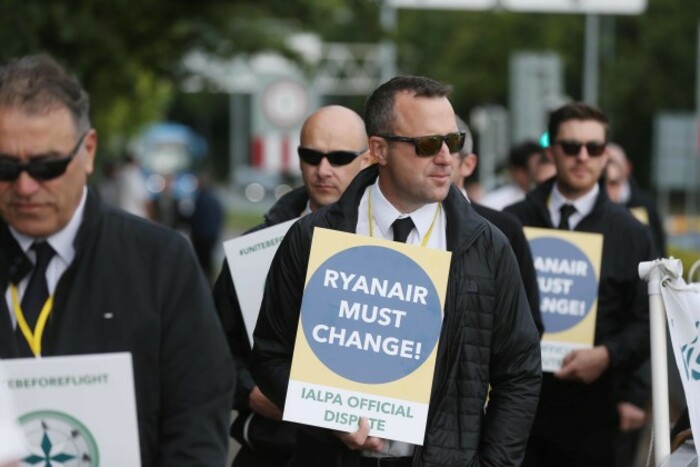 Source: Sam Boal/RollingNews.ie
Meeting
In a statement, a CAR spokesman told Fora that the regulator has received 37 claims to date from Ryanair passengers seeking compensation following the industrial unrest.
"We initially considered these claims and then requested Ryanair to outline their reasons for non-payment. Over recent months we have engaged with Ryanair and sought clarification on the issue. We have now reached the end of this process," he said.
The commission will meet and swap information with its European counterparts on Friday at a planned gathering before deciding its next steps.
"As we knew the timing of this meeting, we decided that the final stage of our deliberative process would be to lay out our thoughts in conjunction with our counterparts and then outline a final decision.
"We believe this is the fairest and most robust course of action to take in the interest of passengers and to ensure that all decisions are fully informed."
The CAR said it will issue a decision to Ryanair and the affected passengers sometime next week.
"As this is a legal process it would be inappropriate to comment further until that decision has been outlined in full to the affected parties," the spokesman said.
The CAA ruled that UK passengers were owed compensation under European rules known as EU261 because the strikes at Ryanair were not considered 'extraordinary circumstances' and therefore didn't qualify as an exemption.
However Ryanair – which last week launched legal action against the Irish State over certain tax laws that form part of its negotiations with trade unions – believes the strikes were an exemption to the rules in light of decisions made in other jurisdictions.
"Courts in Germany, Spain and Italy have already ruled that strikes are an 'exceptional circumstance' and EU261 compensation does not apply. We expect the UK CAA and courts will follow this precedent," the airline told Fora through a statement.

The CAR confirmed that it has considered "a number of lower court decisions elsewhere in Europe" throughout its engagement with Ryanair.
Note: This article was amended to include comment from Ryanair.
Get our NEW Daily Briefing with the morning's most important headlines for innovative Irish businesses.