Ryanair is planning to transform itself into a 'substantial' airline group in the next three years
The carrier set up a Polish subsidiary and plans to buy a majority stake in Austria's LaudaMotion.
RYANAIR IS PLANNING to build a "substantial" aviation group over the next three years after establishing a Polish subsidiary and setting in motions plans buy a majority stake in Austrian carrier LaudaMotion.
Last month, the low-cost airline started operating charter flights from Europe via subsidiary Ryanair Sun.
In March, it announced plans to buy a majority stake in LaudaMotion, the low-fare carrier founded by ex-Formula 1 champion Niki Lauda. It currently owns a 24.9% stake in the airline and hopes to increase that to 75%.
If the buyout is approved by regulators, Ryanair hopes to grow LaudaMotion's Airbus fleet from 30 to 50 aircraft over the next five years. It has made provisions to invest around €100 million in startup costs and operating losses over the next two years.
In a note accompanying its financial results for the year to the end of March, Ryanair said it hopes to invest in its main airline, Ryanair Sun and LaudaMotion over the next three years to build "a substantial and profitable group of EU airlines" under the Ryanair Holdings banner.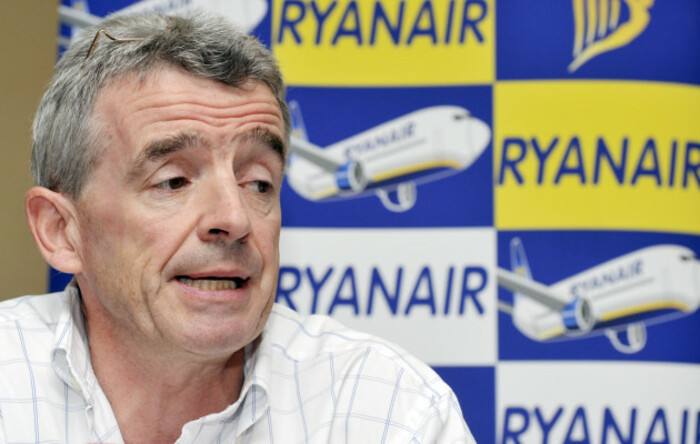 Source: Sasko Lazarov/RollingNews.ie
According to financial results for the 12 months to March, profits have jumped 10% at Ryanair, despite the cancellation of thousands of flights last autumn.
In a financial statement this morning, the airline said that it had increased passenger numbers to 130 million, an increase of 9% on the previous 12 months, while profits stood at €1.45 billion.
As well as the cancellation of thousands of flight from September last year, Ryanair also faced the prospect of a pilots strike that was only just averted in December.
Five months ago, Ryanair made the shock decision to ditch a longstanding company policy and recogise pilot unions after a shortage of available crew forced it to cancel thousands of flights.
Commenting on Ryanair's full-year results today, analysts at Goodbody stockbrokers said the "main negative" from the airline's management is that staff costs are expected to rise by €200 million this year, €60 million more than was previously forecast.
This will "call into question (Ryanair's) ability to control labour cost inflation as they become fully unionised", Goodbody's Mark Simpson wrote in a briefing note.
'Pleased'
Ryanair CEO Michael O'Leary said that they were "pleased" with the results that come amid a "weaker fare environment, rising fuel prices and the recovery from the September 2017 rostering management failure".
Ryanair said that the average fare fell 3% to €39.40 last year, while new five-year pay deals were concluded with "most" of its pilots and cabin crew.
O'Leary added that it "recovered quickly from the September 2017 pilot rostering failure".
In terms of expenses related to the cancellations, the airline said that it spent €25 million on marketing and distribution related to the September-October flight cancellations.
Looking ahead, Ryanair said it is continuing to prepare for a hard Brexit and how it might affect business.
It said: "In these circumstances, it is likely that our UK shareholders will be treated as non-EU and this could potentially affect Ryanair's licencing and flight rights.
"Accordingly, in line with our articles, we intend to restrict the voting rights of all non-EU shareholders in the event of a hard Brexit, so that we can ensure that Ryanair is majority owned and controlled by EU shareholders at all times to comply with our licences."
Next year, Ryanair said it would be on the "pessimistic side of cautious", with traffic expected to grow another 7% to 139 million. It added that it expects its profits to fall between €1.25 billion and €1.35 billion.
Written by Sean Murray and posted on TheJournal.ie. Additional reporting by Conor McMahon
Sign up to our newsletter to receive a regular digest of Fora's top articles delivered to your inbox.