Ryanair's PR woes could spell 'long-term damage' with business travellers
Analysts say bad press could jeopardise the airline's public image-improvement campaign.
PUNDITS HAVE WARNED that bad publicity surrounding Ryanair's late decision to cancel hundreds of flights could cause "long-term damage" to the budget airline's reputation with business travellers.
The airline has come under fire over a plan to cancel 40 to 50 flights every day until the end of October because of pilot shortages and to improve punctuality, which slipped below 80% in the first two weeks of September.
Aviation analysts at investment bank RBC Capital Markets said in a briefing note today that the negative press coverage could deter time-sensitive business passengers from using Ryanair's services.
"It is the potential for long-term damage that concerns us," RBC analysts said in the note.
"The poor PR could deter future bookings and may well put off more time-sensitive, higher-yielding demand (like business trips) if the carrier is seen as unreliable and less punctual."
'Always Getting Better'
Commentators at the investment bank likened Ryanair's reasons for its actions to 'football manager excuses', meaning the airline has tried to pass the blame onto others.
They warned that if the situation gets worse, Ryanair could jeopardise its 'Always Getting Better' campaign, which was launched in 2014 in a bid to improve the airline's public image.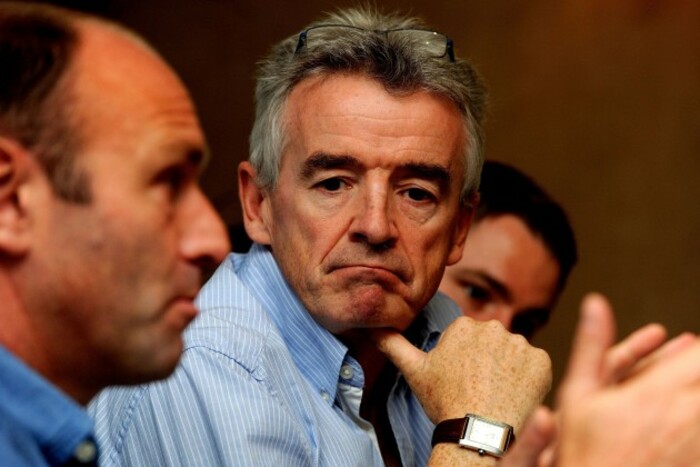 Source: Nick Ansell/PA Archive/PA Images
The RBC pundits said: "If Ryanair recovers the situation quickly and ensures its cancelled customers are compensated and re-booked … then we think that despite short-term cost the issue will pass.
"If not, and the situation worsens or elongates, or Ryanair fails to do the 'right thing' and it receives further bad press, then we see a possibility it could put at risk all the (Always Getting Better) efforts it has made."
'Unwelcome'
Irish commentators were more reserved in their analysis before trading started in Dublin.
Goodbody's Mark Simpson said in the stockbroker's morning wrap that the decision by Ryanair to cancel as many as 50 flights a day was "unwelcome".
[embed id="embed_2"]
He said the move was "likely to weigh on the share price", especially when coupled with a recent European Court of Justice (ECJ) ruling.
As previously explained by Fora, an ECJ probe confirmed that air crew members have the option of bringing proceedings before the courts in the countries in which they are based. The judgement could have a big impact on how Ryanair handles worker disputes.
Simpson estimated that the cancellations at Ryanair will likely shave some €34.5 million off Goodbody's €1.4 billion full-year profit forecast for the low-cost carrier.
The events of the past week have knocked more than 5% off the carrier's share price.
Sign up to our newsletter to receive a regular digest of Fora's top articles delivered to your inbox.
read more on