Ryanair launched twice as many new routes last year as any of its low-cost rivals
The budget airline rolled out more than 270 services in 2017, according to a new analysis.
RYANAIR LAUNCHED MORE than twice as many new services in 2017 as two of its low-cost rivals, a new analysis has found.
Figures compiled by online aviation journal Anna.aero, show that the Dublin-headquartered airline launched some 278 new services last year.
That's more than double the number rolled out by Lufthansa-owned Eurowings and Hungarian outfit Wizz Air, which launched 125 and 104 new services respectively throughout the year.
Ryanair was also well ahead of its arch nemesis, EasyJet, which launched just 79 new routes in 2017.
However the analysis doesn't measure how many of the routes were maintained. As previously reported by Fora, Ryanair has in the past been prone to trialling and then ditching new services – particularly at Shannon Airport, in the case of its Irish bases.
According to the numbers produced by Anna.aero, airlines around the world launched more than 3,500 new services last year.
Unsurprisingly, the majority of those routes were launched in the US, the world's biggest air travel market.
More than twice as many new services were launched there than the second-largest country market, Germany, where 464 routes were rolled out.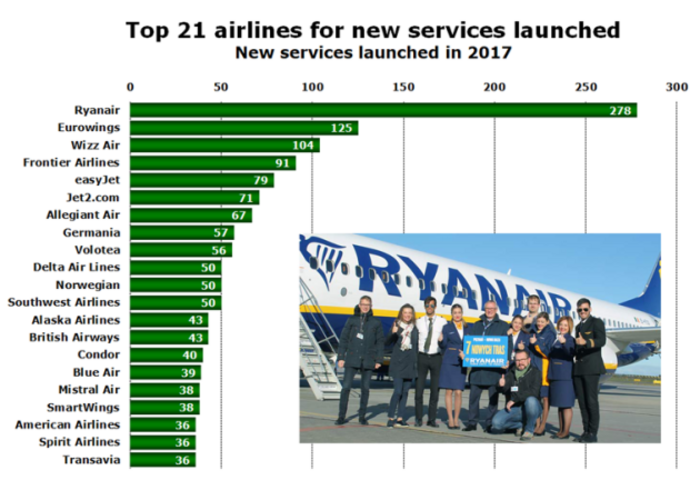 Click here to view a larger version.
'Ahead of the curve'
So far, Anna-aero has identified more than 1,400 new services that are scheduled for take-off in 2018. The routes will be operated by 168 airlines.
The aviation journal said the figures are well ahead of this time last year, which suggests that 2018 is "ahead of the curve and on track to exceed 2017 in terms of global airline network expansion".
It added that low-cost carriers dominate the list for new services so far announced for 2018. EasyJet and Eurowings have announced the most new services so far with 74 and 73 respectively.
Earlier this week, German airline group Lufthansa – which includes Swiss and Austrian Airlines – announced that it carried 130 million passengers in 2017, displacing Ryanair as Europe's largest airline by one million passengers.
The German behemoth benefited from the collapse of domestic rival Air Berlin in the same year that saw Ryanair cancel 20,000 flights after a pilot rostering issue left it without enough available to crew to fly its planes.
Sign up to our newsletter to receive a regular digest of Fora's top articles delivered to your inbox.