The figures that reveal Ryanair's 'very up and down' relationship with Shannon Airport
The budget airline has tried and dumped more routes there than at almost any other base.
RYANAIR HAS TRIED and then dumped more routes at Shannon Airport over the past decade than at almost any other hub, according to a recent study.
Data compiled by flight analytics provider OAG for British aviation e-journal Anna.aero showed that western Ireland airport has one of the highest rates of 'route churn' – when an airline discontinues a service – out of all bases used by the budget carrier.
Less than one-third of the flights Ryanair has launched from Shannon in the last 10 years are still in operation today.
Anna.aero's chief analyst, Ralph Anker – who studied the OAG data – told Fora via email that Ryanair has flown to 50 destinations from Shannon over the last decade, but only 15 of those routes will operate this summer.
That puts the County Clare airport behind only Alghero in northern Italy – which was dropped as a base in early 2016 before being reinstated later that year – when it came to the airports with the highest rates of Ryanair route churn.
Anker said the Irish airline's relationship with Shannon had been "very up and down during the last decade".
At the other end of the scale, Dublin Airport had the second lowest rate of route churn with seven in 10 of the flights Ryanair has launched there since 2007 still in operation this year. It was beaten to the top spot by London Stansted.
DAA split
During the 10-year period under review, Shannon Airport became independent of the Dublin Airport Authority, now called simply DAA.
In 2013, the government transferred the airport to the now-defunct regional body, Shannon Development, which became part of Shannon Group in 2014.
In a statement, a spokesman for Shannon Airport told Fora: "Since its independence from (the Dublin Airport Authority) in 2013, Shannon Airport's services and passengers with Ryanair have grown considerably and this year it will operate 15 routes, up from 10 in 2010."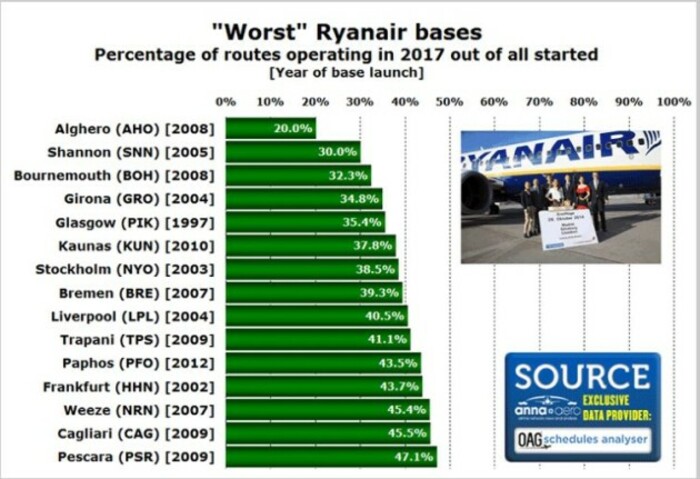 Ryanair has launched a Shannon to Lanzarote summer service but will axe flights to Paris Beauvais and Memmingen in Germany. It has also reportedly reduced its London Stansted and Manchester flights from the Clare airport.
According to a report in the Irish Examiner last year, the airline cut its 2017 target for Shannon to 700,000 passengers, down from the 800,000 travellers it served last year.
Fora contacted Ryanair for confirmation, but we hadn't received a response at the time of publication.
Anker noted that the Shannon to Paris Beauvais and Memmingen routes are still listed on Ryanair's booking tool, but "there aren't any dates on which you can currently book them".
"It's possible this may still change before the start of the summer season at the end of March," he said. "Beauvais has been dropped before and made a comeback."
'Try-out' strategy
Figures from OAG showed Ryanair has launched more than 2,800 routes from 256 airports over the past dcade. In 2017, it will fly 1,500 routes from 201 airports.
"This highlights just how many routes the airline has tried and dropped," Anna.aero wrote in its analysis.
[embed id="embed_2"]
It noted that a major part of Ryanair's business strategy is "market-making", where it uses "its vast resources and capacity to simply 'try out' routes between different regional cities that previously no other airline would dream of and for which market demand data is non-existent".
Anna.aero's editor, Marc Watkins, told Fora that "route churn at Ryanair is just a part of its very healthy business model".
Regarding Shannon Airport, he said "what is almost more important is an airline's capacity at an airport" – the number of planes it has based there – "and not what routes have been flown" from there. Ryanair currently has two planes based at Shannon.
Watkins noted that a route dropped by Ryanair could be "picked up by another operator with smaller, more appropriately sized aircraft".
'Up and down' relationship
Anker said Ryanair's relationship with Shannon had been tumultuous, going from 20 flights per day in summer 2008 to just five in 2011.
That likely reflects a spat between the carrier and Shannon in 2010, when the airport was still part of the DAA's network, as well as the drop-off in air traffic as the crisis ravaged the Irish economy.
Ryanair cut a number of services in 2010, blaming a hike in airport fees and a €10 tourist tax.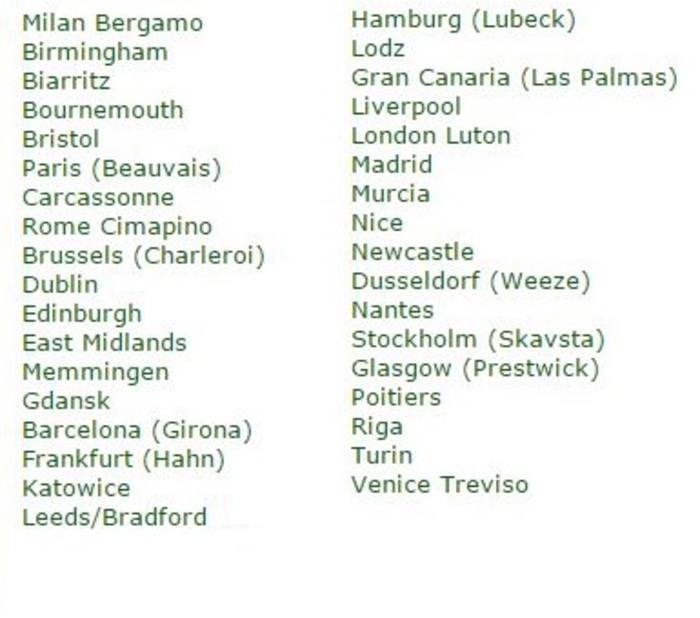 Source: OAG/Anna.aero
Meanwhile, Ryanair's communications guru Robin Kiely told punters at the Holiday World Show last month that the airline looks at aircraft availability, airport fees and demand to judge whether a particular service is viable.
"If there's no demand, we won't operate it," he said.
read more on