Ryanair's labour unrest is heating up as European cabin crew call summer strikes
The industrial action will affect Portugal, Italy, Spain and Belgium.
RYANAIR PASSENGERS ARE facing more potential disruption as cabin crew across Europe prepare to strike at the end of this month.
Crews in Portugal, Italy, Spain and Belgium will stage 24-hour strikes on 25 July and one in Portugal, Spain and Belgium on 26 July.
Cabin crew from around Europe have made demands on "economic conditions, safety and rostering, a fair and supportive work culture, agency employment, the right to sick pay and sales targets".
A statement signed by unions from the countries was issued today. A meeting of cabin crew took place in Dublin this week.
In Ireland, pilots' union Ialpa said that there is "no evidence" that Ryanair is willing to engage in "meaningful negotiations" about next Thursday's scheduled strike action.
The union's complaints centre around management's approach to transferring pilots between its European and African bases. It is also seeking a new system to determine various issues such as the allocation of annual leave, base transfers and promotion.
Ryanair yesterday wrote to the union asking it to meet and cancel the strike action. However, Ialpa – which is part of the trade union Fórsa – responded to say that the company's approach is not adequate and next week's strike still stands.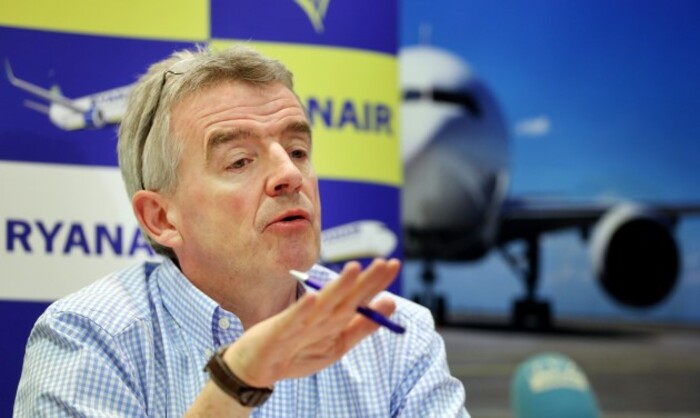 Source: Jan Woitas/DPA/PA Images
Dispute
In a letter addressed to the airline's chief people officer, Eddie Wilson, Fórsa's Angela Kirk said trade union members believe Ryanair has "absolutely no intention of negotiating on what are considered to be very reasonable requirements".
In a notice to customers, Ryanair claimed that it had tried on several occasions to meet with Fórsa but to no avail. It said it has already drawn up draft proposals on union recognition, base transfers, a new annual leave system and a seniority list for all pilots.
In her letter to Wilson, Kirk said: "As indicated in numerous previous letters, we are, and have always been, willing to meet you (subject to rostered duties) to discuss the issues".
Ryanair offered to meet with union representatives at its Dublin Airport headquarters, but Kirk said that Fórsa has "consistently suggested a neutral venue which we will pay for and it is beyond anyone's understanding why you will not simply agree to this".
"It is yet another example of a Ryanair view which is 'it's either our way or no way,'" she wrote.
The Irish Travel Agents Association (ITAA) has called the scheduled strike action by Dublin-based pilots an "unnecessary distraction".
The organisation has warned that holidaymakers will struggle to secure alternative flights during the busy travel season if industrial action leads to flight cancellations.
Written by Paul Hosford and posted on TheJournal.ie. With reporting by Conor McMahon
Sign up to our newsletter to receive a regular digest of Fora's top articles delivered to your inbox.