Ryanair insists its new baggage rules won't be a cash cow, but analysts see a €50m windfall
The no-frills airline's new policy around cabin bags came into force today.
RYANAIR'S NEW HAND luggage rules are expected to net the company over €50 million in additional revenue between now and March 2019.
The low-cost airline's new policy for cabin bags came into effect today, which means passengers now have to pay extra to bring a second bag on board. 
It's the second time this year that Ryanair has overhauled its cabin luggage rules. Until recently, non-priority customers were not allowed to bring a second bag on board but could store it in the hold of the plane free of charge.
From now on, those passengers will have to pay from €8 to have their 10kg bag checked-in.
Ryanair said that the free carry-on bags service was being "repeatedly flouted" by passengers and the new policy has been brought in to speed up turnaround times.
In a recent briefing with shareholders, Ryanair chief Michael O'Leary said the carrier's on-time performance between March and September of this year dropped from 86% to 75%.
The company previously said it doesn't expect the new policy to generate extra revenue and insisted it will lose money as passengers who would normally check in bags at the airport for €25 instead fork out €8 to carry them on board as hand luggage.
However, analysts at Goodbody Stockbrokers have predicted the move will generate extra sales for Ryanair in the long run.
Mark Simpson, an airlines analyst at Goodbody stockbrokers, told Fora that between now and the end of Ryanair's fiscal year in March 2019 the new policy is expected to yield €58 million for the airline.
"The view is they'll obviously make more money from people trading up to the kind of blended product, but there will be an offset on the actual bag line as people trade down.
"There will be a trade down from people who are checking in bigger bags. They will look to trade down to the 10kg bag pricing."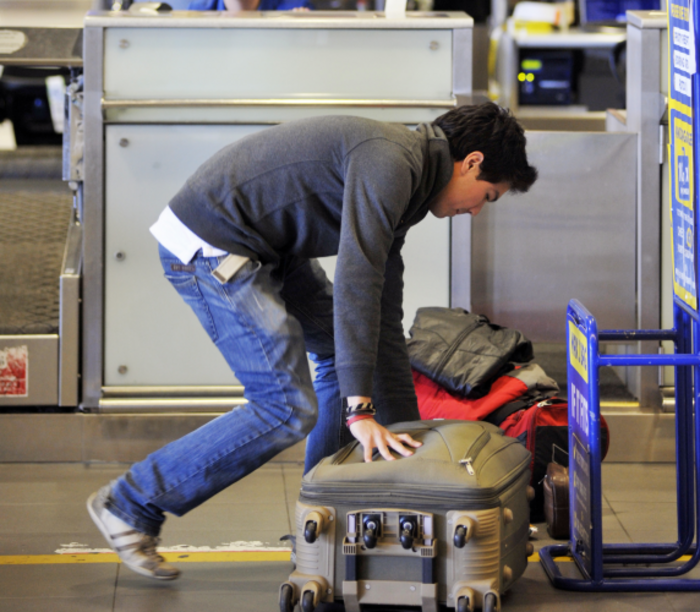 Source: RollingNews.ie
'It's all connected'
The new policy is about balancing many aspects of the business that are "all connected", according to Simpson.
He said additional revenue from the new policy change would improve the airline's ability to keep pricing low, a move that would help maintain load factor – a key metric measuring the number of seats filled on a flight.
He added that the business is trying to manage its margin in an environment of rising fuel bills and the move to improve turnaround times isn't just about making passengers happy – it's also about keeping airports onside.
"The concept of maintaining turnaround times is important for how their product maximises throughput for footfall for airports and (is) obviously important for them for negotiating airport deals.
"These things are all connected to (hand baggage policy), but are they going to make more money out of this? We think they will."
Check-in prices
Under the new baggage rules, all passengers can still bring a small bag on their flight but will have to pay from €8 to check in a 10kg bag before they board.
Previously, the cheapest option for checked luggage was €25 for up to 20kg. This option is still available for heavier cases.
Passengers who pay for a priority boarding pass, which costs €6, will still be allowed to bring a 'personal bag' and a small suitcase into the cabin. But priority tickets for Ryanair flights are limited to 95 people.
The airline has claimed that the majority of passengers will not be affected by the new policy.
Under its estimates, nearly a third of customers already buy priority boarding passes and another 30% only travel with a 'personal bag'.
"We expect that the other 40% will either choose to buy priority boarding or a 10kg check bag, or will choose to travel with only one small bag," said Ryanair marketing chief Kenny Jacobs.
Simpson said that people can "point a finger at Ryanair" over the introduction of new baggage fees, but these kind of policies are an industry trend.
"What we're seeing is obviously a lot of airlines across the board, not just Ryanair, introduce the policy as well. EasyJet did this some time ago. So this has been an industry trend, but it is a benefit to managing turnaround times, which has its own cost advantage."
A report earlier this year showed that Ryanair collected $2.3 billion through extra charges and add-ons.
The most recent financials results published by Ryanair, which cover March to September 2018, show that the firm's profits dropped by 7% to €1.2 billion compared to 2017.
Get our NEW daily digest of the morning's most important headlines for innovative Irish businesses.