Michael O'Leary claims 'bureaucratic dither' is holding up Dublin Airport's new runway
Ryanair's boss lashed out at the attorney-general's office for delaying noise regulation rules.
RYANAIR BOSS MICHAEL O'Leary has said the office of the attorney-general should "get off their backside" and fast-track legislation that gives the Irish Aviation Authority (IAA) the power to monitor aircraft noise at Dublin Airport.
Speaking on RTÉ's Today with Sean O'Rourke, O'Leary claimed a delay in signing off a statutory instrument – a type of bye-law – has delayed the hub's second runway.
Noise at Dublin Airport is currently monitored by its operator, DAA.
Under conditions imposed by An Bord Pleanála for the new build and in accordance with EU rules, an independent 'competent authority' must be designated to oversee a "noise control regime" at the airport. The IAA has been identified as the relevant authority.
Responding to a written question last week, Transport Minister Shane Ross said officials in his department "continue to engage with the office of the attorney general" on finalising a statutory instrument to allow for this.
"This matter is being treated as their top priority," he wrote.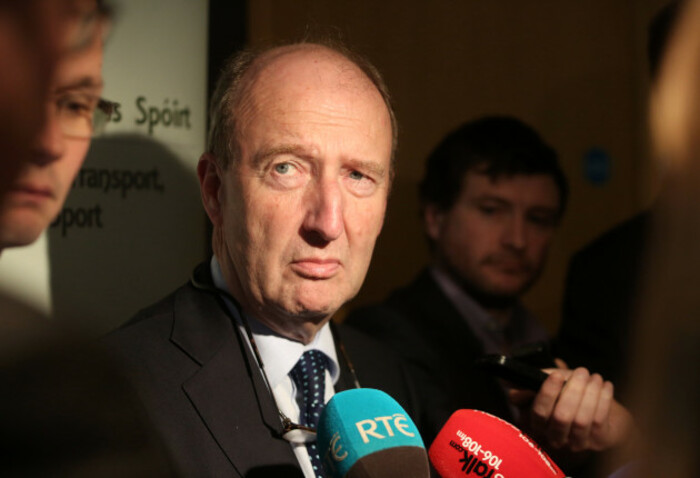 Source: Sam Boal/Rollingnews.ie
However, O'Leary has now claimed that the legislation is being help up by "bureaucratic dither" in the office of the attorney-general.
"For some inexplicable reason, this legislation has been stuck in the office of the attorney general for 12 months," O'Leary said, accusing it of "fiddling around with commas and full stops".
He said development of the second runway can't go ahead until a third-party, independent organisation has been appointed to monitor noise at the airport.
"If there's going to be some new politics, let's have some action," O'Leary said, asking for an explanation for why the statutory instrument hasn't come to pass.
In response to a request for comment from Fora, a spokesman for the attorney general's office said: "Our position would be that it's a matter for the (transport) department. They're a client of ours. We would never comment on a matter such as this."
A spokesman for the Department of Transport told Fora through a statement: "This is complex legislation and the fact of the matter is that it takes time."
"Of course the minster would prefer if this process could move more quickly … but it has to be recognised that early delivery of potentially flawed legislation that falls to be resolved through the courts is not the right answer."
Source: RollingNews.ie
In the interview with RTÉ Radio One, O'Leary stressed a second runway is required to allow Ryanair grow the number of passengers it serves at Dublin Airport.
He said Ryanair, which has 30 planes based in Dublin, can't get any more aircraft onto the current runway in peak morning and evening times because it is "stuffed to the gills".
Seating controversy
O'Leary was also quizzed over the controversy surrounding the budget airline's allocated seating policy.
Passengers have reported being split up – sometimes many rows apart – even though their flight was not full, with many extra seats available unless they pay extra to sit together.
O'Leary blamed the controversy on a "whining, whinging minority that think they should be allowed sit where they want free of charge".
"If you don't want to pay (at least) €2, you can choose a random seat free of charge. If you're not happy to pay the €2 to sit beside somebody else, stop complaining," he said.
He suggested an algorithm in Ryanair's seat-allocation system may have an effect on random seat selection.
When asked about his views on Brexit, O'Leary repeated claims that that there may be no flights between the EU and UK "for a number of weeks or months" unless Britain agrees to remain part of Europe's single aviation market.
"It's a guillotine. It's up to the British to negotiate a soft Brexit in the next 12 months," he said.
He said legacy carriers Air France and Lufthansa – which only do a small proportion of their overall trade in the UK – are "licking their lips" at how disruptive Brexit could be for Ryanair's business.
Sign up to our newsletter to receive a regular digest of Fora's top articles delivered to your inbox.
read more on