Why Ryanair cares so much about a failed German airline
The Irish carrier claimed there's an 'obvious conspiracy' between Air Berlin and local rival Lufthansa.
EARLIER THIS WEEK, German low-cost carrier Air Berlin announced that it had filed for insolvency.
It said it was in talks with legacy carrier Lufthansa and other interested parties to sell off parts of the business.
Air Berlin also received a €150 million bailout from the German government to keep it flying through the peak summer season.
Hours after the news broke, Ryanair issued a strongly worded statement to say that it had lodged complaints with both the European Commission and Germany's competition watchdog.
It claimed there was an "obvious conspiracy playing out" between the German government, Lufthansa and Air Berlin in an effort to "carve up" the failed carrier's assets and exclude competitors from snapping up valuable take-off and landing slots.
"Given the fact that the German government is centrally involved in these manoeuvres, the Bundeskartellamt (competition authority) is likely to struggle to get out of bed," Ryanair said in typically colourful language.
However, the country's economy ministry denied yesterday that it was involved in talks on the sale of the insolvent airline's assets.
Berlin insisted that its multimillion-euro loan to the airline does not breach state-aid rules – but Ryanair's headline-grabbing boss, Michael O'Leary, begs to differ.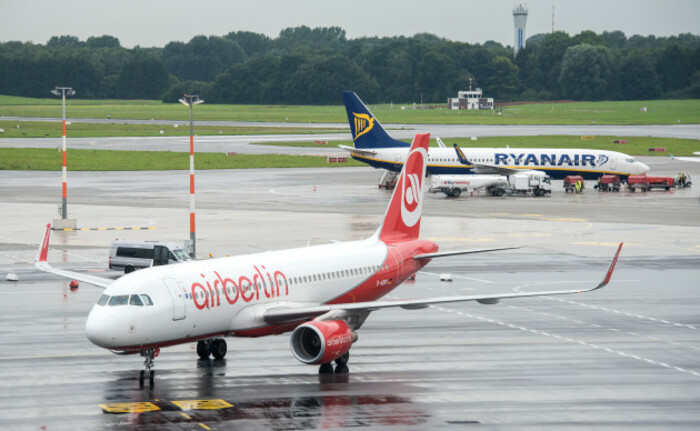 Source: Daniel Bockwoldt/DPA/PA Images
Why Air Berlin failed
Low-cost carrier Air Berlin has been flying for close to 40 years and is Germany's second-largest carrier after Lufthansa.
The airline started out in then-West Berlin in the late 70s with a single leased Boeing 707. Since only Allied aircraft were allowed operate there at the time, it was headquartered in the US.
After Germany's reunification in 1990, Air Berlin adopted the low-cost model pioneered by Tony Ryan's fledgling Irish airline.
It went public in 2006. A year later, it bought leisure airline LTU and pitched itself as a hybrid between a long-haul and low-cost operator. But Air Berlin couldn't keep pace with the march of rivals Ryanair and EasyJet.
In recent years, the airline has only been able to survive with the financial support of its largest shareholder, UAE-based airline Etihad.
That cash cow ran dry this week when the Abu Dhabi-headquartered outfit said it had withdrawn funding because Air Berlin's operations had "deteriorated at an unprecedented pace" in recent months.
The airline's 2016 financial results were disastrous, with operating losses soaring to €667 million, double the losses it booked in 2015.
The most recent quarterly results made for grim reading too, with losses swelling nearly 60% year-on-year to €272 million for just the first three months of this year.
Defensive
News agency Reuters reported that Air Berlin's administrators will initially focus on selling off the carrier's prized take-off and landing slots at German airports.
Yesterday, the media outlet said that the first round of formal talks have already taken place with Lufthansa. Other bidders haven't been invited to the table just yet.
The move has been seen by pundits as an attempt to bide time for Lufthansa in its effort to prevent Ryanair from creeping further into the German market, which hasn't seen the same low-cost penetration as other European states.
Speaking to the Financial Times, aviation analysts Daniel Roesksa said the early talks with Lufthansa seemed "like the culmination of a concentrated plan".
"First there was the wet lease deal, finalised in January this year," he told the newspaper, referring to an agreement to transfer Air Berlin planes to Lufthansa's budget arm Eurowings and subsidiary Austrian Airlines. "Then the new CEO, Thomas Winkelmann, was recruited from Lufthansa in February."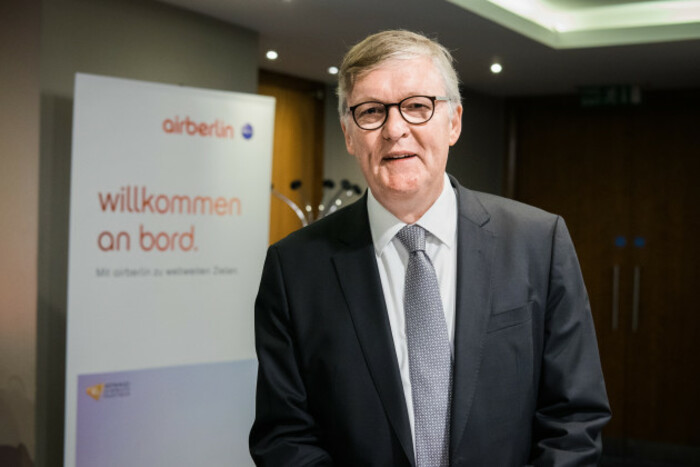 Source: Alban Grosdidier/DPA/PA Images
Travel commentator Eoghan Corry said he didn't think Ryanair's claims of a conspiracy were ill-founded, adding that European authorities appear to give preferential treatment to France and Germany's national carriers.
"The thing is, EU law, when it's being implemented to bully Dublin about Aer Lingus or Lisbon about TAP, is all very well and good," Corry told Fora.
"Air France and Lufthansa have not been bullied by the EU. When it comes back to where the emperor is sitting – Paris and Berlin – different rules apply."
That said, Corry noted that cries of a national carrier jumping into bed with the government is all part of the public image game played by Ryanair.
"It suits Michael O'Leary to be able to say that there's a conspiracy," he said. "It gives him that outlaw image that he exploits ruthlessly in the media."
What's at stake
Lufthansa has good reason to fear Ryanair. Last year, the German airline was overtaken for the first time by the Irish carrier in terms of passenger numbers – Lufthansa carried just over 109 million passengers compared to Ryanair's 117 million.
The German market is a major priority for Michael O'Leary and other aviation executives. It is the biggest outbound tourism market in the world – but has seen the lowest penetration from low-cost airlines.
At present, cheap carriers account for just over a third of all flights from Germany, compared to an overall market share of around 42% in Europe, according to data by Flightglobal.
O'Leary this week described Germany as "one of the biggest prizes in Europe". Ryanair currently owns just 6.4% of the market.
With the way things are going in Britain, now is as good a time as ever for O'Leary to shift Ryanair's North European focus from the UK to the more stable German market.
With hundreds of new aircraft on order and some 85 UK-based planes that could be moved, O'Leary is in a good position to shift capacity into Germany.
But Ryanair is not the only airline with an interest in the stability of central Europe.
British rival EasyJet – which owns 3% of the German market at present – has already announced that it will open a new headquarters in Austria. According to the Financial Times, EasyJet is already involved in discussions to buy parts of Air Berlin.
CAPA aviation analyst Jonathan Wober told the newspaper that EasyJet is a more preferable partner for Lufthansa than Ryanair.
"EasyJet's not as low-cost as Ryanair, and its average fares are not as low as Ryanair," he said.
"From that point of view it would be preferable to Lufthansa. But at the end of the day it's not Lufthansa that will decide."
Sign up to our newsletter to receive a regular digest of Fora's top articles delivered to your inbox.
read more on