RTÉ has sold off part of its Donnybrook HQ for more than €100m
Cairn Homes is expected to build more than 500 houses on the property.
NEARLY NINE ACRES of land at RTÉ's Montrose headquarters in south Dublin has been snapped up in a deal worth more than €100 million.
Irish housebuilder Cairn Homes, which has become a major player in the local property market over the last two years, has agreed the purchase for a total price of €107.5 million.
The company said it plans to build up to 500 apartments and nine houses on the 8.64-acre Donnybrook site. The purchase price works out at more than €200,000 per unit.
The final deal is well above the guide price of €75 million that was flagged when RTÉ first put up the plot of land for sale at the start of the year.
The state broadcaster is selling off the land in an effort to improve its flagging financial situation. The organisation's losses for 2016 topped €20 million as it spent up on several major events, such as the centenary of the 1916 rising.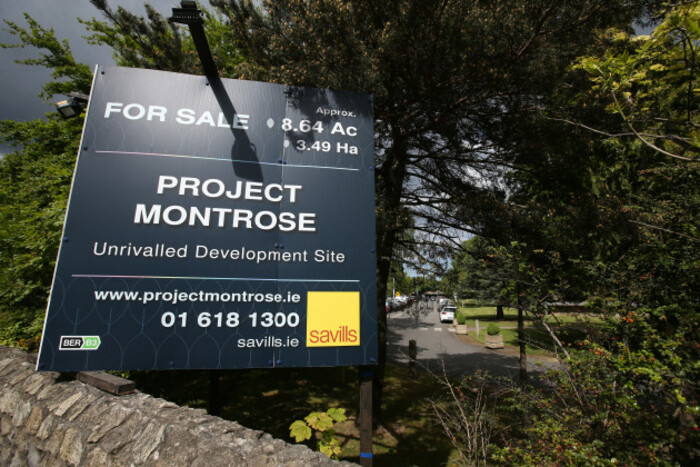 Source: Sam Boal
In a statement, Cairn Homes chief executive Michael Stanley said the company was "delighted to have acquired what we believe to be Dublin's most attractive residential development site".
The firm is currently building two major developments of high-end homes at Rathgar and Hanover Quay in the capital.
Reinvest
When it first announced the sale in January, RTÉ said it decided to sell off the "under-utilised land" situated to the west of its radio centre.
The state broadcaster said at the time that it had been unable to invest in infrastructure or technology because of its falling revenues and struggle with profitability.
More than half of the organisation's income comes from the licence fee, while the remainder comes from commercial sources such as advertising on its TV and radio channels.
Several independent reports indicated that the sale the land represented "a valuable source of much-needed funding for investment".
[embed id="embed_2"]
"While the sale of this underutilised land will not solve all RTÉ's financial challenges, it will provide us with means to reshape and reinvest in the organisation," RTÉ said in January.
Cairn Homes has been snapping up development sites around the capital over the past two years. The company's 2015 London IPO was the first listing for an Irish housebuilder in about two decades, while last month it raised nearly €52 million from a share placing.
Note: This article has been updated to include a statement from Cairn Homes.
Sign up to our newsletter to receive a regular digest of Fora's top articles delivered to your inbox.