The owner of Dublin's Rolling Donut chain says we've finally hit peak doughnut
Lisa Quinlan's family has been in the business for nearly four decades.
UNLESS YOU HAVE been living under a rock, you probably noticed there's a doughnut fad in full swing.
Following in the footsteps of burrito and cupcake stores, several new doughnut chains have launched stores across Ireland.
But the rush is about to stop, according to Rolling Donut owner Lisa Quinlan, who says Dublin has hit peak doughnut.
"I think definitely that's it now. I really, really do." she tells Fora. "I think it would be silly if someone else thinks of getting into it, to be honest."
Over the past two years, Quinlan has been one of several in the industry to capitalise on consumers' sudden appetite for the sweet treats.
She expanded the Rolling Donut from the iconic kiosk on O'Connell Street her father ran for decades to stores on Bachelors Walk and the top of Grafton Street.
However, as the doughnut rush dies down, the competition to stay in business will inevitably begin. A number of players, such as Boston Donuts, Offbeat Donuts and Aungier Danger, have bet on the trend and will scrap for the remaining market.
The competition may have claimed its first casualty this week when Dublin Doughnut Co announced it was closing down with owner Hilary Quinn taking an "extended" break.
"Hilary did a fantastic job. I would continually aspire to do what she did. It's such a shame," Quinlan says.
"It's a case of the best will survive, and I'm in this for good. I don't think demand for doughnuts will disappear overnight. I know burrito companies that are still doing quite well."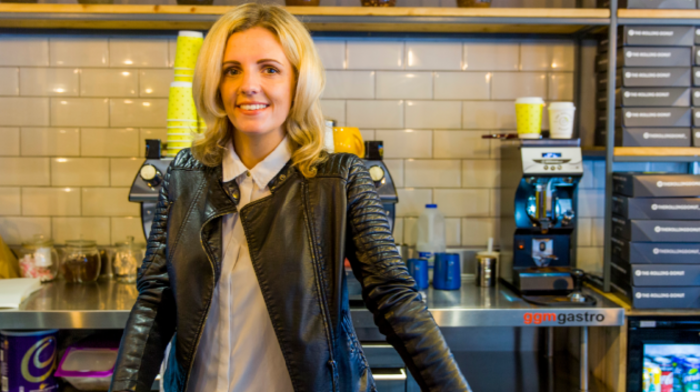 'Lisa Donuts'
From the late 70s, long before marshmallow-filled dough-balls topped with bacon and the like were the norm, Quinlan's father sold doughnuts from a trailer at festivals.
He later pitched up in the famous O'Connell Street outlet, while he also held the rights to the Dunkin' Donuts franchise in Ireland, selling the brand at events.
"Me and my sister would have gone to festivals and garden shows, aprons on behind the counter. It's all I really knew growing up," Quinlan says.
"I've always been known as 'Lisa Donuts', so it didn't feel like a doughnuts craze to me. It's kind of weird actually seeing garages and shops everywhere with doughnuts. I just hope we can differentiate ourselves through our family history."
While there was never a question for Quinlan if she would follow in her father's footsteps, she wasn't always sure how to make her mark on the business.
But after seeing the popularity of fancy doughnuts in places like Australia and the US, she thought something similar could be replicated in the Republic.
"It wasn't even the Rolling Donut officially when I started. When I rebranded the kiosk and I put up a little website, people started to order them for corporate events or weddings and my father couldn't get over it."
Mistakes
Quinlan says she made a few mistakes at the beginning, opening a shop on Aungier Street that she ultimately shuttered.
"I tried to do too many products, tried to appeal to students and make them on site," she says.
Quinlan also launched a Meath café, Wildflower, around the same time, which served as a distraction from the doughnut shop.
"I had the café in the garden centre, which was stressful. I struggled with it at the start. No one knew where we were … It took two and a half years to get the place going."
Quinlan was also in a relationship with Phil Costello, who ended up running rival doughnut brand Aungier Danger.
"Phil was working in the family doughnut business with me. I was so busy that we agreed I would assist him in opening Aungier Danger, but it was entirely his to make his mark on," she says.
"Obviously I didn't realise things were going to go so pear-shaped with the relationship, which is when I walked away and started to do my own thing."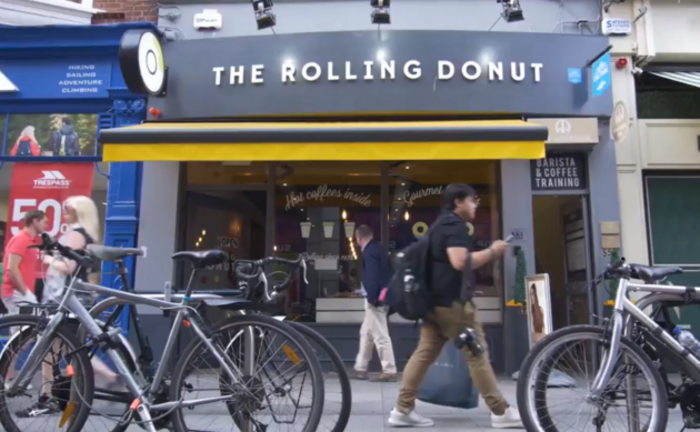 Source: YouTube/Linked Finance
Two new shops
Although the café was a distraction, the Rolling Donut now owes a small debt to the Ratoath eatery for its start in life.
When Quinlan regrouped with the doughnut business, she decided to tap up her credit and peer-to-peer lender Linked Finance for funding.
"You had to have a pre-existing business for Linked Finance and I had Wildflower, so I was able to go to them on the back of that but raise for my new business plan for Rolling Donut."
In the end, she got €40,000 from the credit union and another €25,000 from Linked Finance to fund the expansion onto Bachelors Walk and then South King Street near Stephen's Green Shopping Centre.
"It's amazing to think that over a year ago I found a location, but had no money and no bakery.
"The location at on King Street was difficult to get. We had to jump through hoops to convince the landlord who owns the building who had a previous business in there that didn't work out."
She recently raised another tranche of funding through Linked Finance to fund the "massive deposit" on South King Street, but she's adamant that's the end of the expansion.
"There definitely won't be a new store. I'm getting systems in place and key people on board. And we're flat-out on the development of the product. My job is very boring now."
Sign up to our newsletter to receive a regular digest of Fora's top articles delivered to your inbox.