The boss of Roe & Co hopes the new whiskey distillery will become an events magnet
Diageo's mullimillion-euro attraction opens later this month.
THE BOSS OF Diageo's Roe & Co whiskey brand hopes the outfit's new €25 million distillery will become a "thriving, energetic" destination for festivals and other events.
Located at the former Guinness power station in Dublin's Liberties and a stone's throw from the drinks giant's Storehouse attraction, the Roe & Co whiskey distillery was officially launched today in advance of a public opening on 21 June.
The new attraction – which is a working distillery – will provide 75-minute tours to groups of up to 16 at a time, who will tour the building, learn about the flavour profile of Roe & Co's whiskey and participate in a cocktail making masterclass. The tour costs €25 per person.
Diageo currently produces Roe & Co whiskey by blending malt and grain whiskies sourced from third parties. The new distillery, which directly employs 18 people, will produce an in-house product that will be available when it has matured after three years.
Gráinne Wafer, global brand director of Roe & Co at Diageo, said the distillery expects to attract 50,000 visitors in its first year of operation.
"It could grow, but we also want to keep the balance right between keeping it small and intimate as well," she told Fora.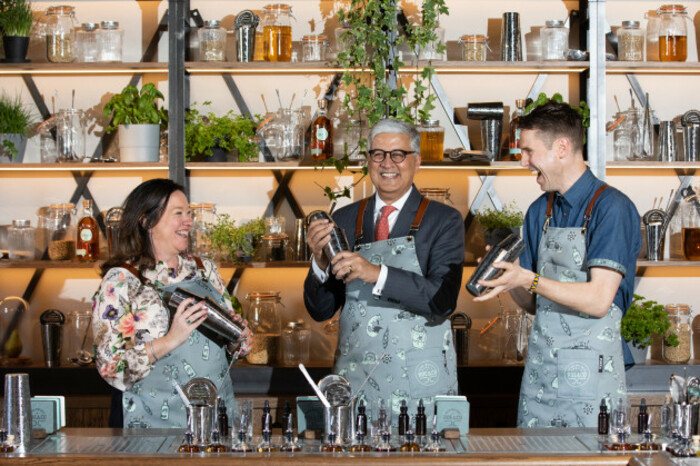 Source: Naoise Culhane
Rivals
Wafer said Diageo is expecting mainly international visitors to take the tour, particularly American holidaymakers in addition to Britons and continental Europeans.
Roe & Co's distillery is close to other whiskey attractions, namely the Teeling Whiskey Distillery, Pearse Lyons Distillery and Dublin Liberties Distillery. It is also a 12-minute walk from the Jameson Bow St experience in Smithfield.
It is also in close proximity to one of Ireland's top visitor attractions, the Guinness Storehouse, and the Open Gate Brewery taproom, both of which also belong to Diageo.
When asked how it will pit itself against rival whiskey attractions, Wafer said she believes Roe & Co's cocktail bar and the former power station's impressive architecture will lure visitors.
"It's an urban distillery, so that means you feel very much grounded in the city," she said.
"I think it's great that there are so many whiskey experiencing opening and they're all very different and they're all very distinct and they each bring something unique to the tourism offering … I don't there are any signs of (the market) being saturated, although it's growing very rapidly."
One of the ambitions for the Roe & Co distillery is to turn it into a venue to collaborate with local businesses, according to Wafer. For example, the visitor centre's gift shop stocks local designer products.
Wafer also hopes that over the coming years the attraction will become a venue for events like festivals.
"I really hope it is a thriving, energetic building with things going on like festivals, for example. We have beautiful gardens out the front," she said.
"I'm feeling very confident that as we grow we want to maintain that very intimate, specialised tour experience. It's not a mass market experience. It is premium, it is boutique. We'll be keeping it that way. That's what makes it distinctive.
"We're playing our part in regenerating this area. This building is so iconic and I think it has a sort of onus on it to be a landmark building within this area so it really feels thriving," Wafer said.
Get our NEW Daily Briefing with the morning's most important headlines for innovative Irish businesses.