Retailers blame 'alarmist' weather warnings for a decline in December shoppers
But Retail Excellence says 2018 Christmas sales in Ireland will still be in line with last year.
RETAILERS ARE BLAMING "alarmist" weather warnings for "significantly damaging footfall" during the crucial Christmas trading period.
According to the latest update from industry group Retail Excellence, footfall has declined across the country this December, partly as a result of the inclement weather in recent weeks.
The group claimed that last weekend's orange and yellow weather warnings from Met Éireann during Storm Diana led to public concern that discouraged consumers from going out shopping.
It added that weather alerts are having a "devastating impact" on retailers, at a time when shoppers are being lured online or across the border.
David Fitzsimons, group chief executive at Retail Excellence, said that the most common comment his team has heard from retailers this week is that "the weather alert issued by Met Éireann pertaining to weather conditions last Saturday was at best alarmist".
"Most of the country experienced rain and some wind and yet the alert more or less turned off the spending tap on one of the most important days in the retail calendar," he added.
According to Met Éireann's website, the core rationale for issuing weather warnings is to "protect the lives and livelihoods of all of the nation's citizens, and to mitigate damage to property and disturbance to economic activity at times of severe weather".
Met Éireann meteorologist Joan Blackburn told Fora that all weather warnings are based on the scientific evidence available at the time.
"Last Saturday, all evidence pointed to strong winds and heavy rain, with flooding in some parts of the country, so we specifically issued orange and yellow weather warnings in certain areas at certain times and updated these as necessary."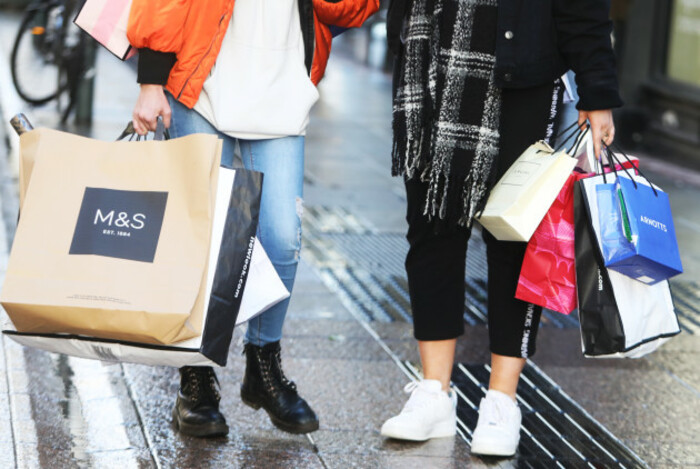 Source: Leah Farrell
Christmas trading
Retail Excellence said that trading to date this Christmas has been "challenging" but it expects that sales will be "on par" with last year's figures for the festive shopping season. Although footfall has declined nationwide, the value of transactions has increased.
Weather aside, the industry group said that there was an extended period of quiet trading in the weeks surrounding Black Friday, as well as a "significant increase" in online shopping with international websites, with over 70% of online spend leaving the country. 
With Brexit looming on the horizon, Retail Excellence added that there has been an "erosion in consumer sentiment" as well as an increase in cross-border shopping due to a weak sterling rate. 
Compared to last December, sales are expected to be up in the furniture, consumer electronics, telecommunications, grocery and clothing sectors.
However, retailers in the beauty and pharmacy, footwear, food to go, and jewellery markets are expected to see declines.
Nevertheless, Retail Excellence said that this weekend will be the busiest shopping period this year, particularly for grocery, pharmacy and fashion retailers.
Note: this article was updated to include comment from Met Éireann.
Get our NEW Daily Briefing with the morning's most important headlines for innovative Irish businesses.