With its new studio, Republic of Work wants to pull down the technical barriers for podcasters
The co-working space will be running events and workshops to get more people into making shows.
AFTER LAUNCHING ITS radio broadcasting studio, Cork's Republic of Cork is making a big play for the world of podcasting.
The startup co-working and accelerator hub recently inked a deal that will see Newstalk and Today FM broadcast from the studio, and now chief executive Donal Cahalane is eyeing up podcasters too.
With the aim of having up to 100 shows produced from the studio, Cahalane hopes the facility will open the arena of podcasting to more people that may have encountered barriers.
"The reason we're so ambitious about the whole thing (is), we just think there's an awful lot of opinion and content out there in the world and I think what's been holding (people) back is a lot of technical aspects of it."
Cahalane added that Republic of Work will be actively pushing the studio to bring newcomers into the podcasting space.
"As part of our plan for the podcasting studio, we're going to run courses and workshops and events here in the Republic of Work essentially to create our own demand," he said.
Much like the campus's main business, it works with clients and partners around the country and isn't limited to Cork in its search for people to use the studio.
"If you look at things like (digital marketing event) Learn Inbound and these sort of meet-ups and events and organisations that are hitting these specific niches, we're going to try and do the same thing for podcasting in Ireland," he said.
"It's not that we suddenly expect 100 Cork locals to start podcasting."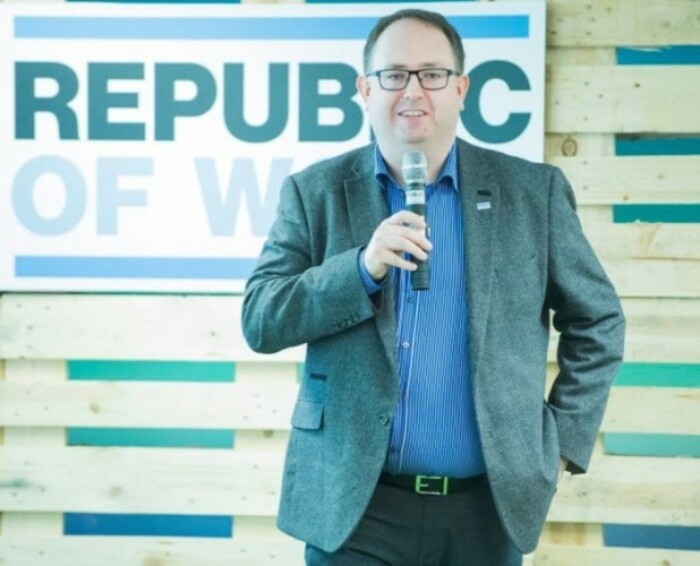 Source: Gerard McCarthy
Republic of Work will host its first podcasting information event at the end of March. It already has 10 podcasts using the studio, including one of its own in-house shows.
Barriers
Podcasts have ballooned in popularity in recent years. According to research last year, in the US alone, 42 million people had listened to at least one podcast the week of the survey.
However, there are still challenges around the business model. In Ireland, there are podcast shows and networks like Second Captains and HeadStuff but costs around production as well as securing significant advertising mean it can be difficult to generate revenue.
The Republic of Work studio will run at different pricing tiers, from opening up the studio to DIY podcasters to packages that provide access to sound engineers and editors.
"It gives us a lot of resources in terms of being able to put on a workshop," Cahalane said.
"It's not just about how to actually sit behind a mic and talk but how you design shows, how you produce them, how you actually manage them on the day and the technical side of how you deal with sound.
"Then right back to once the finished podcast is produced, how you brand it, market it, how you distribute it, all that sort of stuff."
Get our NEW Daily Briefing with the morning's most important headlines for innovative Irish businesses.