'I hit a crossroads and didn't know what I could do. I had no qualification except entrepreneurship'
She started out selling Christmas hampers, but now Yvonne Dolan is making on-the-go smoothies.
WHEN I WAS leaving school, entrepreneurship was for those who fell into a failing family business and turned it around. Unless you went to college, the options were either nursing, banking or insurance.
Both my father and grandfather were bank managers, which meant there was a seat waiting for me. But you started off in the basement filing and that's where you stayed unless you took the exams to further your banking career.
This was not how I had imagined life would be after school. It was too structured, too much routine. When do I get to give my opinion, make decisions? 18 months later I was on my way to New York, where I was sure the grass was greener.
So there I was in New York at 20 years of age and thinking, "Now life starts." I stayed for a couple of years just touring around, tending bar, living life. And then I came back to Ireland to get the Donnelly visa.
It was the September before Christmas and I had to hang around for a couple of months before the visa was issued.
I had to think about getting some pocket money for Christmas and needed something short-term. Two businesses jumped out at me: Christmas trees or a company that makes hampers for gift giving.
I explored more about the hampers, I realised that culture didn't really exist in Ireland - companies here rarely gave presents to their staff or to other customers. So I started up a company called Interhamper, first called Irish Corporate Christmas Hamper Company.
I knew that if I was approaching businesses with this idea I needed a professional image. So I invested in a full-colour brochure, mailed it out and packaged hampers literally from my bedroom. During Christmas week, we expanded into both sisters' bedrooms.
After Christmas, I couldn't believe the success, Irish companies had not been offered such high-quality Christmas fare. I had to seriously consider staying on in Ireland, which is what I did for 17 years.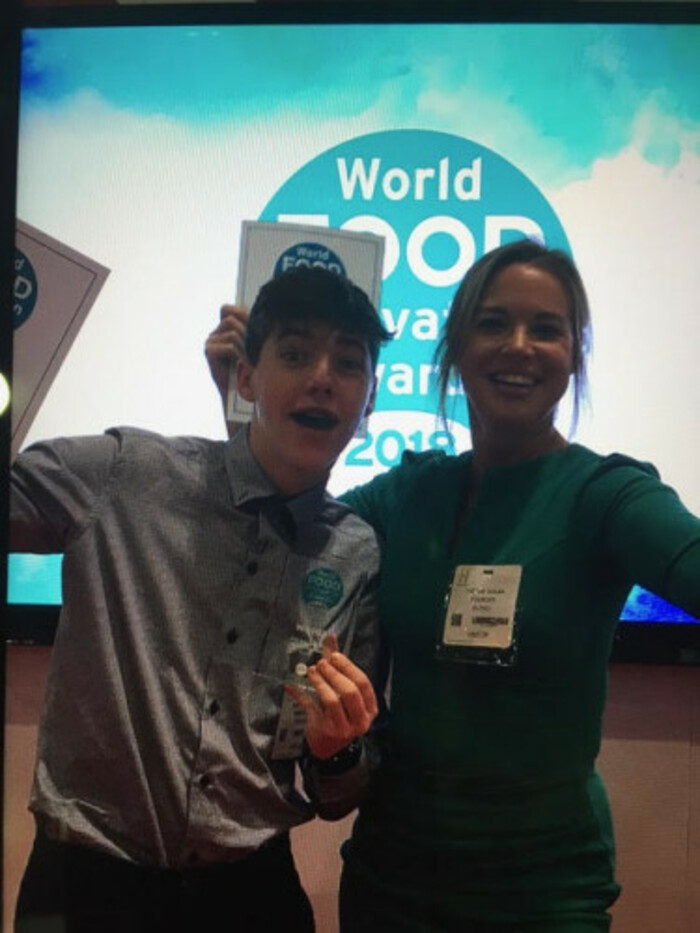 Source: Blendi
Business and golf
I worked every September to January on the hamper business from a warehouse, where we would package thousands of hampers for clients. The rest of the year I worked on my golf handicap taking it all the way down to five.
I built up a good solid business. Turnover was in excess of quarter of million in the 1980s, and I sold the company to Bewleys after 15 years.
That was my first business, but the second followed quickly after that. I set up a food and wine store in Dalkey called Rossini's and operated that for two years before selling it to the Douglas Food Company.
Then I went over to Croatia on holidays and fell in love with the place. I ended up staying for six years and I developed a property portfolio, including rezoning land for a golf course in Dubrovnik, and sold it to an Israeli company.
I spent the next few years in Sotogrande, Spain, trying to tick off my bucket list goal to become a professional golfer. Unfortunately I couldn't, the age clock had gone too far ahead.
Next on the bucket list though was the Ballymaloe Cooking School. My son Shane came out of Spanish school and I put him into national school Midleton while I took part in a four-month intensive course and returned by Spain to set up a catering company.
Jump ahead, I came back to Ireland in 2015 and that's where, for the first time in my life, I had a blank canvass to deal with.
I had hit a crossroads and didn't know what I could do because I was used to running one business into another. I realised I had no qualification except being an entrepreneur.
Dilemma
Marketing had completely changed, so I decided to get up to speed with that and did a diploma in digital marketing.
Then I began noticing things and opportunities to go after – for example, how food consumption was changing. It was all about snacking and on-the-go.
My son was in school and I could see them all coming out and running up to the shops to buy the instant noodles; they loved them because of the quickness. I was intrigued about re-hydrating food on the go, but it needed to be much healthier.
So I created Nu Lyfe Foods and began importing re-hydrated and freeze-dried ingredients to experiment with creating tasty and healthy pot noodles. It was challenging to say the least – I would say now that it was impossible.
When I was bringing in ingredients, I found that the beetroot, spinach, cucumber and mangos were disappearing into my son's smoothies ingredients.
I could see my 14-year-old son was getting more than his three-a-day, and I knew this was it – smoothies were what I needed to go after.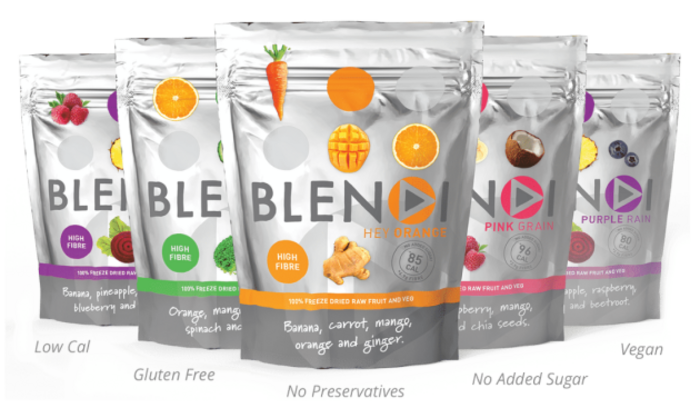 Source: Blendi
Smoothies
I spent eight months in development with Bord Bia and colleges and was supported by Enterprise Ireland in coming up with recipes. But I needed the finance to support the branding for Blendi.
I rang around a few agencies in Dublin trying not only to get a quote for the cost but to ask if any of them would ever consider partnering with me. I could almost hear them roll their eyes as they said, "Good luck Yvonne."
Plan B was to stalk the leading UK branding companies on LinkedIn. I made similar phone calls saying, "Look, I'm a startup in Dublin, I have this new idea that's not out there and I need someone to partner with."
One particular day I was on Linkedin texting a branding agency called Osborne Pike and they loved the idea. They said, "Next time you're in the UK, drop in." Needless to say, three days later I was in Bath knocking at their door.
I had nothing in my hand except a few ingredients, but I said, "This works, look," then I plugged in a blender and told them my vision for Blendi. They were in.
They did all my marketing and branding, putting a price of €30,000 on it, and I gave them 5% of the company in exchange. Three years on, they remain great business partners.
Momentum
That deal has put real momentum behind the business. I could now say I was in the stables with the likes of Kellogs, Danone and Heineken by working with the same brand agency.
Opportunity after opportunity kept coming and led to where I am now, which is in production since last December. But the best news came this month, when we were shortlisted at the World Food Innovation Awards in London.
We got a call to say Shane and myself were invited to London for the award ceremony, and when it came to the best new food concept for 2018, they gave the prize to Blendi.
That's probably the best moment we've had. Some people might think starting production is big, but that's something in your head that you think should have happened months ago – with a startup you always feel behind.
But with an award like that, it's not something you are expecting. It's one thing that is totally out of your control.
You can't get hung up on mistakes – sometimes when they happens it can seem horrific on the hour, day or week. But as time passes you look back and say, "If that didn't happen, I wouldn't be where I am now."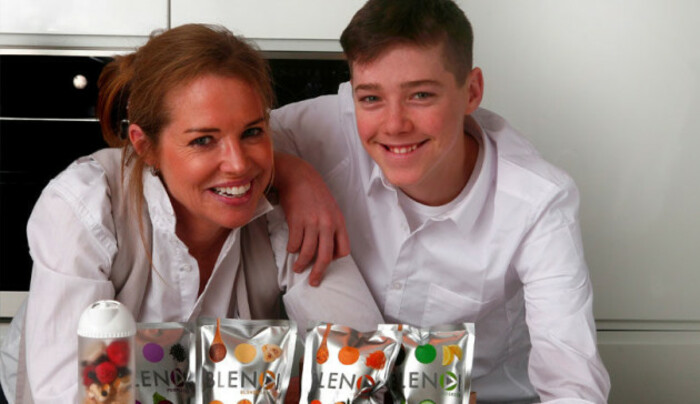 Source: Blendi
Future plans
This is my fourth business, and the biggest lesson I've learned is you need to remember that Ireland is tiny. It should only be considered as the launching pad for Europe, the US, China and beyond.
No matter what sector you're looking at, you need to get out to international exhibitions and see what's going on. It helps you predict what's coming around the corner in an industry and time the release of a product.
And it helps develop your gut feeling, which is what you need to be listening to. You'll get a lot of direction and advice in startups, which you should take on board, but listen to yourself. I feel that's why Blendi has got this far.
We went into production nine weeks ago. Being on the production line with the long table and us in our blue-netted hats and white coats, it was like being back in the days of packing the hampers.
But what was quite exciting for the company was when we went into a trial production in an automated commercial packaging company.
I have a video of six people in blue coats and white nets surrounded by loud machinery with our fruit and vegetables being spun around machines and ending up in Blendi pouches. That's when I really went, "Wow, now we're going to scale this thing."
Yvonne Dolan is the owner of Blendi. This article was written in conversation with Killian Woods as part of a series on business mistakes and what can be learned from them.
Sign up to our newsletter to receive a regular digest of Fora's top articles delivered to your inbox.