'Everyone thinks their product is the best, but screw up and supermarkets won't deal with you'
After finishing college, Paul Moore turned his part-time farmers market stall into fully-fledged company.
I DON'T HAVE a background in the food industry, but that didn't stop me launching my own chilli sauce startup when I was in college.
Back in 2010, I started my Business Information Systems (BIS) degree in UCC. It's a course geared around business development and also a bit of coding. I got into the course purely for the business aspect – coding was never my forte.
During my course, I started Rebel Chilli, a chilli sauce startup, with my brother purely to make a bit of cash on the weekends – and for a bit of craic.
We started out quite simply, just selling in our local farmers market and then travelling all over the country to food festivals.
Yes, we had launched our own business, but we just saw it as a weekend job and it was never anything too serious.
After a while my brother went on to pursue other interests, so I took over the company and kept it going during college. Then I reached the first big crossroads.
In 2014, I was finished college and suddenly I was left thinking, do I go at this full-time or take a handy graduate job offer that was on the table.
But those job offers didn't really appeal to me at all. I kind of knew there was potential in Rebel Chilli and so thought I may as well give it a go. "Sure, if it doesn't work out, so be it," I thought at the time.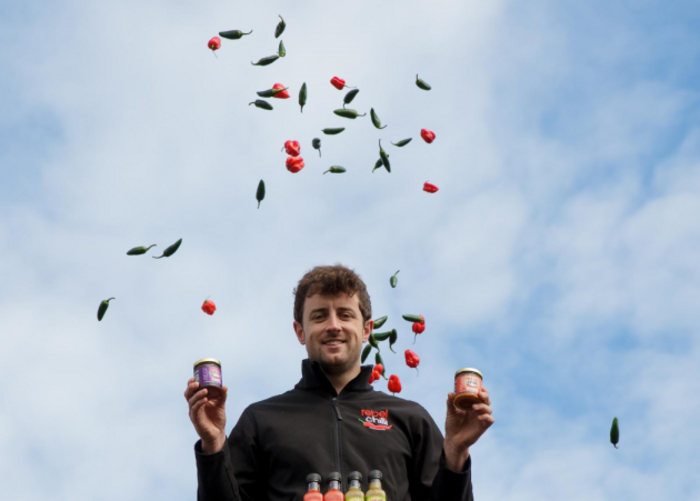 Source: Rebel Chilli
Starting off
It was actually the bit of time I spent working in the US – a year before I finished college – that convinced me to go at Rebel Chilli full-time.
I was left so frustrated by the pace at which some larger companies move. I just wasn't used to it. So I made the call that if I can avoid the corporate world, I will.
When I went full-time, it was a big change from just doing it at the weekend. It was tough to adjust to.
When I left college, the main piece of advice I was getting from people was "don't do it", "you're mad" and "you've got a good degree you may as well use it".
The way I looked at it, I had a good degree and I can still use it if this company doesn't work out. What's the worst thing that could happen? I'd lose a year or two, that's not too bad.
I was young then and I'm still young now, so I didn't feel like I was throwing anything away. If anything, I would be doing exactly that if I just packed up the business I built during college.
In a way, the advice I was getting made me think I had to prove those guys wrong. I'm the kind of person that if someone tells me I can't do something, my brain starts thinking of ways around that.
Adjustment period
So I went overnight from having Rebel Chilli as a weekend gig to it being my full-time job.
I was on my own and left thinking that this has to work – it's all down to me.
There were times where I felt I always had to be doing something. I never had anyone to tell me to switch off or to say "that's enough work for today".
I was left finding my feet for a long time and learning what tasks are a priority, how often I do those tasks and how much time I need to spend on them.
That took a while, but once you get a routine, you start to settle. But what I've found is that every six months I have new tasks and responsibilities that are more important. It took me a while to sort out the menial tasks from the crucial ones.
It's very isolating to work on a startup by yourself. And I've spoken to other business owners and they all say the same thing.
As amazing as it is, you can be left lonely. It's something you probably can't completely grasp unless you've gone through running your own company and not just worked in an office.
It was scary and I've always enjoyed it, but I was worried and left second-guessing myself about whether I was doing the right things.
Then after a while when you start to see sales trending upwards, you start to get a bit more comfortable and have a bit of confidence in yourself.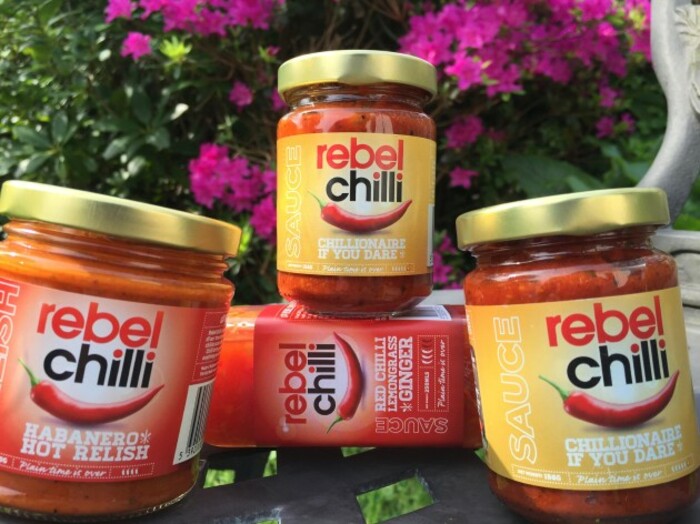 Source: Rebel Chilli
Ups and downs
It's nice when I do achieve something because I know it was all down to my own hard work. But those moments are few and far between.
One of those big moments was when the company won gold in the Blas na hÉireann award for best sauce.
I was down in Dingle at the food festival that runs at the same time as the festival. I was setting up the stall and doing the bits and pieces I needed to do – I wasn't even going to go over to the awards.
I really didn't appreciate the situation until I changed my mind at the last minute. Then they read out Rebel Chilli had won and only afterwards I realised how big a deal that would be for us.
That was really fantastic – even if I didn't realise it at the time – and got us loads of new customers.
Similarly getting into my first store was a watershed moment. That was in SuperValu in Clonakilty and it's much different from having your stall set out at a farmers market. It was mad to see it on the shelf and selling.
Bouncing ideas
As I said, being an entrepreneur can be lonely.
In 2014, I was approached by Graham Clarke, formerly of another food startup called Kooky Dough, because he was interested in joining the Rebel Chilli brand.
I decided to bring him on board with a view to using his expertise. You can talk to family and friends, but they give different kinds of feedback. Graham has been there and done that, and can be an objective voice.
Getting another person who you can bounce ideas off is a key piece of advice I'd relay onto other entrepreneurs.
But also I would say to anybody starting out to try and strike a balance between work and life. But admittedly, I say that as someone who hasn't done that yet and doesn't really know how to.
If I take a day off, I would still be thinking of things to do with work. Some weeks I prefer to keep working instead of taking Sunday off so you have momentum going into the next week.
Momentum is something so massive when you're growing a company. If I have five good days of work, I'm tempted to keep going rather than take a day off.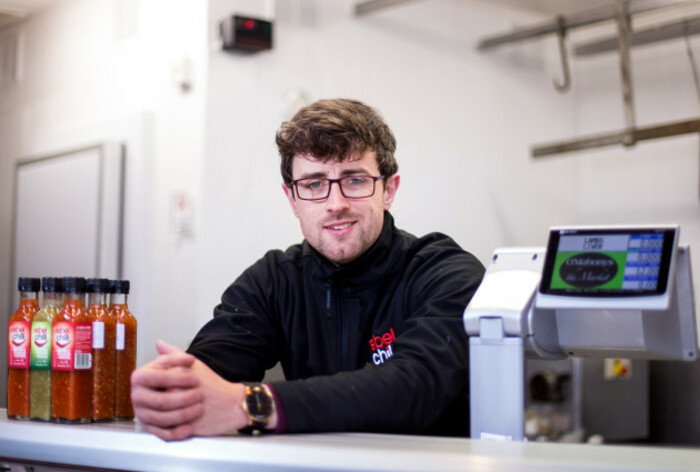 Source: Cathal Noonan
Transitions
The nature of the business and how we do things has definitely changed. It would have been more casual when we started, but now it has to be professional.
Transitioning from being a stall at a farmers market to a proper business is a hurdle a lot of businesses stumble at.
But you have to transition well because if you're dealing with big supermarkets, everything has to be perfect. If you screw up once they will not deal with you again.
We all think we have the greatest product in the world, but you need to be professional and match that.
We may have started from a small stall in a market, but we're in the UK, Abu Dhabi and Dubai now and I hired my first employee, Fergus, a few weeks ago.
So we're growing as a company and I'm getting to a point where I'm happy with where we are at in Ireland.
That means I will have more time to focus on the UK, so by the start of next year I'm hoping to be in one of the main retailers over there.
It feels like a long time since I started out with my brother, through trial and error, trying to find the right chilli recipe in our mother's kitchen. And I still spend a lot of my time in the kitchen these days.
It's bizarre to think this is my full-time job, but it has been my life in a very intense way for so long that it's hard to imagine not doing it.
Paul Moore is the co-founder of Rebel Chilli. This article was written in conversation with Killian Woods as part of a series on unlikely entrepreneurs.
If you want to share your opinion, advice or story, email opinion@fora.ie.