'As two lads out of college, getting premises was tough. The day we got keys, I was scared sh*tless'
Micheal Dyer has been cheffing since his teens but left the career to set up a business with a college friend.
I'VE BEEN COOKING since the age of 15 and worked kitchens while I was still in school.
School wasn't really for me, food has been my passion. I knew throughout school I was going to be a chef, which meant my goal was to just get the points required for culinary arts in GMIT.
I've worked for Richard Corrigan in London and in some top establishments in San Francisco, so I've got a good bit of knowledge about it all.
Before Clean Cut Meals, a premium fresh food delivery service I set up with my friend Conor McCallion, I was just working away and didn't really know what I was going to do. My dream has been, and still is, to open a restaurant, but I wasn't sure how to get there.
Towards the end of my culinary experience, I had this urge to do something more. After about six or seven years, I was sick of the late nights.
For me, I definitely want to have a family and thought to myself, "Am I just meant to grind here in the kitchen from 11am to 11pm most days?" I won't see my mates and I'm probably not going to have a girlfriend because she won't be able to put up with it.
In the last place I worked, there was one busy night that stood out – it made my mind up. It was race week in Galway and it was just a long-ass day. I recall leaving at about 2am that night after being in since 8am.
That was my breaking point. I needed something else and along came this business idea. It actually sprung from a random chat myself and Conor had. We were both in college together, which is where we met and became friends.
He was doing hotel catering, so we had similar interests. We were just throwing around ideas, and the one for a kind of premium food delivery service cropped up.
At the end of the chat we said, "Let's do it." I was ready for it and just wanted to get out of where I was. And I knew Conor would have my back. You need that in business, that reassurance that no matter what your partner will be there right by your side.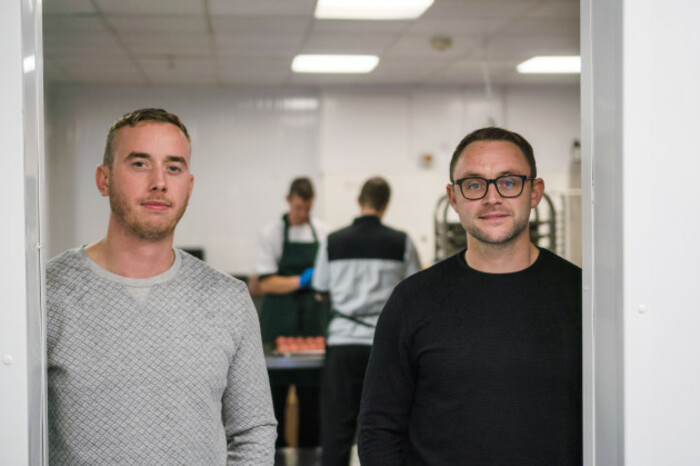 Source: James Joyce
How it began
When we started Clean Cut Meals, there were about three others doing this idea in Ireland. But myself and Conor were definitely the only people in Connacht at the time.
It meant perception levels for what we were doing were a bit iffy. People are used to going to the shop, but this idea of getting premium quality food delivered was huge in the US.
And from living in the US, myself and Conor had seen it up close in around 2013 when we were in San Francisco. In gyms, we saw people with these pre-packed meals and Conor was the one who really saw the potential in it.
He sat on it for a while and then chatted to me about it and I was sold. I thought about it for a while and in the end I figured, I hadn't much to lose. I would lose my job, but if this didn't work I could get a job somewhere else. Chefs are always in demand.
Just before we started, I graduated from my course in GMIT and in my final year I did entrepreneurship as well. After I graduated, an opportunity arose for a six-month graduate entrepreneurship programme for people just out of college.
So myself and Conor, side by side, went and interviewed in a Dragons' Den kind of setup to see if the idea flied. The pair of us were one of 20 groups pitching for this and we got in. Over the next six months of a lean startup course, we went from idea to production.
When we launched, the social media page just took off with shares and likes – we have our loyal friends to thank for that. So the word spread fast. Our inbox had 400 messages asking us when we were starting.
It was crazy. I was the only chef in our kitchen and thinking there's no way I could fulfil the orders. But it was reassuring that we were onto something with our idea.
After announcing the idea to the world, we didn't launch for four weeks. We created the Facebook page on 1 December 2014 and after two weeks of people asking when can they order, we put a down payment on a kitchen we had lined up and kicked it all off.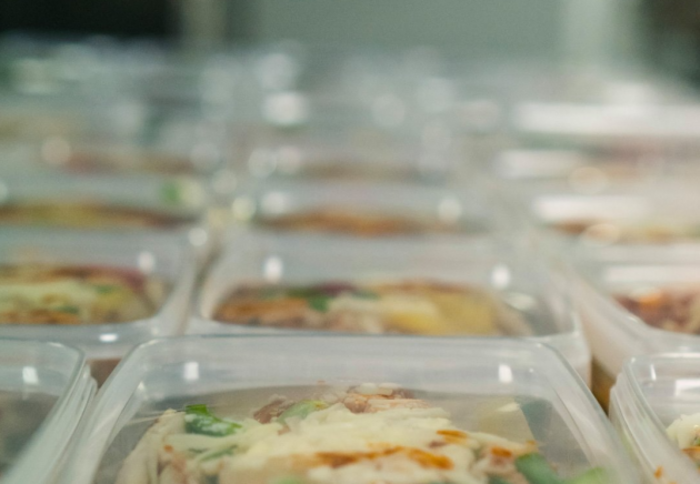 Source: James Joyce
Building slowly, but surely
At the beginning, I was cheffing every single day in the business and then Conor was looking after distribution and customer services.
Conor is great at his end of the business, and I'm good at what I do. It's a great fit because I trust him to look after his side, which means I can focus on what I need to do in the kitchen.
The investment wasn't massive to get it up and running. We had pennies scrounged together to get the initial rent payment, but the two-week pre-order scheme we had for the meals meant our capital was in place for purchasing.
It meant we didn't purchase any goods without the money in the bank. So you get paid five-days prior to producing – which allowed us to kick off the business in the green.
We might spend 60% of that on produce and delivery, then the 40% was retained. It has just snowballed over the few past years on that model.
We didn't have a wage at the start, we weren't taking any money and just let the little bit we were getting in built up to reinvest.
Capital was definitely a hurdle at the start, but myself and Conor were reluctant to take on money. We didn't even go to the bank and look for a loan because we didn't want handouts. We wanted to make it work on our own.
And getting suppliers to trust you in the food business is tough when you start out. Most of our suppliers were cash on delivery for the first three months because they didn't know who we were.
To them, we were just two young lads and they would rightly say, "You've no credit rating. I'm not going to drop down €500 worth of food because I might not get paid." But that goes for everything. Until you prove yourself, you've no credibility.
Getting a premises was tough as well. We got the same from a lot of people: "You're just two young lads out of college".
No one would give us a shot, but by the look of God, we made a great link with a man in the SCCUL Enterprise Centre in Galway who had a kitchen for us.
That's behind us. Now we've got buying power and can get crates of food in containers shipped in from the Netherlands.
It's a long way from a few years ago when we went down to the local lad who was making his margin and then his supplier making a margin, which left us getting the raw end of the stick.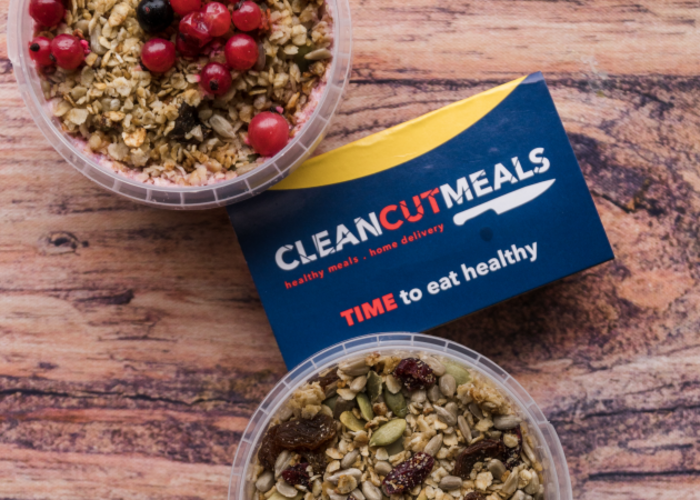 Source: James Joyce
Standout days
This year we've had 'the mountain' from Game of Thrones, WWE wrestler Sheamus, Irish footballer James McClean and Conor McGregor's sparring partner Dillon Danis on our meals.
But one of the biggest days for myself and Conor in the business that stands out was when we relocated out to our new premises in Clarinbridge earlier this year. It was massive for us and such a big facility that we invested a lot in to kit out.
The day we got keys for our first premises, I was scared shitless. And I had that same feeling when we went into the new place.
It hit me how big a jump this was for our business and the step up we had to make. We were going to be here for the next 10 years and we had to make it work.
I have no doubt in my mind, we aren't going to sink any time soon, but the challenge ahead all just became super real when we moved to this new premises.
We're going to scale this up in Ireland and I know Conor agrees with me when I say we're strong enough to go abroad. I don't see why we can't go up against any competition in an existing market within a few years.
My future
Listen, there were plenty of mistakes and obviously we've learned from each and every one of them. Myself and Conor set this up, but didn't really have an idea of how to run it. It was completely different to what we were used to – but we adapted.
Between us, we didn't know what menus would fly. There was trial and error and we tested the waters, but we have a good idea now of what works and what they want. So right now what we're focused on is perfecting our customer experience.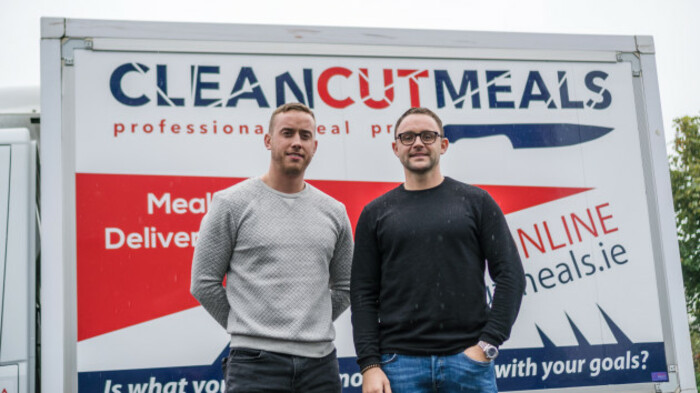 Source: James Joyce
It's sounds obvious and, yes, everyone knows customer service is important. But being excellent at it is a different thing. That's what we want. We want people to think, "Those guys go the extra mile to keep me happy."
Now we know what it involves after dealing with customers. It's not about selling them six meals and never talking to them.
Getting this food that used to be part of their groceries delivered is new for a lot of people. So we've found there's a lot of value in being there for them to guide them through it all.
We started with just 24 orders, four years ago, but have done 50,000 since then. We produce thousands of meals a week, but it's not the same as being in the middle of 'hell's kitchen' and having a few hundred orders.
I miss the kitchen. I do. And I still do some shifts in a restaurant when some head chefs go on holiday. I like to get stuck in.
I say it to my missus, "I'd love to get back in the restaurant." And she says, "No way, you're not doing it!"
I will someday be back there with my own restaurant – that's the dream. But myself and Conor, I believe we're onto something too big here to take the eye off the ball quite yet.
Micheal Dyer is the co-founder of Clean Cut Meals. This piece was written in conversation with Killian Woods.
Sign up to our newsletter to receive a regular digest of Fora's top articles delivered to your inbox.