'The bank repossessed my home three weeks before Christmas. I had to start again'
The collapse of the Celtic Tiger cost this businessman his construction firm – so he got into sausages instead.
I SPENT ALMOST 40 years in construction, owned my own company and worked all over the world.
But when the recession hit and the bank repossessed my house three weeks before Christmas, I had to start again.
I used to be a foreman and owned a subcontractor firm that worked with many companies. I worked on oil rigs and a lot of big jobs in the UK, Portugal, Germany and even further afield.
I've been travelling all my life. When I was 11 years old, I left Ireland after my mother passed away. I was sent to live with my auntie in London and went to school there for a few years, but unfortunately she passed away – which meant I was sent to live with my uncle in America.
I left school when I was about 15 and eventually went into construction. I was training for a job in the print industry, but I couldn't face staying cooped up in an office.
Again, I ended up travelling – I moved to Australia and back to the US again – until I settled in Britain.
I suppose I got into construction because it was the done thing back then. A lot of Irish people were involved in the area and I never sat any exams, so I had no qualifications.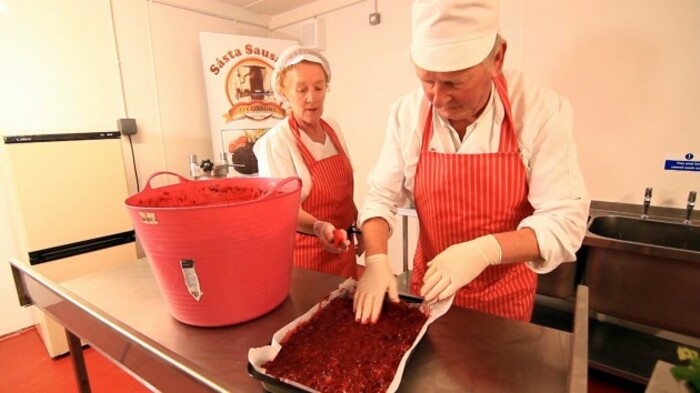 Source: Sásta Sausages
Other jobs
I've tried my hand at many things over the years. I ran bars in New York and London and had a mini-cab business in England as well. I would lease two cabs out drivers, but I also had one for myself.
That was in recessionary times and at the same time I was in construction as well, so I had the building work nine-to-five and had the cabs to do in the evening and weekends, collecting people from Irish dance halls and pubs.
That's the way life was, you needed to do enough work to get by. I was just after buying a house and I was married with a young family.
It was always my intention to make as much money as I could and move back to Ireland. I was saving for about 15 years to make that happen and was eventually able to sell my house in England.
We came home, but unfortunately when I did that, another recession hit in the mid-1980s. So it meant I had to travel back and forth to England for work and might come home once a month.
It was a bit frustrating. I had been away for so long and for people returning at the time, the culture wasn't very welcoming – that was the general consensus among anyone that returned.
Jobs were scarce and the local people, they didn't like people like me taking up the few jobs that were here.
Yes, at times I regret that I came back, because I was doing very well in London. Ireland is a great place to bring up children, but I missed the opportunity to make money. Here, any money you did make you were spending just to get by.
Getting settled
I found my feet in Ireland just before the Celtic Tiger boom. I had set up a construction business two years before and it was all go.
There was plenty of work and we made lots of money. I employed 35 people, but unfortunately disaster struck and some of the big companies I was subcontracting for – and had a great relationship with – didn't pay up.
One company in particular, I knew the head of it for 35 years, worked with him and travelled abroad with him. I thought everything was secure and got caught for €500,000.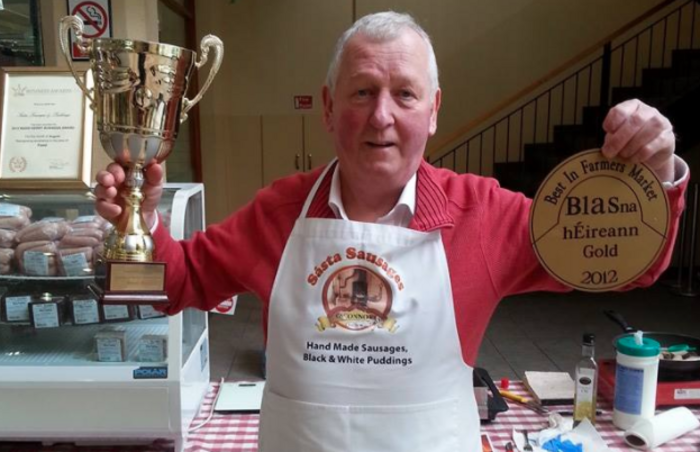 Source: Sásta Sausages
Maybe I was too trusting when I should have been more ruthless. Sometimes if I was owed €150,000, I would only draw €50,000, but then companies started going bust and I got caught.
Within three more months, I got caught out by another company in Cork for a lot of money as well. The whole house of cards came down and I was left in the lurch.
The business lasted until 2009 and after that I couldn't even get a job. I applied for a few, but I was 59 years of age then and found when I went for interviews and they wouldn't give me a look in.
Change
On the drive to a job interview in Galway, I realised I needed to have a change in direction and think of something else. I thought, I need to get into the IT business or food, although I knew nothing about both.
But I was always a good cook – I would make the Sunday dinner and enjoyed experimenting with recipes. And I always thought the one thing you can't find in Ireland is good sausages and black or white pudding.
So I said there's no point in moaning about it, just go out and make them. That's how I started, but it was an ordeal to get it going.
There are many regulations and it took me 12 months to get a building to make my products. This was after the peak of the recession, but still to get an adequate building I wouldn't have to spend much on to do up was tough.
It was by sheer perseverance that I eventually found somewhere. I was always looking at buildings and one day a guy rang me up to say he had an old butcher shop that wasn't in use.
It was a wreck, but the owner agreed with me that he wouldn't charge me rent for a few years if I did it up. So I put my hand to it and did the work myself.
We had no money, so my wife worked three jobs and I bagged seaweed and manure to sell to garden centres and door to door.
I did that to scrape the money together and worked away at night-time on the building. Within six months I had it up to standards.
[embed id="embed_2"]
I was able to do that partially because I had the relationships with building merchants and didn't have to fear about showing them my face.
I remember a local merchant said to me, "John, you're one of the very few guys that honoured your commitments here and paid your bills. So anything we can do for you, we will."
He gave me the materials for free based on the fact I would pay him back once I had the business up and running.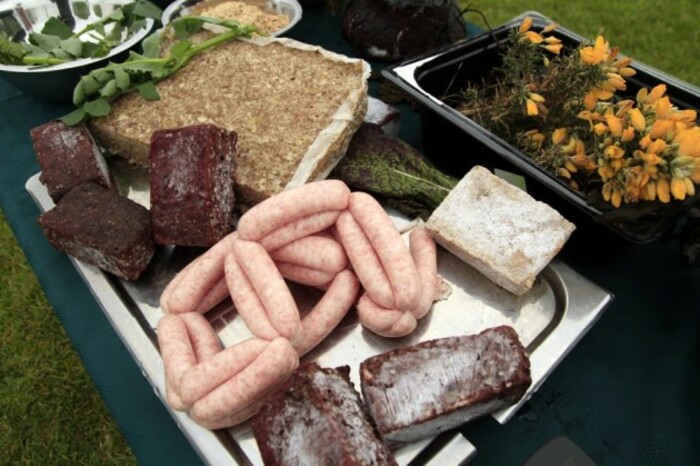 Source: Sásta Sausages
Dream come true
I always wanted to try something in food and I was very close to achieving it before the recession arrived.
If I had another year, I would have had €1 million put to the side and be in a position to start the business without funding or grants.
But I still started it and after four hard years it is becoming a success. We have our own range of sausages and puddings and we've won awards all over the world for those products.
It started at a farmers market in the Ring of Kerry, where within an hour I was doing tastings and within another one I had the lot sold out.
Now we're in Arnotts in Dublin, Clodagh's Kitchen and a range of butcher shops called the Scarlet Heifer, and next we're looking to push it abroad.
It has all come a long way since the bank manager rocked up in a Mercedes to my house to repossess it three weeks before Christmas. I've even managed to buy it back since.
All in all, I've learned my lessons. I'll never leave as much money lying out any more – I will always collect money now and collect it straight away.
And I won't be as trusting because there is no loyalty out there in business. It's dog eat dog and that's it.
John Paul O'Connor is the owner of Sásta Sausages. This article was written in conversation with Killian Woods as part of a series on business mistakes and what can be learned from them.
If you want to share your opinion, advice or story, email opinion@fora.ie.