'Four months in, M&S emailed about stocking my gin. I thought it was my mates taking the mick'
After hitting the shelves of 'Marksies' and Aldi, Gareth Irvine's gin business has gone global.
I'VE ALWAYS IMAGINED setting up a business, but for a long time I just didn't know what it would be. In the end, a college project put me on the right track.
When I was studying in the University of Ulster in Coleraine in September 2015, I had an entrepreneurship module. One part of the course involved coming up with an idea for a business and the further along you made it, the more marks you got.
My uncle was creating his home brews in his kitchen and making vodka at the time. I wasn't a fan of vodka, but I liked gin. So I concocted a few of my own in my house in Bangor and that was the start of it. Then with my prototypes in hand, I went around a few bars in Bangor and got some feedback.
I was still working three days a week selling IT software for a company called Xsell, but setting up the business got me hooked. So I decided to move on to give the business a real crack – I had nothing to lose really.
There have been a few ups and downs since then and a lot of lessons along the way. I did more research into logistics, the supply chain, production methods and, importantly, how to fund the business.
We ended up partially crowdfunding the business at the beginning. I had approached a number of banks and had no luck. I think working full-time, being a student and everything else was counting against me.
I had no collateral as insurance, no background in the sector and no money. A number of the banks said for every pound I put in, they would match it or they wanted a security. The only security I had was offering my mum and dad's house, and I wasn't going down that route.
After a dogfight, we managed to get a small bit of funding through the First Trust Bank, but it wasn't enough. So we decided to try out the crowdfunding route and grow the market while we were at it by recruiting some early customers. It was a bit of a punch in the dark.
We gave it a proper go, hitting social media three times a day for four weeks. In that period we raised £23,500 and we had that up to £30,000 three weeks later.
Within seven weeks we had raised enough cash to kickstart the business by pre-selling 3,000 bottles of gin and without giving away equity. It drummed up a lot of interest from bars as well, which also crowdfunded us, and were then waiting on stock.
In total, 393 people backed us and my old boss was one of them. He knew I was leaving the company but was still happy to back me, so it shows how supportive he was.
Truth be told, we could have tried to launch without the crowdfunding money, but it would have been at a very small scale. And we would have been struggling, so that wasn't the way to go.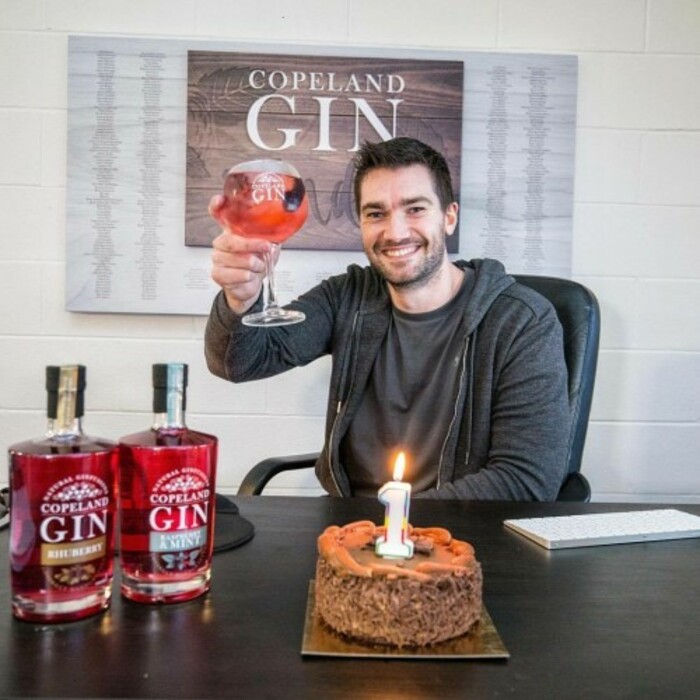 Source: Copeland Spirits
Kicking off
You need to make sacrifices when setting up any business. The big thing I had to give up was my free time.
Before we launched in November 2016, I still worked full-time in my sales job from 8am to 5pm. Then afterwards I had college work to do and then did my research on top of that for the business. I best mention that I also had an understanding girlfriend through all this.
It sounds like a heavy workload, but it wasn't too bad. I knew I wanted to go after the idea so I didn't mind cracking on with it.
Then about four months after we launched, I got an email that really put some momentum behind the business. It was from Marks & Spencer and simply said they wanted to list us in their Northern Irish stores.
I was sitting in my girlfriend's house watching TV and my phone pinged when the email came through. I said to her, "I reckon my mates are taking the mick here." I thought something was going on because I've been had before.
But it was real. I emailed back, went across to London, met the guys and it was all 100%. It was a real "oh here we go" moment. I'll say it again, this was only four months after the business really started, so we were still in early stages.
But it was a great bit of interest to get because it kind of hammered home that I was onto something with the brand. However, I never thought within a few months that Marksies would be knocking on our door. Eight months later after the initial email, we were on the shelves – these things always take time.
After that we took on a distributor, bought more equipment and saw the volume kick off from there. Once we understood that in order to grow we needed volume – and in order to get volume we needed channel partners through distributors – the business really matured.
This year, our deal to stock Aldi has also been huge for us. We were only doing dribs and drabs in the south and now all of a sudden we had a big in to the market to tap into.
We got into Aldi through the gin festival they were running in the summer. They went out, found gins to stock, found us and we supplied them for nine weeks. When it was sold out, it was off the shelf.
Within six weeks Aldi were most of the way through our stock, so it went well for us and they approached us again for their Christmas gin festival. That was great because to get someone of that size coming back to you is great and now we stock Aldi with our 'rhuberry', spiced apple and blackcurrant gins.
As I say to the guys in the office, it's easy to get the first order but it's the repeat business that's tough. I'd rather have one market that's selling and keeps ordering than 10 markets taking one order.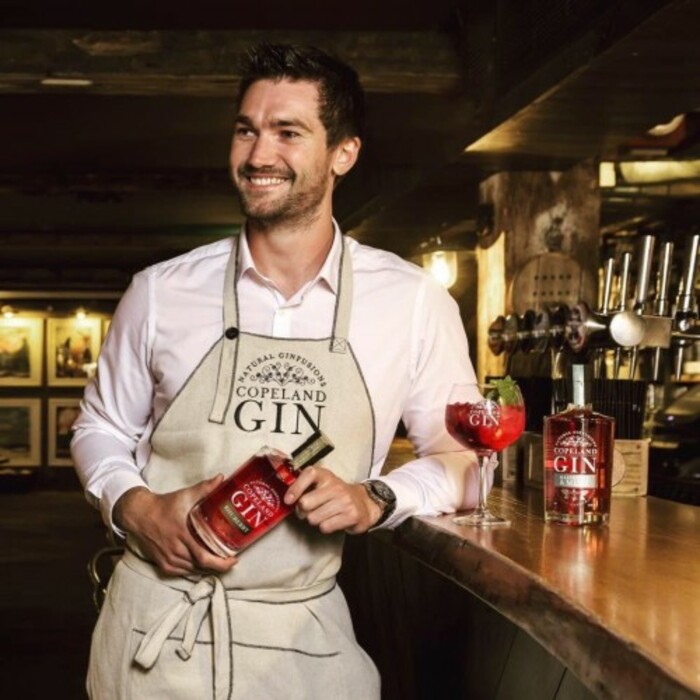 Source: Copeland Spirits
Doing things differently
Would I do some things differently? Yes. Mainly I would take more time.
I signed the lease for our business unit – that we're still in – a bit prematurely and probably shouldn't have done that. We hadn't used it for six months prior to launching, which meant we were up against it.
Also, I left my job at the end of September and committed to a launch date on 1 November. It meant I only had a month to get everything in and ready. It was probably a bit rushed to be honest.
If we waited until January we could have taken a bit more time on the brands and there was money wasted on buying things we didn't need. Point-of-sale things like cards, banners, posters and things like that. I felt we needed those things, but turns out we didn't.
Those are things I would change, but then again these things are going to happen when you set up a business. I was fresh to this and I needed to scuff my knees a bit. I suppose I was lucky that I just scuffed my knees on things that caused very little damage.
Even after a few years, it's still strange to see our bottles on the shelves when I'm doing my weekly shop. We actually had a shipment go out recently to Estonia, and it's weird to think that an idea I had three years ago is now being drank halfway across Europe.
We're also shipping to Abu Dhabi and eyeing up a big deal in Australia. All told, we have a very exciting period coming up. In February and March, we'll be moving to a new premises in Donaghadee; that's just outside Bangor. It's a coastal town and near the Copeland Islands.
We're moving from a tiny 1,800 sq ft unit to just over 3,500 sq ft there and building a distillery with a visitor centre. After the move we'll be launching a completely new range of products and doing a full rebrand to make a bespoke bottle.
The plan is to change our production method as well and our new still is arriving from Arnold Holstein, a famous manufacturer of this equipment in Germany. My long-term plan is to create a premium spirit line that includes whiskey, rum and a number of other products.
We've signed a 125-year lease on our new place and I'm only 26 years old, so I'm not planning to create a brand to sell in five years. I want to make something I can pass on to my kids. So everything is changing, but I find that exciting, not daunting.
Gareth Irvine is the founder of Copeland Spirits. This piece was written in conversation with Killian Woods as part of a series on overcoming obstacles when launching a startup. 
Get our NEW daily digest of the morning's most important headlines for innovative Irish businesses.