'An appearance on Dragons' Den tripled our sales. When they re-aired the show, it happened again'
Evelyn Garland shares her experiences from quitting her job to set up a company with her partner.
MYSELF AND MY partner Luke run a business – it's not exactly where I expected my agriculture degree would lead me.
My background is in food science, which I studied in UCD, and then I specialised further in food and agribusiness. So essentially I was like a farmer.
I graduated in 2016 and started a job with a company in the sports nutrition space. I did my thesis on sport nutrition, so it seemed like a good fit. I was working away at that for six months, but I realised I didn't like it.
I realised it was a product I didn't fully believe in, and it's very hard to sell something when you're in that situation. That's not to say it wasn't any good; it's just something I don't consume myself.
In the middle of all of that, my partner was diagnosed with a heart condition – that's one of the main reasons why we ended up starting a business.
It was an underlying heart condition that's related to sudden adult death syndrome. To say it was a shock would be an understatement. We're both super healthy and super fit people. We don't smoke and rarely drink.
They were doing loads of tests on him and couldn't find out what was wrong with him. Eventually they found that he has an irregular heartbeat. He was in and out of the hospital for procedures over a five-month period and when that was finished, we talked about getting our lives back on track – and that involved eating healthy.
He was living on his own in the Louth-Meath area and we were looking for a meal delivery company that would bring him food that's nutritious and healthy. We looked around a lot and couldn't find anything, so in the end we had to do it ourselves.
I was still in my job and I knew I didn't like it. It was a means to an end for me, but I thought maybe we could do something about meal deliveries in the greater Louth area and make a business out of it.
I spent a few months building up savings, doing market research on healthy meal delivery companies and then, to cut a long story short, in September 2016 we launched our meal delivery service.
Luke was working full-time in his family's business, I was working full-time in my job and about three months in I realised one of us had to take the leap and go at our business full-time. And that's what I did.
After year and a half, Luke joined me in Simply Fit Food full-time.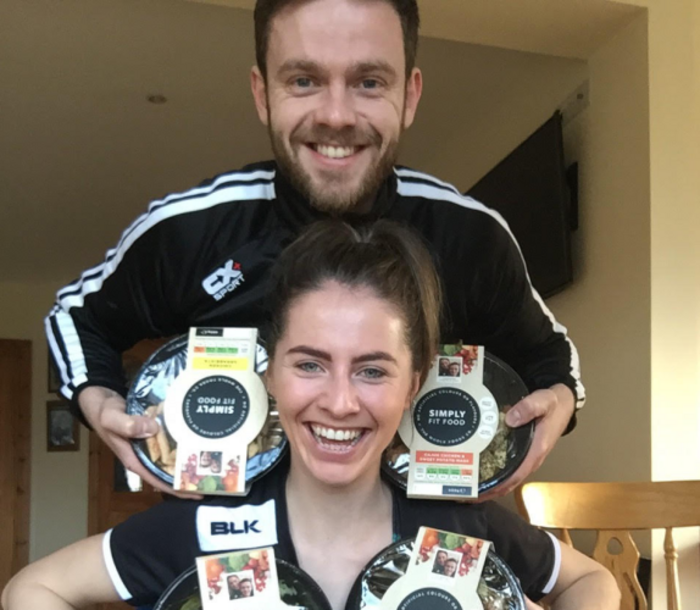 Source: Simply Fit Food
Early days
It has been a rollercoaster since we launched. Just five months in, we were featured on Dragons' Den.
We had no experience in running a business before. We were just trying to keep it all afloat, and that meant getting any free marketing we could. So we went on TV.
We didn't get investment from the dragons, but what we got was invaluable advice. We went in over-evaluating the business because we didn't really want investment. It was so early on and what we needed was exposure.
The experience we got from the mentoring after Dragons' Den was amazing. People think they just put on a show for you and that's it, but they took the time to hear us out and advise us afterwards.
We were very close with Gavin Duffy because he's based up in the Louth area and we weren't sure on a few things, but he was really good in terms of guiding us in the right direction.
Apart from that, the appearance crashed our website on numerous occasions because they kept airing the show again and again. And every time it brought a whole wave of new business.
It tripled our sales in April when it was shown first and for a startup company that has no marketing budget, that's amazing. It was real helpful in terms of getting the Simply Fit Food name out there.
As a result of that spike in sales after Dragons' Den, we were able to launch nationwide. Previously we had only been serving Louth, Meath, Monaghan and Dublin – and we had been doing all the deliveries and cooking ourselves.
We decided to outsource the logistics end of things and get more staff in to help us with the cooking. That's what led us to grow the online side of the business.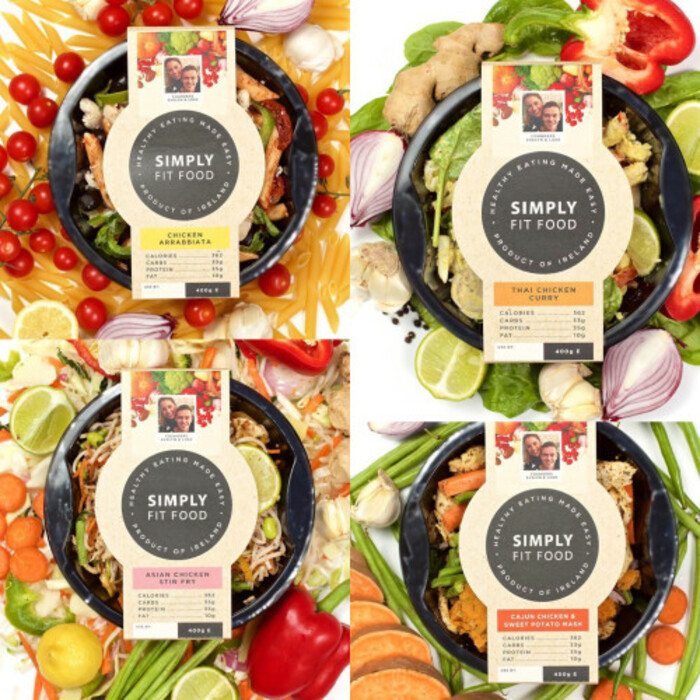 Source: Simply Fit Food
From online to retail
Fast forward two and a half years, things have changed a lot. We're no longer an online meal delivery company and that's because in the last year or so we've realised that for our business to scale, it's not a feasible business model.
What was limiting us to grow was the courier company. We had awful trouble with sending a parcel perfectly packaged and it then ending up at the customer's door in absolute tatters.
We had no control over that and we were sending out maybe 50 to 80 boxes a week – each box might have 10 meals in it. We felt like it was continuously going to affect the brand and people might see us as the company that can't deliver a parcel – even though it was our courier's fault, not ours.
So if the business was to grow, we realised this wasn't the way to go. It wasn't scalable and we couldn't have delivered all over the country ourselves.
While we were putting in the work to refocus the business we got a call from our local SuperValu up in Dundalk. They wanted to ask us if we would throw a few of our meals onto the shelves in their shop. They said people were asking them to supply the kind of meals we were making.
I didn't have a breeze about retail – no notion – but we decided we would give it a go. We knew the margin was smaller and weren't 100% on the idea, but we weren't 100% when we first looked at the online business either.
We put 100 meals into the SuperValu and within a day they sold out. The following day, we supplied them with another 100 meals and they sold out too. The meals were selling way quicker and were getting to customers intact – which was what we wanted.
We built our way up to supplying 15 local SuperValu stores over a period of four to five months and that's when we decided to start reducing our online business and increase our retail business.
Since then, we have managed to secure an outsourcing partner, launched into select Dunnes Stores and we'll be rolling out nationwide in the next six to eight weeks after we see how sales work out in Dublin.
We only pushed into those Dunnes Stores last week and it has been absolutely mental – we've sold out a number of times already. And in addition to Dunnes Stores, we'll be launching into 180 Spar stores in Northern Ireland between the end of January and start of February.
Now we're no longer an online business, we're focused on retail. But that means we need a lot of volume – it's a very different type of business.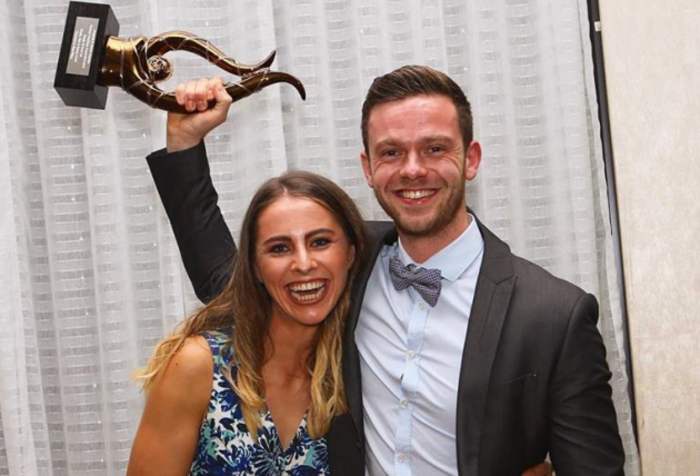 Source: Simply Fit Food
The highs and lows
There have been a good few lifts for the business when times have been tough.
We were nutrition partners with the Monaghan GAA team last year and they did well. It's great for our business to be associated with such great athletes.
We've also won eight awards since we started – everything from local to regional level. Our most recent was winning Ireland's Best Young Entrepreneur in the Louth category and we ended up doing our pitch over Skype in Thailand for that award – it was quite funny.
We've made loads of mistakes as well, but they're what allows your company to grow. For me to say I regret all those things we got wrong would be stupid.
I think mistakes are a blessing in disguise. I know a lot of people don't like looking at mistakes that way, but you have to when you work for yourself. They drive you on to the next big opportunity.
Our next focus is to get Simply Fit Food into as many places as possible and make it as convenient as possible for customers to buy what we're making. We want to get into all the Spar stores in Ireland and even petrol stations.
Further afield, we'll look at new product development and new ranges – including vegan and vegetarian options – into what we do. We would also look to bring out a healthy snack line and that's because it would be something we could look at exporting due to the more friendly shelf life.
So it's going well. Sometimes you get so engrossed in the business, you don't see all the good things you're doing until you list them out like this.
I met a friend when I was out for a run the other day and she said, "I can't believe that's your product on the shelf in Dunnes." It was nice to hear that because I don't really think of it that way. I'm focused on the next thing and driven by that.
I don't tend to absorb the moment and that's just because as a business owner, you're looking for the next big opportunity or next way you can get your product or business out there.
It's good sometimes to reflect and listen to what people are saying because we don't do it very often.
Evelyn Garland is the co-founder of Simply Fit Food. This piece was written in conversation with Killian Woods as part of a series on overcoming obstacles when launching a startup. 
Get our NEW Daily Briefing with the morning's most important headlines for innovative Irish businesses.