'A car crash nearly ended our business on day one. I was worried we'd be a laughing stock of Galway'
One of the brothers behind the Dough Bro's pizzeria talks about their journey so far.
OVER THE PAST five years, my life has been consumed by pizza, and it kind of happen out of nowhere.
Myself and my brother Ronan grew up in the hospitality industry: our dad had a pub in Mayo, and our mother was the manager of one of the busiest restaurants in Galway.
As children, we spent a lot of our summers and holidays working in the pub. Growing up, myself and my brother Ronan shared a room, and we would have talked about having our own place one day.
Fast forward 20 years or so, I was working a job in sales and marketing for a Canadian company. One day, that company decided to move operations back to Canada and everyone was laid off.
At the time, I didn't see that coming. I was actually quite happy in my job. I was devastated, but it turned out to be the best thing that ever happened to me. It forced me to think about what I want to do, and the answer was in food and dealing with people.
The timing turned out to be good. Ronan was due to be finishing college in a few months time down in Limerick. So all we needed was an idea, which turned out to be wood-fire pizza.
We had been to Naples as kids, and that's where we first had wood-fire pizza and saw the theatre of it all. There was nothing like it in the west of Ireland, just a few had popped up in Dublin.
From there, it all happened very quickly. We went over to the UK with my mam and sisters to visit oven manufacturers, talked to food-truck operators and those supplying them, and looked at street-food traders as well.
We wanted to see how their businesses were going, how they operated them, what the price point was. We came back and looked at the Dublin market, and there were operators doing well in the mobile side of things as well.
Since we didn't have much money, we went for the mobile truck option and used the street-food scene to make our first impression.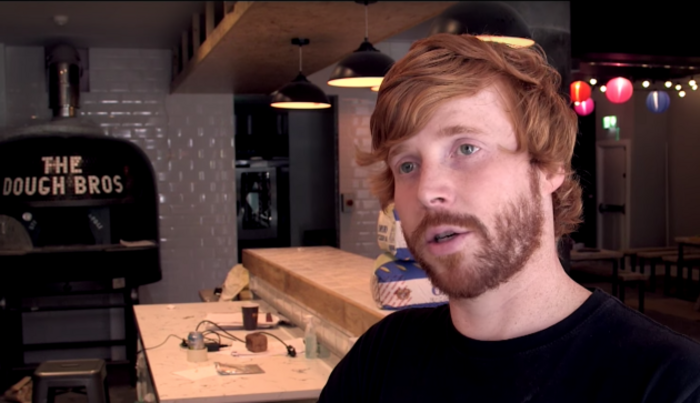 Source: YouTube/Local Enterprise Office Galway
The beginning
We went to the bank, who liked our idea and asked us to come back with a business plan. Luckily it was something we had some experience with.
In my fourth year of college, my thesis involved drafting a business plan and Ronan had written one as well in college, so we were well placed.
When we presented the business plan to the bank, it got approved real quick. The idea was we would put a wood-fire oven into a catering trailer and we would go to events, markets and parties.
The plan was to work the Galway scene and within five years save up enough to open our own restaurant. We actually managed to get a pop-up restaurant launched within the year.
We stayed in that spot for two years and eventually moved to a 70-seater, city-centre restaurant. I feel we've smashed everything we've set out to do, which is a nice feeling.
I think back to being an employee – if I hadn't been let go, I really don't know what I would have been doing. I was grand in the office environment, but it just wasn't me. So now the thought of getting another desk job down the line seems alien to me.
I don't know what has led myself and Ronan to this point. Is it luck? Possibly, but we worked extremely hard as well.
To be fair, our business model has been meticulously thought out. We also put huge effort into our finding and training our incredible staff, of which there are now 28.
When we opened our pop-up restaurant on Abbeygate Street, there were eight people on the same street doing pizzas. Our next-door neighbours, people above us, to the side… eight people in our line of business.
But that didn't bother us one bit, and that's not down to arrogance. We were just convinced what we wanted to do would be completely different.
We're very passionate about what we make, and my brother Ronan even trained in Naples for three weeks in one of the best pizza schools in the world. He had to get an Italian interpreter for it and came second in the class in the end.
So you can see, we're sadly bordering-on-obsessed with pizza. That passion is only getting stronger.
I am actually heading to Naples again this week on another research trip and in the past few years we have gone to NY, Barcelona, Copenhagen and London keeping tabs on new trends.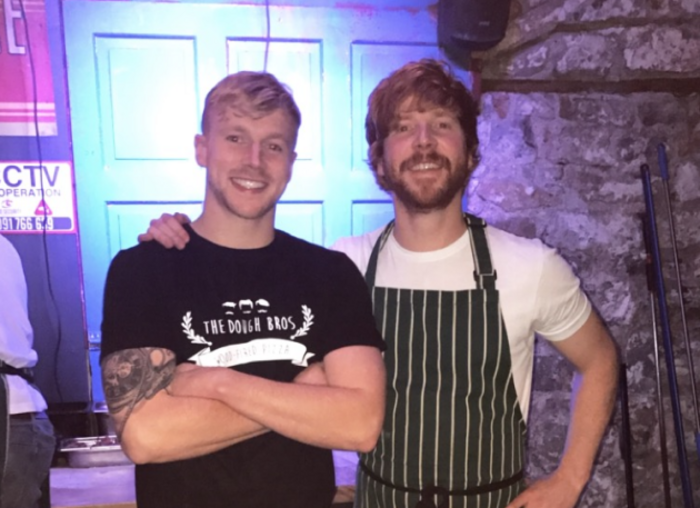 Source: The Dough Bros
Rocky start
We were only a year in the street-food truck. It might sound like things were amazing, considering that in less than 12 months we opened a pop-up restaurant. The reality is things got progressively better. It's all been about word spreading slowly around Galway.
We started in June 2013 and endured a really tough first summer – it couldn't have been tougher to be honest.
After six months of business plans, raising finance, getting catering trailers built and the oven over from Italy, we got our very first gig out at a League of Ireland match at Terryland Stadium.
It was our first gig, and due to the mix of emotions coupled with really bad lighting along one stretch of road, we crashed into a low-lying bridge coming home.
Luckily myself and Ronan were fine, but the trailer was smashed into smithereens and it looked like our business was going to be a disaster.
We didn't know if the whole business was going to literally blow up because the oven wasn't that long cooled down. It was quite scary.
Our family were out at the game since it was our first gig and had headed home earlier than us. We were meant to go meet up with them for a bit of a party back in the house. Friends of ours were down for the launch weekend as well.
We had to call them, say what happened and tell them the party was off. Then, we waited there as whatever was left of the trailer was towed away.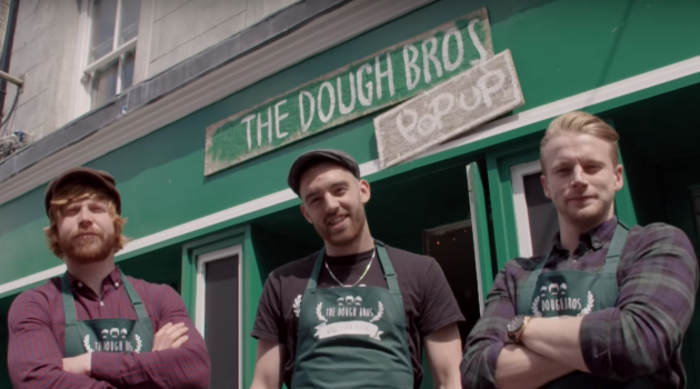 Source: YouTube/Local Enterprise Office Galway
Bouncing back
I'm quite proud of how we reacted to that. It's hard to describe the emotions we were feeling that night – I was concerned we would be the laughing stock of Galway.
But we just woke up the next morning and said, "We have a gig booked in for two weeks time, how we can get back on the road?" Beg, borrow or steal, we were going to do it to get back out there. And we did.
As it turned out, our jeep was fine and the main equipment was fine as well, but the catering trailer which cost about €10,000 was in bits.
So we raised another €10,000 by borrowing off family and friends, went into an overdraft straight away and got back on the road. We haven't looked back since.
So we've been tested in business, but I wouldn't do anything differently along the way to be honest. All the decisions and mistakes we've made led us to here.
We've had some hard knocks between trusting landlords that gave us their word and then backed out, and being fecked over by suppliers.
All of those have been great early lessons and showed us how to run this business. You need those tests.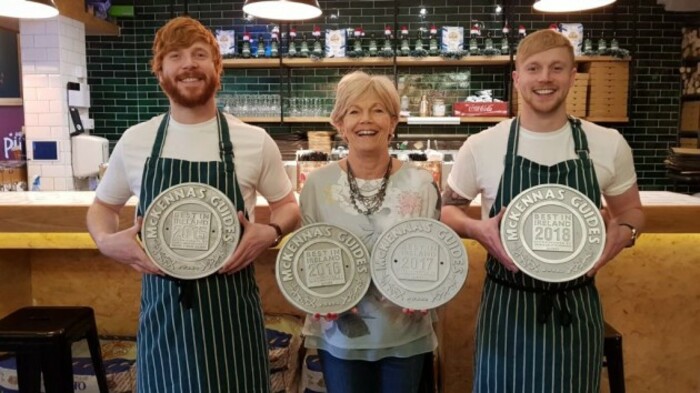 Source: The Dough Bro's
Looking forward
Five years in business is quite nice a milestone to hit. You have to pinch yourself sometimes to remind yourself what's been done.
Within three months of opening the pop-up we went to number one on TripAdvisor, and a few months later we were voted the best restaurant in Galway at the McKenna Food Guide awards.
Since then, so many more awards have come our way, but I think definitely the highlight has been proving our vision would work.
All we do is pizza in the restaurant, and a couple of sides. When we opened people said, "You'll have to do salads, pastas and sandwiches." All we cared about was pizzas, but people said, "You're not going to get away with that in Galway."
But we stuck to our guns, and last year were listed in the top-100 restaurants in the Irish Times beside some of our heroes.
We could sit back and pat ourselves on the back for those achievements, but the next day we were talking about getting into the top 100 in Europe.
Business has never been better, and for the first time we have a really solid management structure in place. But we've had to sacrifice a lot to get where we are. Relationships with girlfriends, we gave up sport and our social lives took a big hit.
A lot of people don't see that, and now for the first time in years we've started to get a bit of our lives back. Now we can have a day or two off a week if needed.
For us success means achieving something special but being happy doing it. We have had offers from major franchises and landlords around the country. Myself and Ronan are getting on better than ever and pushing ourselves.
Our mam is now general manager, our younger sister is supervisor. These are special times. In the future who knows, but for now we are enjoying the moment.
Eugene Greaney is the co-owner of The Dough Bro's. This article was written in conversation with Killian Woods as part of a series on business mistakes and what can be learned from them.
Sign up to our newsletter to receive a regular digest of Fora's top articles delivered to your inbox.