The tiny box helping local shops compete with the global giants
Pointy has been quietly growing and its founders want all Irish retailers on board.
THE HARDEST PART about shopping locally for anything is the discovery process.
If you want to search for something specific, chances are you'll get a result from a major retailer like Amazon – even when it's likely a local shop also has it.
It's harder for small players to put themselves on the map, but an Irish startup hopes to fix that.
Pointy was founded in 2014 but only launched its iOS and Android app in March after a soft launch in November.
The service now has more than 600 shops signed up with the majority based in Dublin – a deliberate choice, according to company co-founder Charles Bibby.
"We focused on our on-the-ground sales effort (in Dublin) to prove the concept and get it working, but we are very much ready to expand to other places," he said.
Source: Colm Mahady/Fennells
The startup prides itself on two things. From a retailer's perspective, it's simplicity: all shops need is a small SIM-powered device the size of a matchbox.
When they plug it into their barcode scanner, it begins logging the inventory of the shop without any further work. The only data that needs to be entered at the start of the process is the shop's name, opening hours and a telephone number.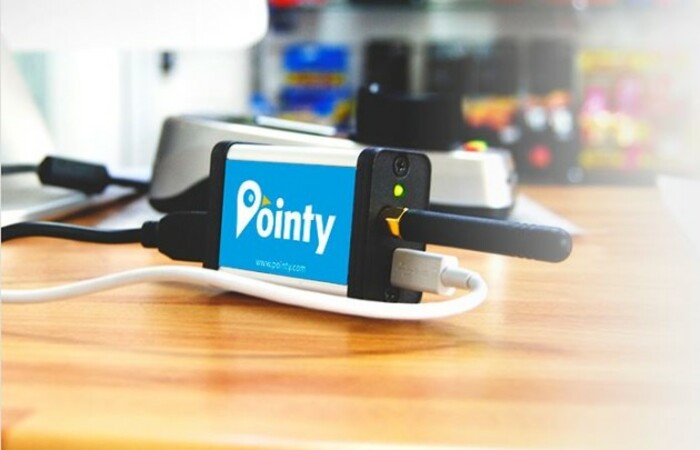 Source: Pointy
Inventory and discovery
Currently there are 170,000 products on the service. Bibby said if a product isn't already part of the inventory but gets scanned, it only takes a maximum five minutes to update the system with it.
[embed id="embed_2"]
The other part of the process is discovery for customers. One of Pointy's aims is to allow people to find new shops and products and Bibby said the company's launch confirmed there's an appetite for it.
"Having the app out for real just confirmed that (was a problem)," he said.
"You have two sides to it. One thing is people discover things they didn't know about before … but then also discover a shop near them that they didn't know about."
While Pointy has been maintaining steady growth, the immediate aim is to have 1,000 shops in Dublin signed up by the end of the year.
Currently, the app has 5,000 users on both iOS and Android, but Bibby would like to double that figure within the next two months.
The focus is very much on Ireland at present, but the Pointy team also have international expansion in mind. For now, however, there is also the matter of establishing a foothold in other Irish cities.
"One of the reasons we're keen on the idea of Pointy is that it's a global problem … but right now, we're focusing on Ireland. At some point in the not too distant future, we will go elsewhere, but there's still more to be done here."
Written by Quinton O'Reilly and posted on TheJournal.ie
read more on