Dún Laoghaire's scrapped tech hub is looking for new locations - including overseas
Founder Philip Gannon has ruled out ever opening Harbour Innovation Campus in the town.
THE CHIEF EXECUTIVE and founder of a major tech hub that was due to open in Dún Laoghaire's old ferry terminal is scoping out alternative locations – and is considering moving the project overseas.
It was announced on Tuesday that the Harbour Innovation Campus will no longer go ahead in its current form after the company behind it learned that its landlord didn't have the required 'foreshore licence' to allow the building to be leased and used as an office space.
The landlord was Dún Laoghaire Harbour Company, which has since come under the control of Dún Laoghaire-Rathdown County Council.
A spokeswoman for the local authority said approval for the foreshore application was granted by the Department of Housing, Planning and Local Government "in principle" on 1 October and is with the Chief State Solicitor's Office for drafting.
Speaking to Fora, Harbour Innovation Campus CEO Philip Gannon said he decided to pull the plug after learning last Friday that the licence hadn't fully cleared the approval process, months after planning permission was granted.
"They didn't really grant the application. They said that it's granted in principle. I don't know any builders that are going to (work on the project) because I have the lease 'in principle'," he said.
Source: Harbour Innovation Campus
A spokesman for the Department of Housing, Planning and Local Government confirmed that an approval in principle was granted on 1 October.
He said after Dún Laoghaire Harbour Company was transfered to the local authority, instructions were given to the Chief State Solicitor's Office to draft the lease on 12 October and is "now at final drafting stage and is expected to be executed shortly".
'Unbelievable'
Works were due to begin shortly on converting the former ferry terminal into a tech and startup hub with a capacity for up to 1,000 people. It was previously stated that the project would cost up to €20 million.
Gannon – who is also the owner of private equity investment firm Blond Capital – said he found it "unbelievable" that it only came to light recently that the required licence hadn't been granted.
"It's unbelievable with all the work I went through to get planning permission and celebrated the fact we didn't get appealed (through An Bord Pleanála)," he said.
Gannon didn't disclose how much had been spent on the project to date, however he said the cost had been "significant".
That had included spending money on a planning application, designs for the project and recruiting for a management team – although only one person had been hired to date.
According to documents filed with the Companies Registration Office, an outfit called Harbour Innovation Holdings Ltd – which is 100% owned by Gannon – had provided loans of €5.7 million to Harbour Innovation Campus Ltd in exchange for equity.
Future plans
When asked whether the campus would open in Dún Laoghaire's harbour at a later stage, Gannon said "not with my involvement" and said that he is currently looking at alternative locations "within Ireland and internationally".
"I'm very disappointed. It's a huge loss for the town and the harbour. It would have made a significant societal impact on Dún Laoghaire, which is one of the reasons I was doing it."
Gannon is confident that a new property will be identified "quite quickly", adding that it could open in a "standard six-storey office space".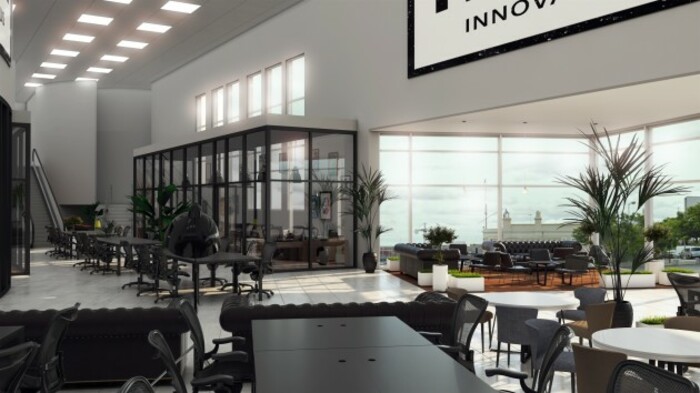 Source: Harbour Innovation Campus
He said that "hundreds of people" had been interested in becoming tenants at the campus, pointing to the project's LinkedIn page, which is populated with pictures of people visiting the site.
"Every day we toured handpicked people from academia, from multinationals, from scale-up companies."
Harbour Innovation Campus was originally due to open at Dún Laoghaire's old ferry terminal, which has been empty since Stena Line ended services from the location in 2015.
According to Gannon, the hub would have housed 1,000 workers and brought an additional €6 million annually to the area. It was intended to house both domestic and international businesses.
It was forecast to deliver almost €15 million in rent and rates to the local authority over the next decade.
Get our NEW daily digest of the morning's most important headlines for innovative Irish businesses.