Pearse Lyons Distillery won approval for a gin and whiskey school in Dublin's Liberties
It is hoped the new facility will 'enhance the current micro-distillery' and attract new clientele.
PEARSE LYONS DISTILLERY has been given the go ahead to build a gin and whiskey school in Dublin's Liberties area.
The city council yesterday granted permission for the development, which had been proposed by Deirdre Lyons, widow and executor of the estate of the late Irish-born entrepreneur with whom she co-founded animal nutrition group Alltech.
In a submission to the local authority in January of this year – details of which were first reported in the Sunday Business Post – Deirdre Lyons sought to change office space into a gin and whiskey school near the existing micro-distillery and visitor centre on James's Street.
"The proposed development is intended to contribute to the range of attractions at the Pearse Lyons Distillery complex," planning consultancy Tom Phillips and Associates wrote in a report prepared on behalf of Lyons.
The consultants stated that the schools will "operate on an occasional basis and will provide an additional activity" to tourists visiting the distillery.
The gin school -  located on the first floor of 117-120 St James's Street, Dublin 4, near McCanns Bar – will operate three times a week while the whiskey school will operate once a month.
A tea room and pub will be located on the ground floor and basement level of the building.
Lyons suggested that the classes will take place on Fridays and Saturdays and will cater for up to 12 people per class.
"The proposed development will enhance the current micro-distillery and draw a wider range of clientele, ranging from tourists, and private groups," the planning report stated.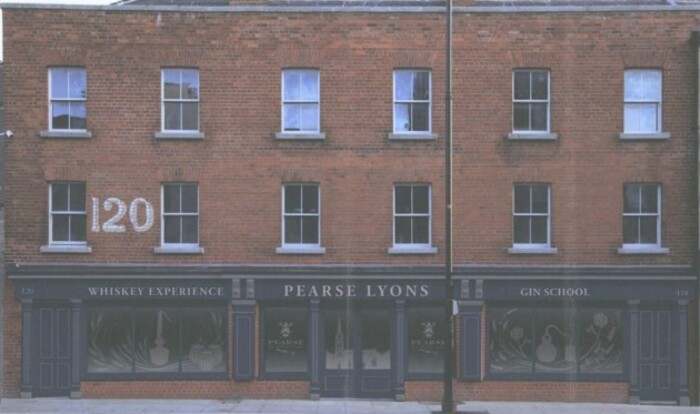 Source: Dublin City Council
Approval
In its decision to grant permission for the development, Dublin City Council attached several conditions to the planning approval, largely related to preserving any archaeological material that may be damaged or destroyed during the construction phase and to ensure that the development is completed in an orderly manner.
Dundalk-born Pearse Lyons died in Kentucky just over a year ago at age 73 after experiencing complications during his recovery from heart surgery.
His death in March 2018 drew tributes from the likes of US senator Mitch McConnell, who described the Louth man as a "scientist and innovator".
Lyons set up animal nutrition group Alltech in 1980, which grew into a successful supplier of animal feed and supplements and made the entrepreneur a billionaire.
He opened the Pearse Lyons Distillery with his wife Deirdre in 2017 at St James's Church after a four-year restoration project. The facility – a five-minute walk from Ireland's most popular tourist attraction, the Guinness Storehouse – provides a range of visitor experiences, including private tours, food-pairing events and cocktail making classes.
The Irish Whiskey Association, which has set an ambitious target of hitting nearly two million whiskey tourists by 2025, reported that there were some 923,000 visitors to whiskey distilleries throughout Ireland in 2018, a 13% increase on the previous year's tally.
Get our NEW Daily Briefing with the morning's most important headlines for innovative Irish businesses.