Parcel Motel is facing a crackdown on Dublin depots it opened without permission
One facility in Ballybrack has already been closed following an enforcement notice.
THE NATIONAL PLANNING authority has sided with Dún Laoghaire-Rathdown County Council in its crackdown on Parcel Motel facilities that were installed without proper planning permission.
Parcel Motel, which is run by Nightline Logistics Group, has over 175 collection points across Ireland. The service lets Ireland-based online shoppers avail of lower delivery charges by using a virtual UK delivery address.
Last year, Nightline applied to An Bord Pleanála for a ruling on whether eight of its facilities in south Dublin could be classified as "exempted development".
However the planning authority recently ruled that the facilities are not exempt from development approval and that the applicant is required to apply for permission for its parcel depots.
Dún Laoghaire-Rathdown council began its crackdown on Parcel Motel facilities that were installed in its district without permission last year.
Some eight Parcel Motel collection facilities in south Dublin were subject to planning enforcement enquiries – a method interested parties can use to complain about unauthorised developments.
These complaints are investigated by the planning enforcement division of the council.
After the submission of the eight planning enforcement enquiries for facilities in Stillorgan, Sandyford, Deansgrange, Blackrock, Ballybrack, Rathfarnham and Cornelscourt, a warning notice was issued on 26 May 2017 by the council.
Following its assessment of the complaints, the council ruled that each Parcel Motel site was not exempt from having to apply for planning permission.
Parcel Motel was served with one enforcement notice on 29th June 2017 by the local authority relating to its collection depot at Ballybrack Shopping Centre.
The Ballybrack depot was later removed, with the company citing "unforseen circumstances" in a tweet to a customer last year.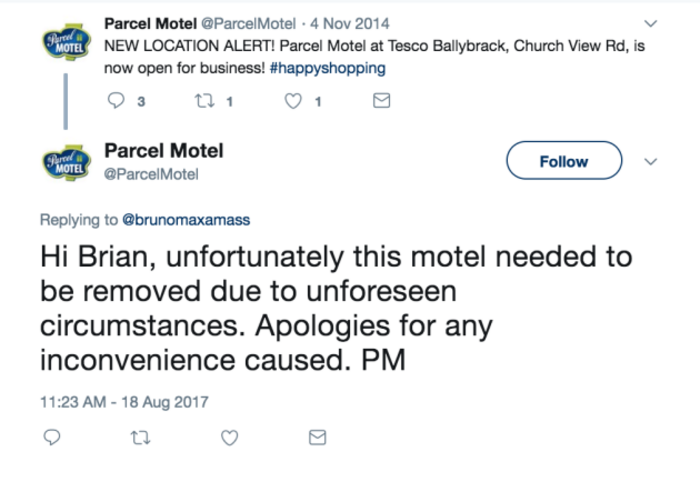 Source: Twitter.com
Planning case
After the warning and enforcement notices were issued by the council, Nightline Logistics Group filed eight applications to An Bord Pleanála to request its ruling on the matter.
Nightline Logistics Group argued that the depots should be exempt from the approval process, referencing sections of the planning act that allowed An Post to sidestep certain development applications.
The company, which was bought by delivery giant UPS last year, added that it operates in a competitive market with An Post, which has introduced concepts like the 'DeliveryBox' and 'AddressPal' – a proxy address service like Parcel Motel.
[embed id="embed_2"]
An inspector for An Bord Pleanála said that the exemptions afforded to An Post should be extended to its competitors so the planning system can "avoid inhibiting competition".
However, they added that the planning regulations that apply to An Post were based on statute, so legislation would need to be amended for the same planning exemptions to apply to Nightline.
The inspector ruled each of the eight facilities constituted development and are not exempted development. This decision was upheld by the planning board. It can be appealed further to the High Court.
A spokeswoman for Parcel Motel told Fora: "We note the decision and will be considering our next steps."
Update: This piece has been amended to include a statement from a Parcel Motel spokeswoman.
Sign up to our newsletter to receive a regular digest of Fora's top articles delivered to your inbox.