High-street retailers could be in for a bleak Christmas as shoppers flock online
Weaker sterling has driven bargain-hungry consumers to e-commerce sites.
SHOPPERS ARE SPENDING less and less on face-to-face purchases as the plunge in the value of sterling drives buying online.
That's according to the latest Irish consumer spending index from Visa Europe, which showed that the rate of in-store spending in November fell by just over 3% compared to the same month last year.
It was the biggest drop in high-street expenditure since Visa launched its consumer index over two years ago.
Although combined online and in-person sales were up nearly 4%, the rate of growth was the slowest it has been in a year an a half because of the high-street lull.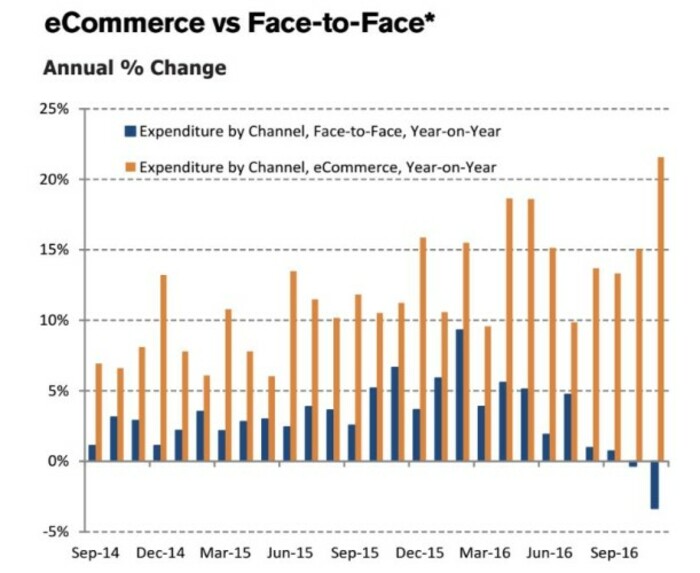 Source: Visa
Click here to view a larger version.
Online spending
Overall consumer spending was largely driven by e-commerce merchants, which saw a record 22% boost in spending.
Online purchases were up largely thanks to the weak sterling, which recently hit a three-year low and continues to hurt Irish retailers.
Visa's Ireland country manager, Philip Konopik, said: "Despite leading into one of the busiest trading periods in the year, there has been a massive shift to online shopping due to the weak sterling exchange rate and some consumers (are) also travelling over the border in the search for bargains."
Konopik noted that the weak overall rate of spending shows that "Irish consumer spending is starting to slow, so retailers searching for growth need to look online."
Sectors
Six of the eight industries monitored by Visa Europe recorded growth in consumer expenditure.
The transport and communication and the recreation and culture sectors both recorded double-digit growth, seeing a near 13% and 12% boost in spending respectively compared to October.
Household goods registered a 4% increase in spending. Hotels, restaurants and bars also saw spending go up, but only by about 3%, the smallest increase in three months.
[embed id="embed_2"]
Food and drink businesses spending went down for the first time since Visa launched its consumer index in September 2014, with takings last month down nearly 2%.
Clothing and footwear sellers continued to see a decrease in spending – spending dropped by just over 1%, the fourth consecutive month of decline.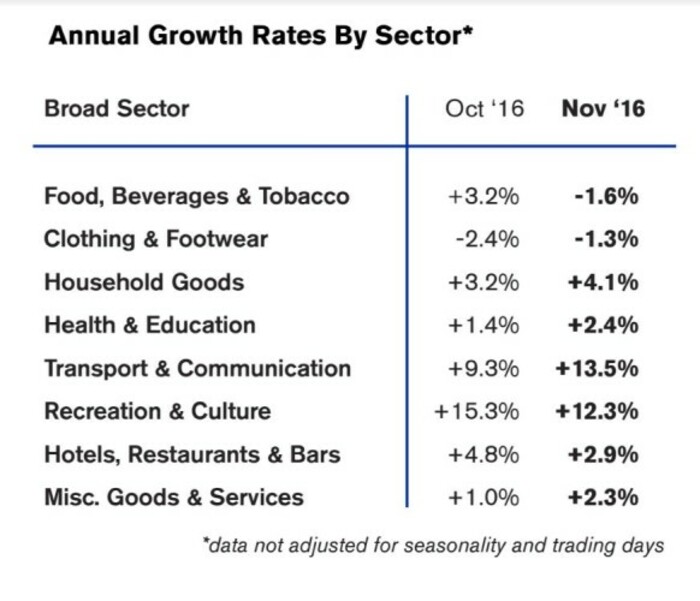 Source: Visa
Click here to view a larger version.
The consumer index also suggested that high-street shops lost out to online merchants during the recent Black Friday sales blitz – which generated about €100 million in total last year - with demand for online delivery service Parcel Motel up more than 80% compared to November 2015, according to Visa.
Andrew Harker, a senior economist at market research firm IHS Markit – which compiled the consumer watch on behalf of Visa – said the weak sterling coupled with Black Friday becoming "more of an internet event this year has helped lead to a record rise in e-commerce spend" and cross-border shopping.
"This perfect storm of factors just before Christmas provides some level of uncertainty about how Irish retailers will fare over the festive period."
read more on