Norwegian Air's Irish wing lost hundreds of millions of dollars last year
The carrier launched long-overdue flights from Cork, Dublin, Belfast and Shannon this summer.
IRELAND-BASED AIRLINE NORWEGIAN Air International (NAI) lost hundreds of millions of dollars last year, according to new company filings.
NAI, a subsidiary of Scandinavian carrier Norwegian Air Shuttle, reported a loss of more than $205 million for the financial year ended 31 December 2016. It booked a loss of nearly $60 million during the same 12-month period in 2015.
According to the company directors' report, the loss was "mainly as a result of new base setup costs". The Irish subsidiary is responsible for operating aircraft out of several of Norwegian's European bases, including those in Finland, Italy and Spain.
The low-cost airline also launched its long-overdue transatlantic flights from Ireland in July of this year.
The services from Cork, Dublin, Shannon and Belfast to the east coast of America were delayed for three years because of strong opposition from aviation unions and US airlines.
"The majority of the loss was a result of start-up costs relating to new bases," the directors' report said. "It is envisaged that the company will become profitable in future years."
It said its parent company is providing "continuing financial support so that NAI is in a position to pay its debts". Norwegian Air Shuttle was profitable in 2016, returning more than 1.5 billion NOK (about €160 million).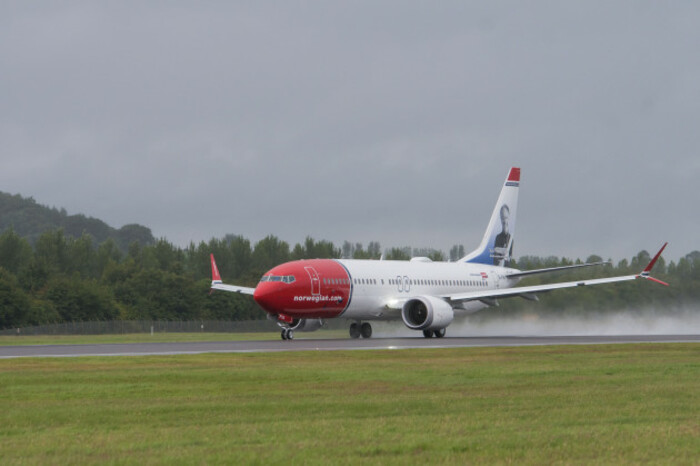 Source: Ian Georgeson/Norwegian
NAI booked sales of over $1.5 billion last year, more than double what it reported in 2015. Its fleet swelled from 23 aircraft in 2015 to 47 at the end of last year.
The bulk of the company's revenue came from ticket sales, while NAI's 'wet leasing' activities generated $90.7 million.
Wet leasing is when an airline provides aircraft and crew to another carrier. The company providing the aircraft is also responsible for maintenance and things like insurance.
NAI's expenses last year increased across the board. Most notably, its airport costs trebled to more than $363 million. Fuel costs rose from $154 million in 2015 to $332 million last year.
The company directly employed an average of 66 workers during the financial year, with its salary bill coming to about $70,000 per person.
The headcount represents only administrative staff, with personnel for its crew and operations employed by other Norwegian Air group companies. Its total bill for hired-in staff came to $226.6 million last year, up from $99.3 million in 2015.
[embed id="embed_2"]
Recruitment drive
Yesterday, Norwegian Air announced details of opening a pilot base at Dublin Airport.
The base – slated to open later this year – will initially include 40 pilots, but the airline said that it is "exploring options for further pilot and cabin crew positions" for next summer.
The carrier has launched a recruitment drive in the hopes of finding pilots who hold a certificate to operate a Boeing 737.
The first in a series of pilot roadshows kicks off today at the Clayton Hotel Dublin Airport. Future expos are planned for October and November.
All NAI routes from Ireland are serviced by Boeing 737 MAX aircraft, for which Norwegian is the European launch customer. One of the new aircraft landed at Cork Airport yesterday for the afternoon flight to Boston-Providence.
NAI chief executive Tore Jenssen recently said he was "very certain" the budget airline would launch more flights from Ireland in the future.
Sign up to our newsletter to receive a regular digest of Fora's top articles delivered to your inbox.
read more on