One Direction's Niall Horan has taken a stake in an Irish startup that puts sounds to emojis
The firm was previously backed by snooker star Ken Doherty and racehorse trainer Henry de Bromhead.
POPSTAR NIALL HORAN has taken a small stake in Irish startup Emojitiones following a partnership deal with the app-development outfit.
As part of the link-up with Horan, Dublin-based Emojitiones developed the 'NiallMoji' app for the former One Direction star.
The app, which has a library of Niall Horan emojis, is on sale in the Apple and Google app stores for $1.99. Its emojis can be used across all smartphone messaging platforms.
Emojitiones, an app that puts sounds to emojis, was founded by Guy de Bromhead at the beginning of 2015.
Speaking to Fora, de Bromhead said his firm wasn't paid any money up front for developing the emoji app, which was launched at the same time as Horan's recent debut solo album. Instead, the startup will take a cut of the proceeds from app sales.
"It's specifically his, and a spin-off product we've produced. The whole idea behind the link-up with Niall was he would promote his app to his 65 million social media followers and then you hope you get the downloads."
As part of the deal, Emojitones shares have been issued to Horan through Lee & Thompson, a London-based law firm that specialises in representing creative talent.
A small stake in the company was also issued to UK talent agency Modest Management, which handles a number of high-profile music acts including Horan, Little Mix and One Direction.
According to de Bromhead, developing more spin-off apps with acts like Horan is a method the startup is exploring to grow the business.
He said the deal came about after he got in contact with the Irish popstar, who had been keen to develop the app.
"That's the first app we've done. We're looking at the analytics now and will see where it takes us from here moving forward," de Bromhead said.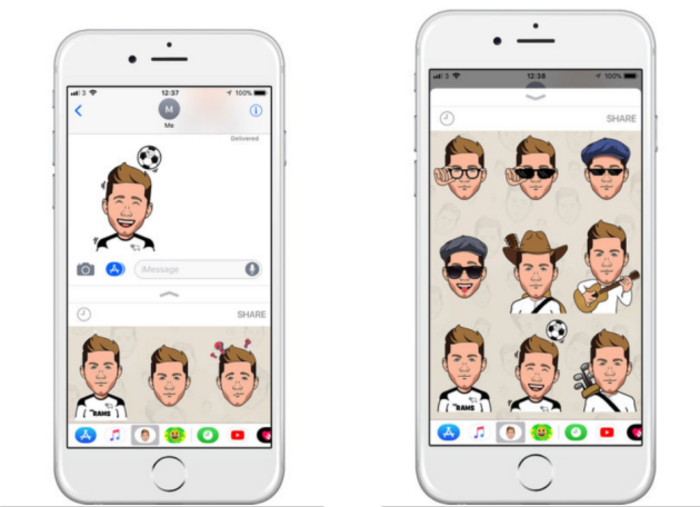 He added that there are deals in the pipeline to develop more emoji apps for acts in the music business.
However, unlike the deal with Horan, future agreements wouldn't involve handing over a stake in the company in return for plugging the product, according to de Bromhead.
"It would be more about sharing profit from whatever the app generates on the basis they promote it to all their following on social media."
Funding
Emojitones, an app that puts sounds to emojis, is the main product developed to date by the startup.
A number of its emojis are free to download and use in messaging apps, but its broader library is behind a paywall.
Last year, Emojitones raised nearly €500,000 from a string of investors, including notable names from the sporting sphere. The company recorded a slender loss during the same 12-month period.
Former world professional snooker champion Ken Doherty was among the backers, while company filings also showed that de Bromhead's brother, accomplished horse trainer Henry de Bromhead, put in some cash as well.
De Bromhead said he would like to raise further funds to grow the business at a faster pace globally.
"The business can absolutely bankroll itself, but that can only work to a certain level. Obviously with something like this it's about volume, so you need to get out to the greater audience which is beyond the territory we're in now.
"For something as big as this, you need to be getting out to as many markets as you can, which needs money to bankroll."
Sign up to our newsletter to receive a regular digest of Fora's top articles delivered to your inbox.
read more on