'We started out with just €1,000 - there were no bank loans, no VCs, no rich uncles'
As part of our How My Business Works series, we profile EventEase.
AFTER STARTING HIS career in the music industry 30 years ago, Neil Dowling says that he still "eats, sleeps and breathes" concerts.
He got his first taste of the business when he was 17, working at a Michael Jackson concert in Cork in 1988. From there, he went on to become a promoter, bringing American metal bands and international DJs into venues across Ireland.
Although he took a break from the hectic music world for a short time, Dowling says that the recession forced him to return to his roots.
"I stopped working in gigs and went into youth work for a couple of years. But then when the crash happened there were no positions available, so I had to go back to something I knew," he tells Fora.
"I thought there's got to be a niche here; a gap where promoters would need somebody to come in and give a hand with accreditation, box office management, things like that."
"So I put together a team, a lot of family and friends basically, and started trying to offer these services."
Dowling says that he got a "lucky break" when he secured Whelan's in Dublin as his first client, supplying wristbands and accreditation for the Wexford Street venue.
"Whelan's would be one of the best-known live music venues in Ireland and I'd say a lot of people thought, 'If it's good enough for Whelan's, it's grand for us.'
"So word of mouth spread and slowly but surely we got small orders in and it just grew from there."
Getting gigs
In 2012, Dowling founded EventEase with the aim of "making it easier for promoters to run an event by providing staff, products or a combination of both".
This included supplying credentials, such as security wristbands, lanyards, events passes, promotional wear and ticketing. It also involved providing additional staff for venues where necessary to deal with box offices, guest lists or ticket scanning.
Although he had plenty of ideas initially, Dowling admits that the business started small with the Whelan's deal.
"We started out with just €1,000 of my own money – there were no bank loans, no VCs, no rich uncles. At that time in the middle of the recession the banks weren't giving out money anyway.
"But it just grew from there. The Helix was another one of our early clients and then we did some work for Body & Soul – once we knew we could do a big festival like that it was handy."
Source: EventEase
Now, Dowling says that he has an average of 1,500 different contracts every year for venues and events both big and small. It's a year-round business, although his peak season is May to September.
"We've got a mix of regular clients and one-off events. We've got people that might come to us for just 100 wristbands right up to clients that get millions," Dowling says.
"You never know where people are going, so we try to offer the same service to everyone and build long-term relationships.
"Like we had a client about five years ago with a small order, probably only worth €25, but he came back last year when he had a big festival with 5,000 people and he gave me the whole contract."
EventEase is based out of an office in Rathmines with a core team of around 20 staff, but Dowling says that more can be brought in on a temporary basis for events.
"We've a good team now – some of the people I've worked with on and off for the past 20 years. 
"In this business the client needs to know that the products will be secure, that nothing will go missing, and that our team is trained and know what they're doing. So I'd rather have a smaller team and keep it very tight."
Money and mistakes
Although Dowling knew the music industry inside out, the financial side of growing his business posed more of a problem.
"We made mistakes along the way with the finances – wasting money, taking on staff when we didn't really need them. Probably the biggest challenge was getting the company known without going bust," he says.
"In the first couple of years it was growing well and bills were being covered. But I wasn't taking a proper wage because everything was going back into building the business."
Dowling says that the business has grown organically since then and last year turnover reached just under €250,000.
Although the firm recorded a small loss, according to its most recent public accounts, Dowling says that his main focus at the moment is on finding a balance between making money and having a decent life outside EventEase.
"It was hard work at the start; between events and working in the office, I was easily doing 100 hours a week.
"But then I got burned out about two years ago. We took on too much trying to expand and basically I got pretty ill, physically and mentally. I had to take a bit of time out, sit down and see what we needed to do.
"Obviously you've got to watch the books, but on a personal level you also need to watch your mental health. If you're not eating and sleeping properly or you can't switch off when you get home then it's very hard to do your job."
As a result, Dowling says that he has been re-evaluating his business over the last year and a half.
"It's not all about making money and taking over the world – you have to take care of yourself and those around you as well.
"So we dropped a couple of clients that were a lot of hard work and looked at where we can make higher profits for less hassle. We're now looking at working smarter not harder."
Looking ahead
With a fresh outlook on the business, Dowling says that EventEase's work has evolved.
"When you're starting out you don't turn your nose up at anything, but now we can really cherrypick what we do.
"We don't do as much staffing anymore because that's a nightmare sometimes. It can be very difficult trying to manage a whole festival site where staff are split up. So event credentials are the core of the business now."
The company has manufacturing partners in Ireland, the UK and the US, and can customise and supply products such as wristbands, lanyards and passes for clients.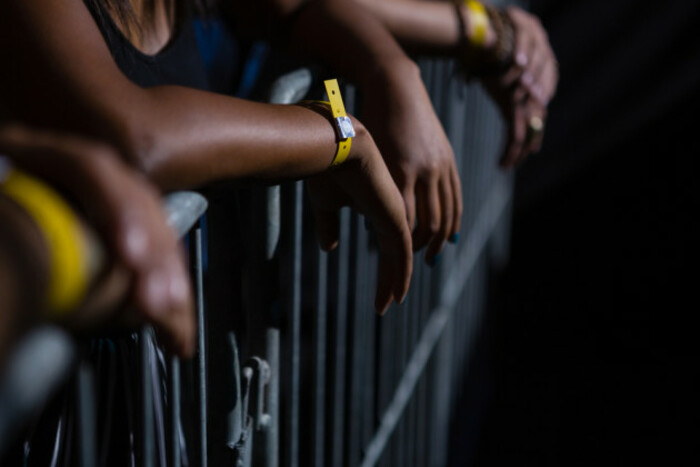 Source: Shutterstock/wavebreakmedia
But Dowling has also been considering adding more high-tech elements to the business. Two years ago, EventEase entered into a partnership with US company Fish Technologies, which collects customer data for venues and event organisers.
However, Dowling says that the concept didn't quite take off in Ireland and concerns around data privacy forced him to "put the brakes" on the project. 
Instead, he's secured an innovation grant from Enterprise Ireland and is currently trying to develop a wearable access control product with Athlone Institute of Technology.
Although he can't reveal details of the project as the company is attempting to get a patent, Dowling says that if it works out the company could break into export markets with a new product.
For now, however, he says he's just interested in keeping the business going and finding new opportunities.
"I'd never be sitting on my laurels and saying everything is grand – we're always on the look out for new business.
"Every day is different but things are going well at the moment. It's a lot of work but it's also a lot of fun."
This article is part of our weekly series examining the nuts and bolts of businesses. If you would like to see your company featured please email news@fora.ie.
Sign up to our newsletter to receive a regular digest of Fora's top articles delivered to your inbox.