Brazilian giant JBS has put Ireland's biggest chicken producer up for sale
Armagh-based Moy Park employs about 9,000 people in Northern Ireland.
BRAZILIAN MEAT GIANT JBS has put Moy Park, the biggest chicken producer on the island of Ireland, up for sale.
JBS said that it intends to sell the Armagh-based company as part of a wider drive to offload assets in an effort to raise about 6 billion Brazilian reais (€1.6 billion).
Moy Park is one of the largest companies in Northern Ireland and is hugely important to the region's economy, employing about 9,000 people.
The move to sell it comes just weeks after JBS' controlling shareholder, J&F Investments, agreed to pay a record 10.3 billion reais fine for its role in a massive political corruption scandal in Brazil.
São Paulo-based JBS is one of the largest companies in the world, with sales of over 120 billion Brazilian reais in 2014, up by a third on the year before, and recorded a profit of just over 2 billion reais.
Buying Moy Park
JBS took over Moy Park, a chicken producer and one of the biggest companies in Northern Ireland, towards the end of 2015 for $1.5 billion (€1.4 billion) – which was one of the biggest-ever deals for a firm north of the Border.
The company said today that it is planning to sell its "shareholding interest" in Moy Park, as well as offloading other parts of its international operations.
It said that the sale programme is subject to board of directors prior approval.
In a statement, Moy Park chief executive Janet McCollum said that while JBS has put the Northern Irish firm up for sale, it is business as usual.
"Moy Park is a successful and growing food business with a solid financial standing.  I also know that this will ensure our continued growth and stability well into the future," she said,
"Our priority remains business as usual – delivering quality, innovation and service to our customers and consumers."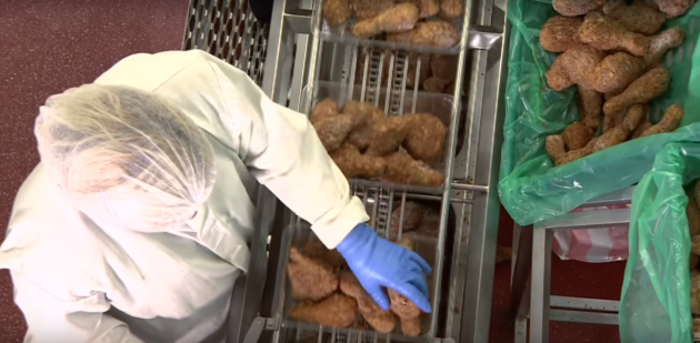 Source: Youtube
Scrapped Dublin move
Last year JBS considered a big corporate restructuring that would have seen the parent company for its whole business based in Dublin.
The announcement prompted a fair bit of controversy, with some mistaking it for a so-called tax inversion deal, before it was called off in October.
As previously reported by Fora, JBS and its CEO Wesley Batista have been mired in legal action for years, Batista barred for a time from managing any business while officials followed up on corruption suspicions at a company linked to him.
Sign up to our newsletter to receive a regular digest of Fora's top articles delivered to your inbox.