Paddy Cosgrave says MoneyConf will stay in Dublin 'for the foreseeable future'
Around 5,000 attendees are expected at the fintech-focused conference over two days.
WEB SUMMIT CEO Paddy Cosgrave said the company's MoneyConf event will be held in Dublin "for the foreseeable future".
Speaking on the first day of the fintech-focused gathering at the RDS today, the co-founder of the Irish events company said it could be the "first of a number of conferences that we do here".
More than 5,000 attendees are expected at the event over the next two days. Taoiseach Leo Varadkar is due to take to the centre stage tomorrow, marking a further thaw in the once-frosty relations between the government and Web Summit management.
"I think Dublin is a fantastic city for hosting – given the size of the venues here – an event up to about 20,000 people, so MoneyConf is very much here for the foreseeable future," Cosgrave said.
"I think Ireland has an opportunity – and Dublin in particular – maybe in the future as a venue for much larger events, but to do that they need a (larger) convention centre.
"It wouldn't take much to build a venue that would cater to 40,000 or 50,000 people in the city, there's lots of available land around the port and elsewhere."
The Web Summit boss previously had a public falling out with Irish officials around the 2015 decision to relocate its flagship conference from Dublin to Lisbon.
Cosgrave blamed poor infrastructure in the Irish capital and lack of engagement from State bodies for the move.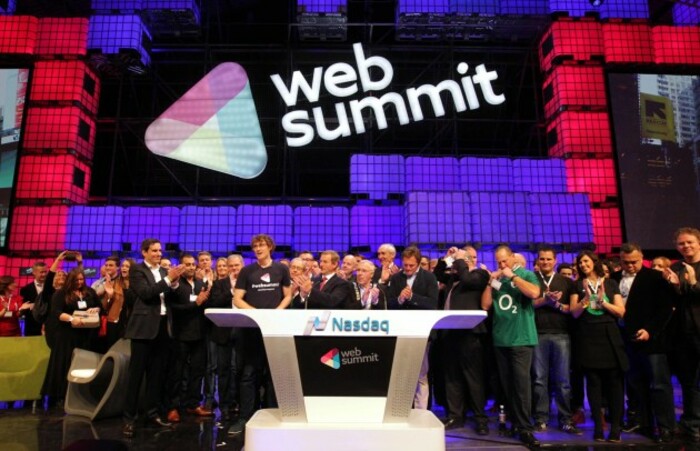 Source: Mark Stedman/RollingNews.ie
Web Summit bids
As previously reported by Fora, the Spanish city of Valencia has assembled a bid worth a potential €170 million over 10 years to lure the flagship Web Summit event away from Lisbon next year.
A decision is due to be announced before the next instalment of the conference in November. The Portuguese government had been providing €1.3 million in funding per year, plus other supports, for the event.
When asked how the 70,000-person event's future host city would be determined, Cosgrave said there would be "many factors that influence that decision".
"For the bid in 2015, we brought a shortlist down to two cities, Lisbon and Amsterdam, and we chose a city that was offering a smaller financial incentive," he said.
"So the pattern isn't that we go for the largest bidder per se, the pattern is actually we actually go for the underbidder and that means we're considering other factors.
"That's not going to be any different. Right now, our home is Lisbon and that may remain (the case) far into the future, but we're taking our time to see what Germany and France and Italy and Spain and the British have to offer, along with the Portuguese."
Meanwhile, the normally outspoken Cosgrave was tight-lipped on his own plans to launch a multimillion-dollar investment pool.
The Sunday Business Post revealed recently that the Irish man was looking to raise $50 million for a Delaware-registered VC fund with fellow Web Summit founder David Kelly and tech investor Patrick Murphy.
"Under (US Securities and Exchange Commission) regulations I can't comment about that at this time," Cosgrave said, adding that his "primary focus" was on running Web Summit – rather than being an investor.
"We're a rapidly growing business, we have just 200 employees, most of them are in Dublin, and we're hiring lots more."
Sign up to our newsletter to receive a regular digest of Fora's top articles delivered to your inbox.