Paddy Cosgrave says he'll move Moneyconf from Dublin if there's another falling out with officials
His company's flagship Web Summit event recently agreed a 10-year deal with Lisbon.
PADDY COSGRAVE HAS threatened to move his company's Moneyconf event from Dublin if there is a repeat of his previous dispute with government officials over Web Summit.
"Hopefully the people that made all of the mistakes that happened the last time, hopefully those mistakes aren't repeated and hopefully Moneyconf has a very bright future here, otherwise we'll just have to move it somewhere else," the Web Summit CEO said today.
Web Summit, the event company's flagship conference, was moved from Dublin to Lisbon in 2015. The Portuguese capital's higher-quality facilities and a more facilitating local government were cited as reasons for the move.
Cosgrave had complained that the Irish government was uncooperative with scheduling meetings to address the conference's concerns over issues like traffic congestion.
Moneyconf, which focuses on financial technology, or fintech, was last held in Madrid but moved to Ireland this year. About 5,000 people attended the event at the RDS and is the first Web Summit-related conference to be held in Ireland since the main event left.
Fintech is a rapidly growing space within the tech industry, Cosgrave said.
"That means Moneyconf has huge potential to grow to a much larger scale than it's currently at," he said.
"Hopefully Moneyconf has a bright future and is kind of a second chance for something to work out well in Ireland. If Moneyconf starts to work out well, we've every intention to increase the events or conferences that we will do in Ireland."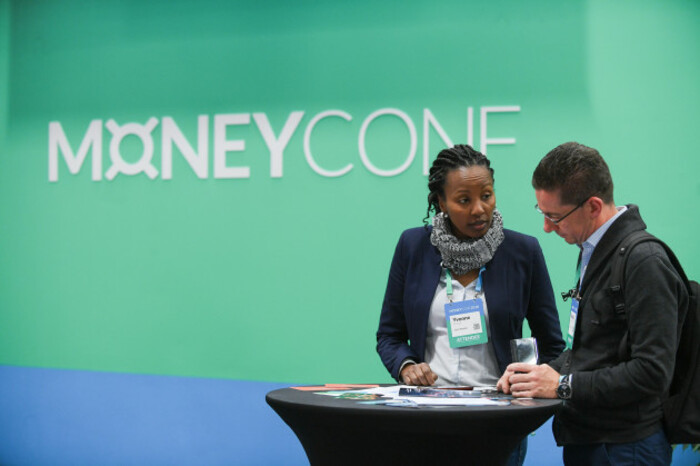 Source: Flickr/Moneyconf
He added that he believes the government has learned from its interaction with Web Summit last time – "they've been very supportive and very facilitative of a new event".
Lisbon
Cosgrave made the remarks at a press event this morning to discuss Web Summit's new €110 million deal with Lisbon that will see the conference remain in the Portuguese capital for the next decade.
"For us, (the 10-year deal) allows us to plan," he said. "It turns out that three years is a very short amount of time to stay anywhere. You've got to be planning more than a year ahead. It's amazing breathing space."
The company has said it was entertaining offers from up to 21 cities to host the tech event.
Cosgrave said that Web Summit is an "anomaly" in that it has grown very fast compared to similar-sized conferences that have taken much longer to scale.
He added that Web Summit's headquarters will remain in Dublin, but it will also expand its Lisbon office. It employs about 200 staff.
"The deal allows us to invest in the future and continue to attract great people to work here and build out the team, most importantly in Ireland.
"Hopefully we can encourage other people that it's possible to build a global company in the 21st century out of Ireland. You don't need to be an American company with a back office in Dublin."
Update: This article was amended with Web Summit's latest employee numbers.
Sign up to our newsletter to receive a regular digest of Fora's top articles delivered to your inbox.