EasyJet is likely to be the major winner from Ryanair and Monarch Airline's woes
The British carrier has been tipped as the best-positioned to capitalise on rivals' problems.
THE COLLAPSE OF Monarch Airlines could be great news for other carriers, with budget airline EasyJet likely to be the big winner as Ryanair battles pilot-related woes.
Monarch, Britain's fifth largest airline, collapsed after a long period of financial difficulty, leaving behind a hole in the UK's aviation market. Analysts believe the collapse, which has led to the cancellation of 300,000 bookings, could boost rivals.
"We note that EasyJet and Ryanair have the highest capacity overlap with Monarch and in the event of an exit could be the biggest potential beneficiaries," a Goldman Sachs note circulated yesterday said.
Shares in both EasyJet and Ryanair were up after the announcement of Monarch's collapse.
Monarch had just 3% of the total short-haul market in the UK but that small overall percentage could allow significant expansion for other airlines – particularly EasyJet given the state of rival Ryanair.
The Irish carrier was forced to cancel thousands of booking this winter. It claimed a rostering error caused a backlog of staff holiday days falling due at the end of the year.
The cancellations are set to impact as many as 700,000 passengers and have caused a major PR crisis for the company.
Ryanair this morning reported that it flew 11.8 million passengers in September – up 10% on the same time last year. Nevertheless, the airline's rate of traffic growth slowed during the month, when it posted the smallest year-on-year increase since March.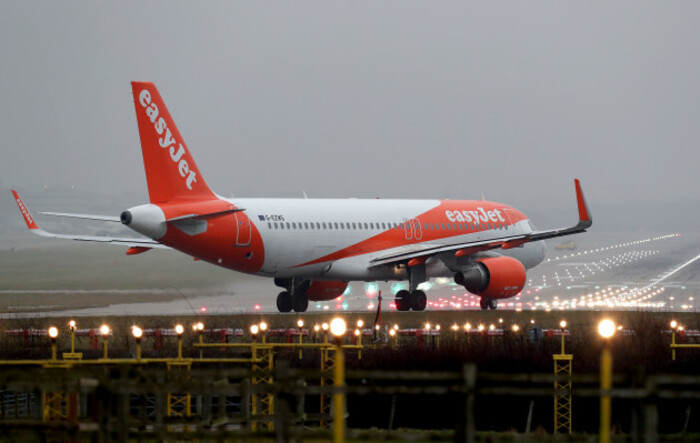 Source: Gareth Fuller/PA Wire/PA Images
[embed id="embed_2"]
EasyJet to benefit
Meanwhile, EasyJet is controversy-free. The airline "should benefit this winter from the struggles of four key competitors, which may be helpful for pricing in the UK, Germany and Italy," Credit Suisse's airline team wrote in a note circulated yesterday.
"Monarch has now stopped flying, Air Berlin is being broken up, Alitalia is also in administration and awaiting a buyer, and Ryanair pilot issues have prompted flight cancellations and a large media focus."
"Absorbing all of Monarch and a targeted 30 aircraft from Air Berlin could add up to 10% to earnings in each case, with limited capital investment," the bank's aviation analysts wrote.
"It remains to be seen how Monarch's administrator runs the process, and we see complementary with EasyJet's network as positioning EsyJet strongly should the administrator look to achieve a sale of the business as a whole – however we also expect easyJet to look to absorb slots vacated by Monarch directly from airports, perhaps as lessors reclaim aircraft."
Written by Will Martin and published on Business Insider. Additional reporting Peter Bodkin.
Sign up to our newsletter to receive a regular digest of Fora's top articles delivered to your inbox.
read more on