'Dad survived three recessions. But the last one was the worst'
As part of our How My Business Works series, we profile Dublin retailer Monaghan's Cashmere.
DUBLIN CITY HAS experienced a lot of changes over the last half-century, but a handful of retailers have been a constant presence.
One of the stalwarts of the capital's shopping districts has been Monaghan's Cashmere, which has been in operation in the Grafton Street area for nearly six decades.
Opened in 1960 by Tom and Teresa Monaghan, the first store was located in the Grafton Street Arcade, now Marks & Spencer, before it moved to Royal Hibernian Way in 1986, where it remained for 27 years.
Last month, the business relocated to a new store on South Anne Street. Although Tom Monaghan, now in his 90s, is still heavily involved in the business, much of the control has moved to daughter Suzie, who has become a director of the company.
"I've never known anything else bar this business," she tells Fora.
"We all would have worked in the shop growing up. Even at 12 years old I would have been in at Christmas folding jumpers, putting them into the bags and tidying up afterwards."
Even though the shop was always in her life, Monaghan pursued her own career, not anticipating that she would one day take over the business.
"I never knew what I wanted to do, quite honestly, so I tried everything – I did secretarial work, I was an interior designer, I even worked in FM104 driving the jeeps," she says.
"But I feel that now I'm settled I've come right back to where I started. I suppose I know the business so well because I've been around it from a very young age – the shop was here before I was."
Cashmere customers
Today, Monaghan's sells a range of high-end cashmere products, but 58 years ago the store was just in the sweater business.
"Dad did a huge business in Aran sweaters when he opened originally," Monaghan says.
"And then he also did the cashmere – that would have been a lot of argyles and diamonds – and it was big among the golfers and the horse racing crowd. Nobody had anything like that at the time, nobody really knew about cashmere."
As well as the locals, Monaghan says that the clothing soon started to attract some famous faces from around the world.
"Dad would have dealt with a lot of celebrities back in the day, like old-school Hollywood. Maureen O'Hara, Diana Wynter, Mickey Rooney – they all brought our sweaters back to the States and spread the word.
"There were a lot of basketball players and American footballers too. Dad became very good friends with Art Rooney, who owned the Pittsburgh Steelers.
"We still get a lot of sportspeople in from the US now, because a lot of those guys are big and tall and we do every size from 32 up to 56."
Tourism remains big business for the store. While fashion outlets might ditch their sweater ranges for the summer, it is Monaghan Cashmere's peak season.
"This is our busy time now because of the tourists. We do quite a lot of business with the Chinese market now, in particular."
Changing focus
While the wider retail landscape may have changed greatly since the store first opened, the business has always looked beyond Irish shores for its customers.
"Dad was selling to every country in the world before there was internet," she says.
"I remember when I was 14, my brother having to get his car to put all the packages in and drive to the post office – there were that many orders."
Since then, the business has adapted to the e-commerce world and Monaghan's now offers online shopping – although it still tries to maintain a personal connection.
"We still prefer to talk to our customers, so they can also email us and we'll call them at a time that's convenient. We find there's a rapport when you speak to the customer, you get a better understanding of what they're actually looking for.
"We have generations of families coming to the store now, with people bringing their children and their grandchildren and so on."
Monaghan has been behind many of the changes in the business, including the online shift, and has also designed her own clothing line for the store.
"I guess it came from not being able to find what I was looking for," she says.
"Working on the shop floor is a great teacher. There was one very popular men's sweater – a three-button polo shirt with a collar – and we would have a lot of women in the shop saying they'd love that if it was for a lady. So I designed a version of that.
"It's a little more feminine, more fitted to the body. I'd say it's the staple piece that everybody comes in looking for and buys again in a different colour. Basically it was designing what I felt we needed and wasn't out there."
Continuing business
Monaghan's Cashmere remains a small family business, with four full-time staff, including Monaghan and her father Tom, who has kept the company running through "absolute sheer hard work".
"The love of the business is what keeps him here. He's not on the shop floor all the time, but he's greeting customers and meeting his friends. He's still involved in every part of the business," Monaghan says.
"He has so much to teach. Dad has survived three recessions, but says that the last one was the worst because it was worldwide. He always puts a bit away for the rainy day, so in the last recession he had to hit into those savings."
However, Monaghan adds that, unlike a lot of other businesses in the country, her family's store wasn't hit too hard by the most recent economic downturn.
"Thankfully we were OK. It wasn't as good as other years, but we're a destination shop, so we still would have had all of our tourists and loyal customers.
"We wouldn't have been selling the quantities that we sold before, but people still wanted a good quality sweater that would last, because that throwaway fashion culture disappeared during the recession. People were buying better."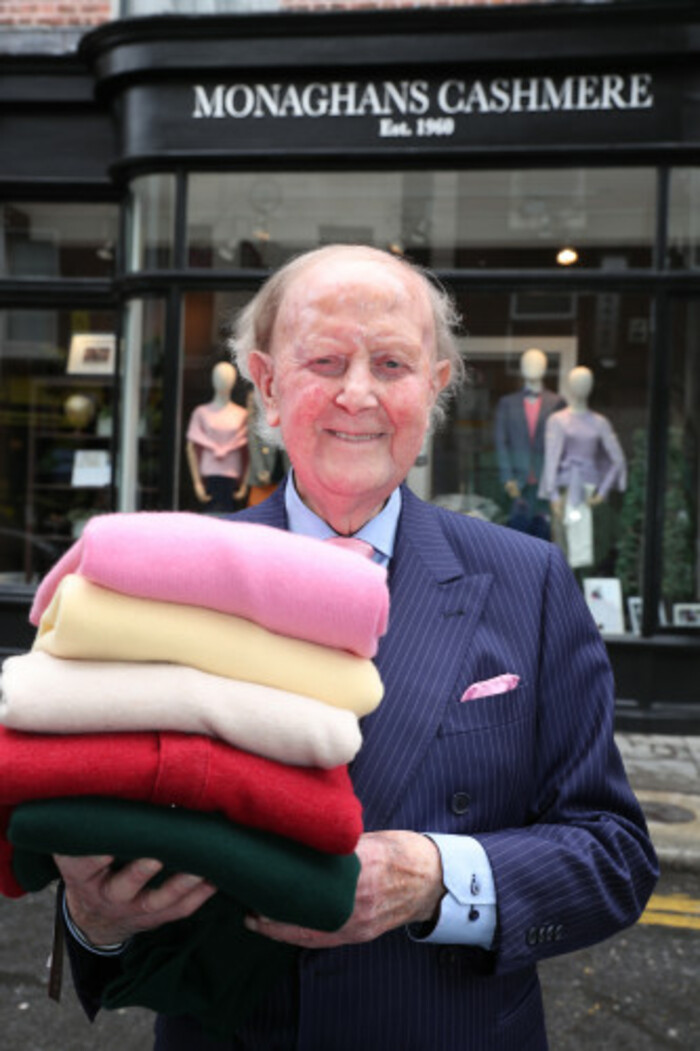 Although the company recorded a loss last year, it was less steep than the previous year, and Monaghan says that things are "only going to get better" with the new store.
"We've been looking to move to South Anne Street for quite a while. The Hibernian Way was being redeveloped and it really wasn't working for us, so we needed to go.
"Dad prefers the streets off Grafton Street, he feels they're a little more upmarket. Grafton Street has become more of a high street now, with a lot of the chains."
As the business settles into its brand new premises, Monaghan says that she is happy with where things are going and has no plans to open another shop any time soon.
"I greatly admire people with two or three stores, and I never say never, but for now we're quite happy with the one we have."
Sign up to our newsletter to receive a regular digest of Fora's top articles delivered to your inbox.