Dublin's 'Metro North' is now the MetroLink - here's what we know about the plans
There will be a total of 15 new metro stations as part of the €3 billion development.
PLANS HAVE BEEN unveiled for Dublin's MetroLink – the renamed Metro North that will cover an extended route between Swords and Sandyford.
The high-frequency, electric rail service is planned to be open to the public from 2027 at an estimated cost of €3 billion, although the pricetag is subject to change after the final design is confirmed.
The National Transport Authority (NTA) said that a plan released today for the service included the "emerging preferred route", but it was open to other proposals before deciding the final path and stops.
According to the plans, the train would cater for 15,000 passengers per direction per hour and could carry up to 50 million passengers per year.
Plans for a metro in Dublin have been floating around for some time, but development of the project was halted in 2011 after the economic downturn.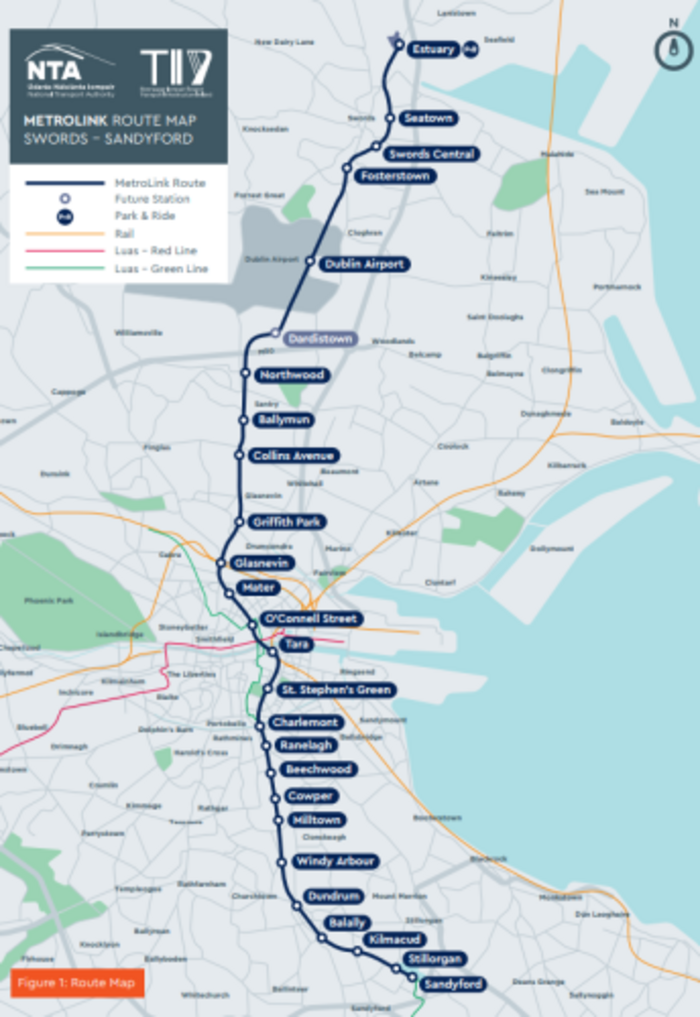 Click here for a larger version
The train will take 25 minutes to travel from the city centre to Swords and 50 minutes from Swords to Sandyford.
Other stops include Glasnevin, Collins Avenue, Ballymun, and Dublin Airport. It will take 20 minutes to travel from Dublin Airport to the city centre, while it will meet the Dart line at Tara Street.
The route will largely be underground in bored tunnels but will be on an elevated track at the Swords bypass.
There will be a total of 25 stations (including 15 new Metro stations), 3,000 additional park-and-ride spaces and 30 new trains.
The preferred route for the MetroLink involves a twin-tunnel design with one tube for the northbound metro and a second tube for the southbound metro.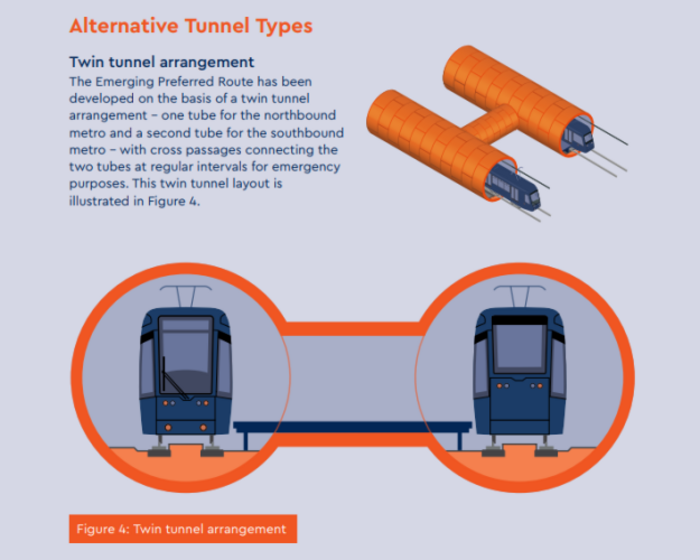 Around 100 properties will be acquired in the building process, but the consultation is "in very early days", according to NTA CEO Anne Graham.
The tunnels involved are much smaller than the Port Tunnel, meaning they can be built more quickly, she said.
The existing Luas green line south of Charlemont will be "upgraded to metro standard" as part of the project, the NTA said, but the light-rail service would continue running north of the stop. Graham said that the plan will not make the Luas Cross City redundant.
The MetroLink is the only metro service envisaged for Dublin until at least 2035.
Written by Gráinne Ní Aodha and Paul Hosford.
Sign up to our newsletter to receive a regular digest of Fora's top articles delivered to your inbox.