Whatever happened to... The long-overdue Metro North?
We look at the many delays to the project, which was talked about as far back as 2001.
DELAYED INDEFINITELY. A phrase that became synonymous with post-crash Ireland.
Many major projects did get under way and built during the Celtic Tiger, when the country was spending money like it was water.
While several were plagued by delays and cost overruns, some of these large-scale projects, such as Dublin's port tunnel or the redevelopment of Cork Airport, have proved to be some of boom-time Ireland's most positive leftovers.
But what about the big, pie-in-the-sky projects that got floated, looked like they could go ahead, but for one reason or another, never got off the ground?
In this four-part series, Fora takes a look back at a few of the more notable ones to emerge in the years during and just after the Celtic Tiger, some of which still have a chance of going ahead. First up is Metro North.
What is it?
Perhaps one of the most well-known projects from the Celtic Tiger era, Metro North was first floated at the turn of the millennium.
Dublin Airport is one of the few large airports in Europe that does not have a direct rail link to the city.
Planners looked for ways to rectify that, considering whether to extend the existing Dart line to Dublin Airport or whether to build an entirely new metro system.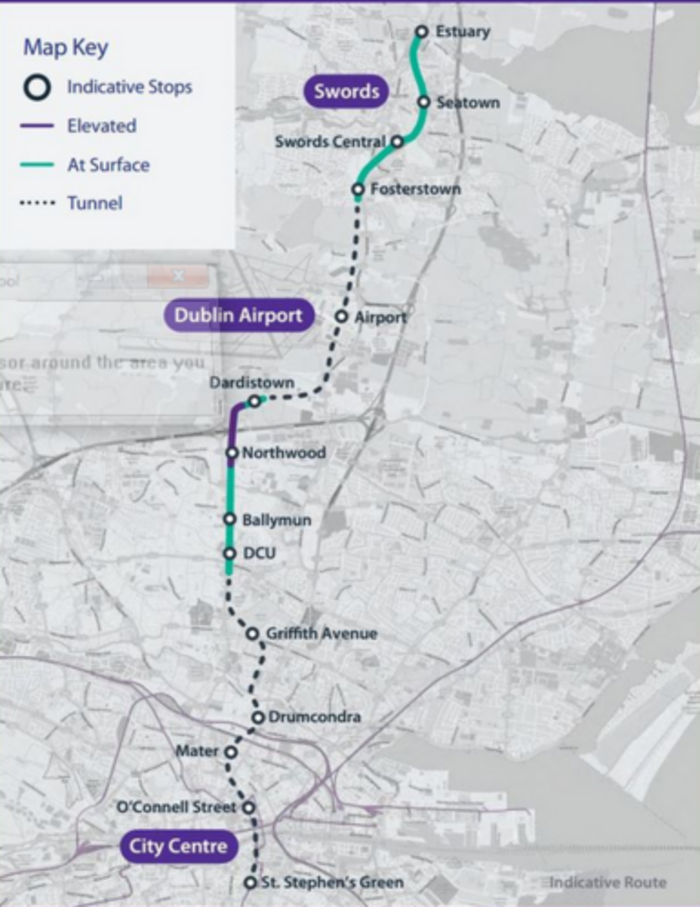 Source: National Transport Authority
The metro would carry commuters from Dublin's outlying suburbs into the city and would have linked with Iarnród Eireann services as well as adding a stop at Dublin Airport.
It was decided that the latter was the better option as it would give better transport to commuters in more areas. It was hoped that the line would carry about 35 million passengers a year.
When was it first suggested?
In 2001, but it was 2005 when it was really talked about seriously.
What happened? 
Bertie Ahern's Fianna Fáil government promised to build Metro North as part of its ambitious Transport 21 capital expenditure plan, announced in 2005.
The first phase was expected to be delivered in 2010, while the very last phase, linking Blanchardstown to Ballymun, was originally meant to be ready in 2014.
A large amount of planning and evaluation work started, and in 2007 two consortiums were named as preferred bidders to build the line.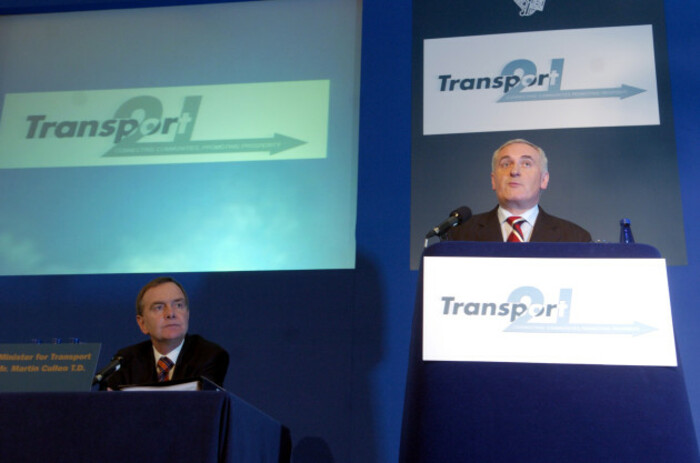 Source: Graham Hughes/RollingNews.ie
However, in 2010, it was announced the system wouldn't be ready until 2019 at the earliest. In 2011, then-transport minister Leo Varadkar suspended the plan with more than €200 million already spent.
Since then, the idea has been resurrected and knocked back on a seemingly annual basis in what many fear will become a never-ending cycle.
What's the latest?
Last year the project was resurrected, although amended slightly. Under the new plan, some sections of the proposed line close to the city and around the airport will be underground, while other parts would run on elevated tracks.
The trams would be similar to those used for the Luas, although they would be larger. The light rail system will run over 14 new stops between the city centre and 'Estuary' to the north of Swords in Co Dublin.
It is envisaged that the line would carry 30 million passengers a year, cost €2.4 billion to build, carry passengers from Dublin's O'Connell Street to the airport in 19 minutes and be finished in 2026. Construction is due to start in 2021.
Taoiseach Enda Kenny was quoted in September 2015 as saying that the new plan was "affordable and realistic", but the project has been kicked down the tracks so many times already it's probably unwise to hold your breath.