'We'll have nothing': After 65 years, one of Donegal's most famous butchers is closing
McGettigans Butchers has won numerous awards and was visited by Prince Charles.
ONE OF DONEGAL'S best-known businesses is set to close as a result of falling sales, more than half a century after it opened.
M McGettigan & Sons butchers is a landmark in Donegal town, where it has traded since 1952. The store was even visited by Prince Charles last year, who was eager to sample the sausages that were named as the best in Europe in 2012.
The shop employs seven people and is run by brothers Ernan and Diarmuid McGettigan, who took over from their father in 1980.
However, the butchers has struggled to compete with low-cost rivals and has now been forced to close as sales fell.
Speaking to Fora, Ernan McGettigan said that the business is set to formally close its doors on Saturday.
"We're closing because our turnover has consistently dropped over the last four or five years," he said. "There's competition from multinationals, particularly German multinationals.
"Small businesses are being interfered with by them and we're the next ones that have to go. Our father started the business, which is the hardest part about this. We've tried everything, we've cut costs as much as we can."
He added: "We've tried to produce products of quality, unfortunately it's all about the price.
"There's very little loyalty left to small businesses who employ local people. Everyone is a number now, it's all about productivity, get in and out."
The most recent accounts for the firm behind the butcher, for the year to the end of October, 2015, show it made a slender loss that year, pushing it more than €150,000 into the red for the long-term.
Memories
McGettigan said that he will have many fond memories of his time in business, particularly the visit from Prince Charles.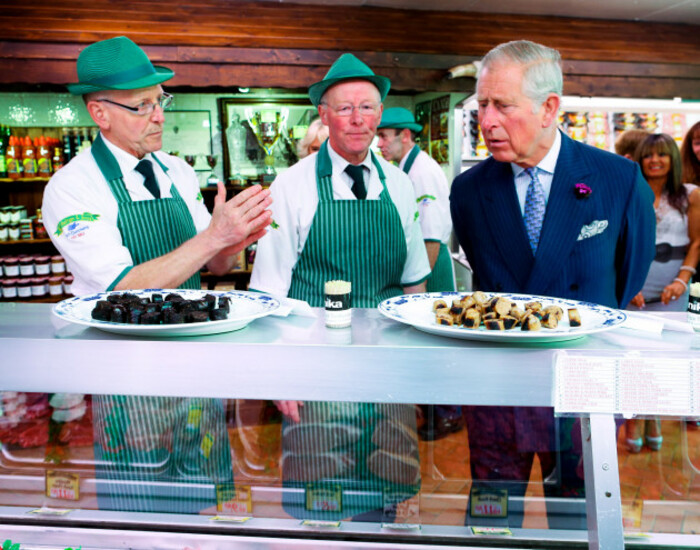 Source: Department of Foreign Affairs
"We're the only shop premises in Donegal that he stood inside. It was a great honour," he said. "We will have the memories, and most have been good, but the stress (of trying to keep the butchers open) is unbelievable.
"Dermot and I are self-employed so we will end up with nothing from Saturday on. If you're self-employed in this country there are no support mechanisms if things go wrong."
McGettigan said that he and his brother will take time to talk to their family to try to decide their next move.
"I think we could make a business with our sausages, but I'm 60, Diarmuid is 59, we should be thinking about retiring rather than starting another business," he said.
"But we have mortgages to pay so I would never say never."
McGettigan thanked the shop's employees and its customers, "particularly the customers who stuck with us to the end".
Sign up to our newsletter to receive a regular digest of Fora's top articles delivered to your inbox.